Key events
80 mins: Argentina's players moan a lot at the referee even when they get the decision.
More changes come Falfan and Larroquette off, Rodriguez and Lonigro on. Rodriguez almost makes an immediate impact but Falk comes out quickly to beat the substitute to a through ball.
78 mins: Kári Tulinius emails: "Was Jakobsson's cross perfect or did it take a slight deflection off a diving Stabile? I it looked like the latter to me. There's nothing like an early deflection to wrong-foot defenders and allow a striker of Blomqvist's class to get the drop on her markers."
I'll take your word for it.
76 mins: Jakobsson off, Kaneryd on for Sweden.
Italy level against South Africa, meaning the Italians are currently going through.
74 mins: Argentina are looking a touch frustrated by the situation here. Hilariously, Ippolito chucks herself to the ground in the box in a desperate attempt to win a penalty. She should be booked. Then Larroquette does similar around 40 yards from goal. Neither are given.
72 mins: To make it through at this point, Argentina would need to win 3-1, which is not happening.
Ippolito and Chavez on, Cruz and Gomez Ares off.
70 mins: Argentina are preparing some changes.
South Africa take the lead against Italy, meaning they will be going through if things stay the same.
68 mins: Argentina will be upset that the goal came was so simple in the end after such great defending thus far. Even grabbing an equaliser would be incredible for Argentina but they do not look like creating much.
GOAL! Argentina 0-1 Sweden (Blomqvist, 66)
Finally some composure and slick movement from Sweden. Jakobsson gets the ball on the right and sends in a perfect cross for Blomqvist to nod in from a few yards.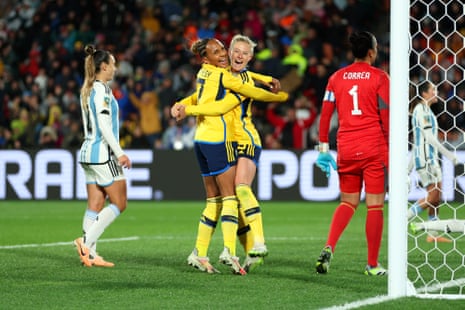 65 mins: Hurtig finds some space and lays the ball out to Jakobsson who feels she has earned a corner but the referee points for a goal-kick to end another attack.
63 mins: Falk comes to punch a free-kick and clear the danger.
Argentina come straight back and earn a corner. It is swung in from the right and out of play.
61 mins: Sweden's passing has been pretty awful. They are constantly trying to rush things when there is no need. Getting their foot on the ball and taking their time over matters might be more sensible.
Rubensson clatters into Gomez Ares a touch late.
Hurtig and Sembrant on, Ilestedt and Schough off for Sweden.
59 mins: It is absolutely hammering it down and the wind is helping no one.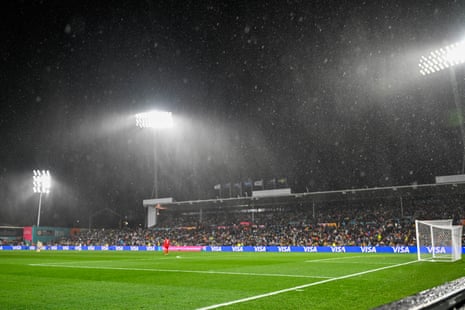 57 mins: Banini cuts in from the left in a straight line and in the end takes a shot from 25 yards, despite not being in a good position to shoot and pass being the better idea. The goalkeeper snaffles it.
55 mins: Falk pings a goal-kick straight out for a throw-in. A truly appalling effort.
53 mins: Another aimless cross is sent into the box by Sweden and Correa easily claims.
51 mins: Sweden will almost certainly end up top of the group, which will see them play USA in the last-16 on Sunday morning.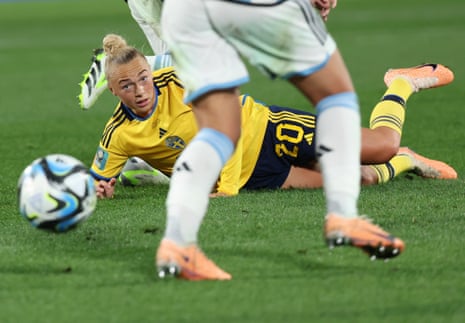 49 mins: Sweden are dominating possession but Argentina's well-organised defence are keeping them at arm's length.
47 mins: A very sedate start to the half.
Here we go again!
Seger off, Rubensson on for Sweden.
Half-time reading.
Half-time: Argentina 0-0 Sweden
Neither keeper has been tested thus far. The one shot on target was a weak free-kick from 30 yards. A game for the defenders.
45 mins: Four minutes added on.
44 mins: There are now two Argentina players down. Nunez and Larroquette take a blow each but seem OK to continue. I think they are just desperate to put pressure on the referee.
42 mins: Banini is tripped by Jakobsson on the halfway line. Argentina will be very pleased will how this game has gone so far, bar the injury to Bonsegundo. The only problem is they are yet to test the goalkeeper.
40 mins: Sweden get into huddle as they aim to regroup after a poor start here.
Bonsegundo is on the stretcher and heading off. Falfan is coming on.
38 mins: Bonsegundo is down once more, waving her arm in the air in the hope treatment will come. It looks like she catches her studs in the turf and that is the issue. Her teammates are comforting her and the stretcher is on. It does not look good.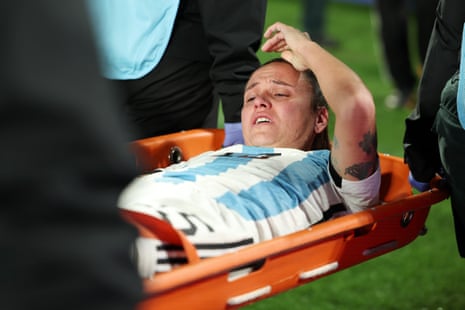 36 mins: It is getting a little scrappy as Argentina are frustrated to have not created a good chance and Sweden irked by their subpar performance.
34 mins: South Africa have equalised against Italy to bring a little hope back to Argentina.
32 mins: Bonsegundo is fouled by Janogy and therefore is obliged to act like she has been shot. Another dangerous free-kick is sent into the box but Sweden clear with ease.
30 mins: Jakobsson gets to the byline and chips the ball to the back post where Schough is waiting but she cannot direct her header on target.
28 mins: Sweden move forward at pace and it reaches Blomqvist in the box but the ball will not fall for her and Argentina recover to clear.
26 mins: Sweden fling in a corner from the right and it is flicked out for another on the other side. Schough takes the second one and it is well headed over her own bar by Sachs.
24 mins: Another free-kick is swung into the box and Larroquette wins the header but it goes well wide.
22 mins: The resulting free-kick is pumped into the box but Sweden cope with it.
Argentina are on top here. They are really up for this and Sweden are struggling to cope with their energy.
20 mins: Nunez is caught by Schough and makes her point by rolling around on the deck. It is a late and highish challenge, so a booking is fair enough. Nunez made a meal of it, though.
19 mins: Sweden win a free-kick around 30 yards from goal. Schough lines it up but it is pretty loopy and the goalkeeper claims.
16 mins: Banini latches onto a ball inside the Sweden half and runs towards goal before firing off a shot from 30 yards but it is wayward.
14 mins: Italy are beating South Africa, meaning Argentina's implausible route to the knockout stages is now a complete pipe dream.
12 mins: Sweden are enjoying good possession between the halfway line and Argentina's box but they are having trouble finding gaps in the South American's defence.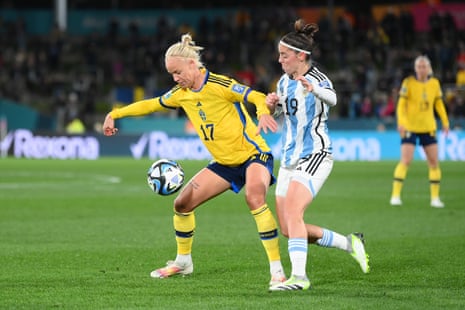 10 mins: The Argentina fans are here for a party – and rightly so. Looks like a cracking atmosphere in the sections dominated by blue and white.
8 mins: Argentina are certainly holding their own in the early stages aided by playing a somewhat disjointed Sweden, who have made a plethora of changes.
6 mins: Larroquette gets a little nudge in the back near the halfway line. A free-kick is rightly awarded but then the Argentina forward starts waving an imaginary card around, which is impressively pathetic.
4 mins: Nunez gets a flailing finger or two in the face and looks unhappy but there is nothing malicious involved.
2 mins: Sandberg takes what looks like a foul throw but gets away with it. Not a great start on her competitive debut.
Sweden are looking to attack early on and we must assume this will be the story of the match.
Argentina decide to show some intent, too, so Larroquette shoots from 35 yards but it trickles wide.
Peep! Peep! Peep! Here we go!
The nationals anthems are being belted out. There are plenty of Swedish fans in attendance, it would seem.
What a gloriously strong coffee I have just injected into my eyeballs to get me up.
Get to know the Argentina side.
Pre-match reading.
Argentina (4-5-1): Correa; Sachs, Stabile, Cruz, Braun; Cometti, Nunez, Bonsegundo, Gomez Ares, Banini; Larroquette
Subs: Esponda, Chaves, Santana, Falfan, Gramaglia, Ippolito, Rodriguez, Benitez, Chavez, Singarella, Lonigro
Sweden (4-5-1): Falk; Lennartsson, Sandberg, Eriksson, Ilestedt; Janogy, Jakobsson, Seger, Bennison, Schough; Blomqvist
Subs: Musovic, Enblom, Andersson, Sembrant, Hurtig, Asllani, Blackstenius, Bjorn, Angeldal, Rolfo, Kaneryd, Rubensson
Sweden are through to the knockout stages but will be keen to ensure they do not slip up in their final group game. They will rest players but still be confident of overcoming Argentina who are yet to win a match at a Women's World Cup.
Women's football in Argentina is on the up and the national team is becoming more organised and professional. If they could end this campaign with a point or even better, it would be a hell of results and a fine springboard.
Here's to a cracker!
Kick-off: 8am BST/7pm NZST/5pm AEST