Key events
90+2 mins: Becho does brilliantly on the right to roll Catley and earn time and space on the right of the box – but she can't find a blue shirt in the box and Australia clear, then rush out to block Dali's second effort, before winning an offside call.
90 mins: Four minutes of added time to be played. Along with very little at the end of the first, it goes to show how free-flowing this match has been. Can either side find a winner?
89 mins: Now Bacha belts an effort off target after Gorry gave possession away just outside Australia's box. Fatigue and poor execution starting to creep in during these closing stages of the 90 minutes.
88 mins: Fowler twice finds Kerr with her back to goal, but on both occasions the skipper's first touch is rusty and chances go begging. Australia do well to keep the ball alive though, especially through Cooney-Cross, until Carpenter lashes a wild and wayward effort miles off target. Poor decision.
87 mins: Cooney-Cross whips it in, Peyraud-Magnin punches – but only as far as Fowler – but her snapshot is blocked off the boot.
86 mins: Catley goes long and hopeful down the left, Fowler makes a half-hearted chase, but enough to worry Lakrar into conceding a soft corner.
84 mins: The Matildas go long from the keeper, Kerr wins the flick on, but Foord is outpaced by Karchaoui, who goes down in pain as the Arsenal forward commits herself to winning the ball. A rare break in play in what has been a frenetic match. Chance for both coaches to pass on some instructions.
83 mins: Bacha then leads the counter through the middle, looking for de Almeida on the right. The first ball is repelled but after Geyoro is first to broken play she can find de Almeida but the cross is once again easy for Arnold.
82 mins: Kennedy joins the attack to flick on a long Carpenter throw, but France are alert to the crumbs and hack clear.
80 mins: Dali concedes a foul by going through the back of Gorry, but she soon makes amend, securing the turnover in midfield and freeing Becho on the left. The substitute's cross is straight at Arnold.
78 mins: Bacha fizzes over another cross but it's headed clear. Kennedy deals with the second ball, but Carpenter is caught in possession coming out of defence – not once, but twice! The Matildas survive, release Kerr, who dumps Karchaoui shoulder-to-shoulder on the spin, heads towards goal and whips over a tempting ball to… nobody. Raso keeps it alive on the left and soon Foord is down in the box under pressure from Renard, but there's no serious thoughts of a penalty.
77 mins: Tempers are starting to fray on the touchline and on the pitch as this match wears on. It is a match that France are increasingly gaining a foothold in after resisting Australia's surge after half-time and the introduction of Sam Kerr.
76 mins: Bacha takes the set-piece and despite Lakrar's athletic leap, it results in a goal-kick for Arnold.
75 mins: France clear long from the goal-kick and Le Sommer wears a Gorry boot to her nose on halfway. There's claret. France continue though and win a corner on the right.
74 mins: Good pressing from France to force a turnover on halfway, but Australia soon win the ball back, find Fowler, and she opens play with a switch to Foord on the left. Catley offers the underlap run but there's too much weight in the pass and the byline wins out.
72 mins: France come again, this time with a dinked ball over the top for Diani but her pull-back is blocked off the boot. She wants a penalty, but nothing doing, despite the ball clipping Hunt's hand from point-blank range.
71 mins: Becho has done well since her introduction and she causes problems down the right, whipping in a cross that Le Sommer does well at the near post to keep alive before Kennedy sticks out a long limb to clear.
70 mins: It's still fast and furious in Brisbane with Australia defending high up the pitch and inviting France to come at them and win the ball in one-on-one duels. It's high-risk high-reward stuff from Gustavsson, but it's a big improvement since the opening half.
68 mins: Arnold punches the corner well clear, then Hunt thumps away the second ball – to Cooney-Cross, who runs 30m under intense pressure before offloading to Carpenter, somehow popping up on the left wing. She almost slaloms inside a la Foord, but Becho makes a well-timed block.
67 mins: But France keep doing just enough to prevent a landslide of momentum. Becho is the latest to keep her side on an even footing, pressuring Catley into a foul near the touchline. The resulting free-kick is launched deep and headed behind for a corner.
66 mins: The energy is all Australia's with the Matildas looking to set the tempo. They have raised their intensity since the break and with Kerr, Cooney-Cross, and Raso buzzing they almost free Carpenter down the right.
65 mins: Foord makes that trademark run in from the left but de Almeida does well just as she reaches the penalty area.
64 mins: France make a change with 19-year-old Becho coming on for Toletti.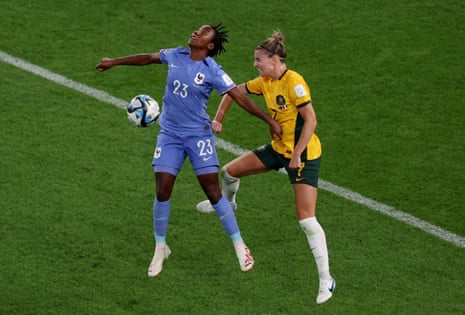 63 mins: It has been a hectic start to this second half. Australia are doing all they can to force a goal. France are not shutting up shop though, playing their way out and earning a dangerous free-kick on the right that Bacha swings over. The Matildas do well to fight for every scrap and clear their lines.
61 mins: Still the Matildas come, keeping the ball alive outside the box and sending in dangerous crosses that are causing mayhem in the France defence. Australia have to settle for a corner.
60 mins: FOLWER YET AGAIN! Kerr sucks players into her orbit like the sun. The ball breaks for Carpenter on the right to cross. The headed clearance is only as far as Fowler on the penalty spot, but her crisp left-footed effort is straight at Peyraud-Magnin. A metre either side and that's a goal.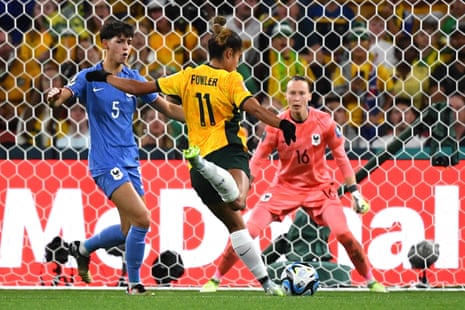 58 mins: Hervé Renard is giving full-throated instructions from the technical area. he can sense how this match is starting to unfold. He will also not fancy his central defensive pair against Kerr for this final half-hour.
56 mins: … and Kerr is straight into the action, leading a transitional move downfield. The ball is played from left to right, Raso steps inside and smashes a fierce drive with her left foot that forces Peyraud-Magnin into a flying save high to her right. That was a super strike. Australia make little of the resulting corner but keep the ball alive outside the box and fashion a cross for Kennedy to glance over.
The crowd is belatedly into this contest now that Kerr has come on. The Matildas have the bit between their teeth and 50,000 fans urging them on.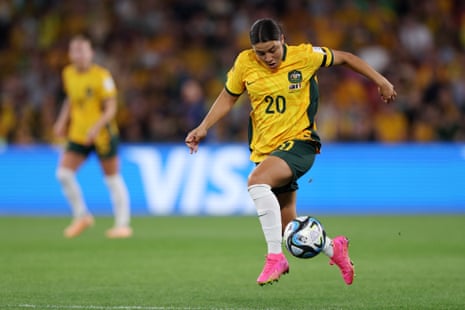 55 mins: Bacha does brilliantly on the right and digs out a deep cross to the far post with her left foot that Le Sommer shows great desperation to get onto the end of, but she can't direct her effort on target under pressure from Carpenter.
On comes Kerr for van Egmond.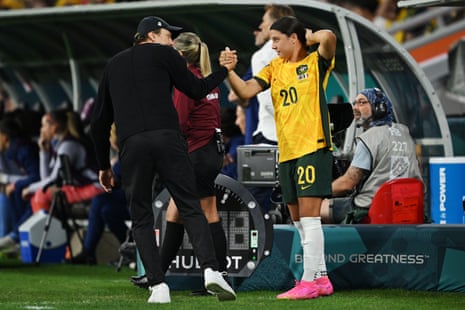 54 mins: France get another spell in dangerous territory with Dali probing, but after offloading to Karchaoui the latter's final ball is poor. Still, France have stabilised after Australia's early burst.
52 mins: This is a different match to the opening 45. Australia are now suddenly the aggressors, pushing out of defence and intercepting in midfield, freeing runners left and right. Of course, that means France can play on the turnover, which they do with Diani running dangerously into the box until Hunt concedes a corner. Dali's right-footed in-swinging set-piece is allowed to curl harmlessly long and out into touch.
PSA: Sam Kerr is coming on shortly.
50 mins: FOWLER AGAIN! Peyraud-Magnin has not looked comfortable all night and this time she fluffs a clearance under pressure from Raso straight to Fowler on the edge of the box. The Australian No 11 takes a touch one way, then the other, leaving defenders on the floor, but by the time she gets a shot away it's deflected behind. She had options left and right and will be disappointed not to have made more of that opportunity.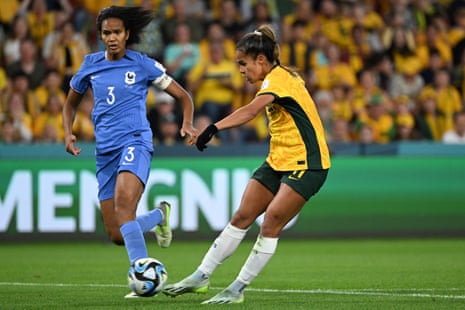 49 mins: Good ball movement from Australia down the right but Karchaoui intercepts smartly as momentum was building. This is much brighter from the Matildas, keeping the ball alive in challenging situations and moving the French defence around.
47 mins: Allana Kennedy is lining up a shot, marking out her run-up a la Jonny Wilkinson… and she drills her effort straight into the wall. France then defend the ball in from the right after Raso picked up the pieces. Still Australia come though with Catley fed in down the left by Gorry. The Matildas on the front foot early.
46 mins: The sunshine of the opening half has given way to a floodlit second half, and Mary Fowler is immediately on the attack, drawing a free-kick on the edge of the France box.
The teams are back out after half-time. I received some correspondence during the first half asking about why Australia are wearing black armbands. It is due to the passing of a partner of one of the players' fathers. Out of privacy for the family, they have not released a name.
"Though I agree that Australia probably have more to fix, the French centre-backs seem oddly nervy. Hervé Renard is looking unhappy on the sideline. I wonder if he has one of his trademark halftime speeches prepared." Thanks Kári Tulinius, this is a superb video. Who'd be a translator?
Enjoying the Guardian's coverage of the Women's World Cup?
This action-packed, up-to-the-minute live blog is only possible thanks to funding from our fans all around the world. We don't have a paywall, so everything we publish is open and free for everyone. Unlike so many others, the Guardian is fiercely independent – meaning we don't have a billionaire owner who can censor us.
Fund quality sports journalism from the Guardian today from as little as $1. It takes less than a minute but makes a huge difference.
Half-time: Australia 0-0 France
France have bossed the half but Australia – and Mary Fowler specifically – have had the two best opportunities. Goalless at the break.
45 mins: FOWLER AGAIN! This time Peyraud-Magnin rushes from her goal superbly to smother the chance at the feet of the Australian after she was played through magnificently by Gorry with a delightful floated pass. Fowler had the time to take a touch and fire a shot away but Peyraud-Magnin was swiftly off her line.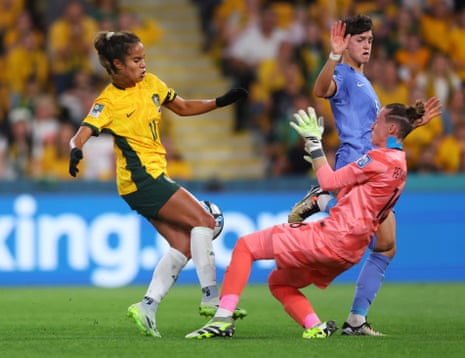 43 mins: That's up there with the all-time great goal-line clearances. Absolutely incredible from de Almeida.
41 mins: WHAT A SAVE! FOWLER HAS TO SCORE but de Almeida somehow manages to deflect a shot from point-blank range over the bar off her left thigh. Miraculous stuff. That was the product of calamitous defending from France to begin with after Renard had dealt with Raso's dart down the right. Peyraud-Magnin failed to collect the ball as she and Karchaoui looked at each other in disbelief. Van Egmond stole in, pulled the ball back for Fowler with an open goal, only for her well-struck snapshot to find the extraordinary de Almeida block. Wow.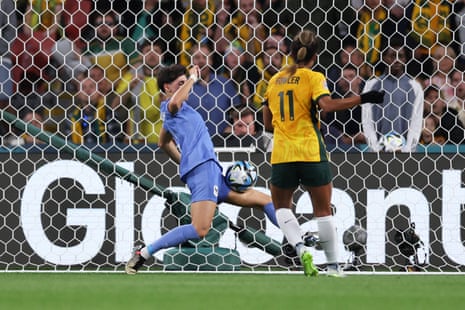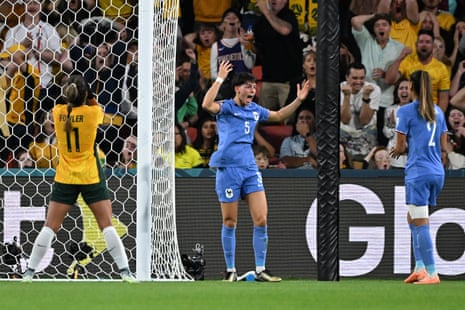 39 mins: Australia need to a major rethink. Foord does well to win the ball near halfway but after turning and facing forward she only has Van Egmond to play the ball towards, and the veteran is easily hurried off the ball by Karchaoui almost as soon as she accepts possession. The Matildas have no structure or pattern of play when they get a rare touch of the ball.
38 mins: Bacha with a dangerous cross from the left but Diani is well covered in the box. Cooney-Cross makes a hash of the second clearance and is relieved when Karchaoui carves a left-footed effort miles wide.
37 mins: Blue jerseys are now squeezing high up the field, penning Australia in their left corner, but that means there's space on the counter if they can escape – which Foord does. Suddenly the decibels raise in Brisbane Stadium as the ball reaches the France box, but it's all a bit scrappy after Foord's ball to Raso is blocked and defenders are soon on hand to douse the flames.
35 mins: Not for the first time tonight Karchaoui goes down in contact with Raso. France want a yellow card to go with Raso's yellow ribbons but none is forthcoming. She is a magnet for conflict the Australia winger. Bacha floats the free-kick into Australia's box but it's headed clear – only as far as Dali – but despite adopting a Zidane v Leverkusen technique, she can't keep the ball from sailing over the crossbar.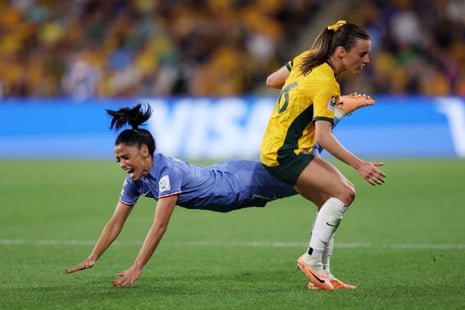 33 mins: France will be disappointed now if they fail to convert their first-half dominance into a goal.
31 mins: Still the turnovers come. This time Gorry losing out to Toletti who storms through the right-hand channel before France earn a corner. Bacha curls it over, Arnold double-fists clear but the ball's soon back in the danger zone and Lakrar is again on the spot to hook an effort goalwards – but Arnold is equal to it. Another France corner, and this time Renard heads wide.