Introduction: Bank of England interest rate decision
Good morning, and welcome to our rolling coverage of business, the financial markets, and the world economy.
The Bank of England is widely expected to leave UK interest rates on hold today, at its latest monetary policy committee (MPC) meeting. But should it actually be cutting rates, to help the weak economy?
Experts in the City are pretty confident the BoE will leave base rate at 5.25% at noon today, its highest level in 15 years, extending the pause which began in September.
But the vote may not be unanimous, with several of the nine MPC policymakers expected to vote to increase rates further. Those hawkish members of the committee are concerned that even higher borrowing costs are needed to cool inflationary pressures.
The majority, though, seem likely to stick to the view that the BoE should maintain borrowing costs at the current elevated level for long enough to push inflation down.
Matthew Ryan, head of market strategy at global financial services firm Ebury, predicts a 6-3 split in favour of leaving rates on hold.
"Since the last meeting in September, indicators of economic activity have remained less than impressive, wage growth has eased and hawk Jon Cunliffe has left the committee, with his replacement, Sarah Breeden, appearing likely to side with the doves.

"This would suggest no closer than a 6-3 vote in favour of no change. The BoE will probably strike a cautious tone on the growth outlook, and downward revisions to the GDP forecasts for 2023 and 2024 are on the cards.
Other major central banks have already held borrowing costs in recent days – the ECB did so last week, and the Federal Reserve left policy unchanged last night.
The BoE's problem is that inflation is running higher in the UK than other advanced economies, clocked at 6.7% in September. It should have fallen in October, but could still be higher than the eurozone, where it was just 2.9% in October.
But even so, some economists think the Bank should be cutting borrowing costs.
Right-wing think tank the Institute of Economic Affairs runs a Shadow Monetary Policy Committee, and it voted 7-2 to cut Bank Rate.
This SMPC fears the Bank of England is at risk of over-correcting and slowing economic activities.
Trevor Williams, Chair of the Shadow Monetary Policy Committee and former chief economist at Lloyds Bank, said:
"There is mounting evidence that the UK's monetary policy is too tight and could lead to price deflation in a few years and potential recession in the interim. The Bank of England should act now by lowering interest rates.

"The Bank's overly tight monetary stance is pushing mortgage lending down, companies are struggling to repay debt, insolvencies are rising, and households are withdrawing money to meet higher repayments.

"By underestimating the importance of the money supply, the Bank risks repeating the mistake that caused high inflation. It is essential for the Bank to 'look through' the current level of inflation and focus on where it could be in two years."
We'll find out the Bank's view, along with its latest economic forecasts, at noon.
The agenda
9am GMT: Eurozone manufacturing PMI for October

9am BST: Norges Bank interest rate decision

Noon GMT: Bank of England sets interest rates

12.30m GMT: Bank of England press conference

12.30pm GMT: US weekly jobless claims
Key events
Consumer confidence could be damaged, in the run-up to the festive spending season, if the Bank of England was to surprise us with an interest rate rise today.
Antony Antoniou, CEO of real estate firm Robert Irving Burns, says the Bank should be thinking about when starting to lower rates.
"Such high interests rates risk seriously tarnishing retail's Golden Quarter. As the penultimate vote before Christmas, this decision will further impact consumer confidence in what should be the most profitable months of the year for the high street.

"Household wealth has already plummeted thanks to interest rates rising so quickly, which is causing the UK economy to buckle; with a cooling jobs market, reduction in consumer spending and drop in property transactions. The MPC needs to take into consideration the 1.6 million people due to remortgage in 2024 who are in for an enormous shock; we've already seen mortgage approvals sink in September to the lowest level since January 2023.

"How many profit warnings or administrations will it take before the Bank of England acts to protect and facilitate growth across our economy? Until rates start to come down, businesses will continue to take a more conservative approach, focusing on repaying debt rather than investing in growth. We simply can't afford for the economy to remain stagnant; the Bank of England should be thinking about starting to lower rates, rather than walking straight into a recession."
BoE rate decision approaches….
Anticipation is building ahead of the Bank of England's big reveal in under an hour, at noon today.
As flagged in the introduction, the BoE is expected to keep interest rates on hold at 5.25%.
Stephen Innes, managing partner at SPI Asset Management, says:
The economic data has been inconclusive, with high inflation levels and an elevated risk of recession. The voting pattern within the Monetary Policy Committee (MPC) is unclear, as seen in the split vote in September.

The BoE will release new forecasts alongside its policy decision, providing potential insights into the situation.
The macroeconomic challenges in the UK, characterized by stagflation, have significant political implications for Rishi Sunak and the Conservative Party, Innes adds:
The most recent YouGov polling data reveals a significant skew in general election voting intentions, favouring the Labour Party by 24 percentage points.

It's worth noting that before Liz Truss's brief tenure as Prime Minister, the spread between the two major parties was only 8 percentage points. However, during the peak of the October 2022 gilt crisis, this margin expanded to 36 percentage points. Since then, it has never narrowed to less than 13 percentage points. These numbers highlight a significant shift in public sentiment and political dynamics during this period.
Kitchen supplier Howden Joinery has told shareholders its profits this year will be towards the lower end of forecasts, as macro-economic headwinds continue to hit the sector.
Howdens reports that its like-for-like revenues fell 3.3% year-on-year in the three months to the end of October (but were still 30% higher than in 2019).
UK government bond prices are rallying this morning, as investors anticipate interest rates will be cut in 2024.
Reuters has the details:
British two-year government bond yields fell more than 10 basis points on Thursday to their lowest since June, as investors upped bets on interest rate cuts next year ahead of a Bank of England rate announcement due later in the day.

Two-year gilt yields sank as low as 4.680%, down 11 bps on the day at 0914 GMT, according to LSEG data, while less interest rate sensitive 10-year gilt yields were more than 9 bps lower at 4.404%, their lowest since October 13.

Yields on US Treasuries were also down, though not so much, after the U.S. Federal Reserve kept interest rates on hold on Wednesday and Fed Chair Jerome Powell was equivocal about future rate rises.

Financial markets see only a 10% chance of a rate rise from the BoE on Thursday, and have 11 bps of rate cuts priced in for June 2024, rising to almost a full quarter-point cut by August 2024.
In the UK property market, the lowest available 85% LTV (loan to value) mortgage rate has dropped below 5% for the first time since June, online portal Rightmove reports.
The lowest available rate for an 85% LTV five-year fixed mortgage is now 4.99%, they report.
Rightmove also shows that some average mortgage rates are noticeable cheaper than a year ago, when the chaos after the mini-budget drove up borrrowing costs:
The average 5-year fixed mortgage rate is now 5.36%, down from 5.97% a year ago

The average 2-year fixed mortgage rate is now 5.81%, down from 6.22% a year ago

The average 85% LTV 5-year fixed mortgage rate is now 5.44%, down from 6.00% a year ago

The average 60% LTV 5-year fixed mortgage rate is now 4.94%, down from 5.71% a year ago

The average monthly mortgage payment on a typical first-time buyer type property when taking out an average five-year fixed, 85% LTV mortgage, is now £1,164 per month, down from £1,228 per month a year ago
The Bank of England should "follow the money" when setting interest rates, argues Costas Milas, professor of finance at the University of Liverpool.
He tells us:
The Bank of England is expected to leave the Bank's base rate unchanged at 5.25%.

One has to "follow the money" to realise that inflation is on its way down and therefore no further monetary tightening is necessary.

From the Chart below, Divisia money growth, which is a powerful measure of the economy's liquid conditions as I have shown in my recent paper for The European Journal of Finance, reached a high of 19% in the first quarter of 2021, prior to UK inflation peaking at 10.7% in late 2022.

This means that money growth affects inflation with long and variable lags. Everything else equal, my own estimates suggest that the big drop in money growth in the third quarter of 2023 will reduce inflation by as much as 0.5 percentage points in 2023 Q4.

My ongoing worry is that the Bank of England's policymakers have largely ignored money movements when setting interest rates. Something the ongoing review of the Bank's forecasting, led by Ben Bernanke, should look at!
The Bank of England will be aware that most of the impact of its previous interest rate rises have not, yet, been fully felt by the real economy.
Mike Riddell, a senior portfolio manager at Allianz Global Investors, said the long lags between changes in rates and their impact meant most of the BoE's increases in borrowing costs between late 2021 and August this year was yet to be felt.

"The BoE will most likely therefore be keen to keep all options open, but seems set to wait and observe how much pain the previous hikes have caused before changing rates again in either direction," Riddell said.
Eurozone factory decline continues
The slump in the eurozone's manufacturing sector continued in October, new data shows, reinforcing concerns over the region's economy.
The latest poll of purchasing managers at eurozone factories shows another "considerable" fall in factory production last month.
Firms reported "steep and accelerated" falls in new orders, purchasing activity and backlogs, and the fastest reduction in factory employment levels since August 2020.
This pulled the HCOB Eurozone Manufacturing PMI, compiled by S&P Global, down to a three-month low of 43.1 in October, down from 43.4 in September. Anything below 50 shows a fall.
That shows a further marked deterioration in the health of the euro area's goods-producing sector, just days after we learned the eurozone shrank in July-September, putting it halfway into recession.
Dr Cyrus de la Rubia, chief economist at Hamburg Commercial Bank, says:
"The Eurozone manufacturing sector's trend over the last two years or so looks like a bumpy sleigh ride down into the valley. Given that the headline PMI did barely move over the last few months, including October, we may be about to reach the bottom of the valley.

Thus, the big question is when we will begin to make an ascent. The stagnating new orders index, which remains deep in negative territory, and the similar behaviour of the Quantity of Purchase Index does not suggest an immediate turnaround.

Having said this, history tells us that in many cases the levelling out of these indices is the precondition for a start of the recovery. We expect this to happen in the first half of next year.
Norges Bank leaves interest rates on hold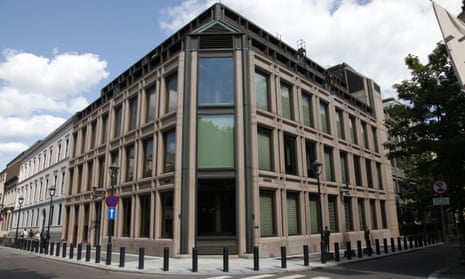 Norway's central bank has just announced that it has left interest rates on hold.
Norges Bank's Monetary Policy and Financial Stability Committee decided unanimously to keep its policy rate unchanged at 4.25%.
Announcing the move, the committee says that pressures in the Norwegian economy are easing, although the labour market is still tight.
And while underlying inflation is high, Norwegian policymaker are concerned that they should not over-tighten monetary policy.
They say:
Persistently high inflation imposes substantial costs on society. The longer inflation remains high, the more costly subsequent disinflation may prove to be. On the other hand, the Committee does not want to raise the policy rate more than is necessary to bring inflation back to target within a reasonable horizon.

Monetary policy is now having a tightening effect on the economy, and the full effects of the past rate hikes are yet to be seen. In the Committee's assessment, the policy rate is likely close to the level needed to tackle inflation, which provides the Committee with a little more time to assess whether there is a need to raise the policy rate further.

There will likely be a need to maintain a tight monetary policy stance for some time ahead. Whether additional rate hikes will be needed depends on economic developments.
These charts, from asset manager ICG, show the dilemma facing the Bank of England as it sets interest rates today.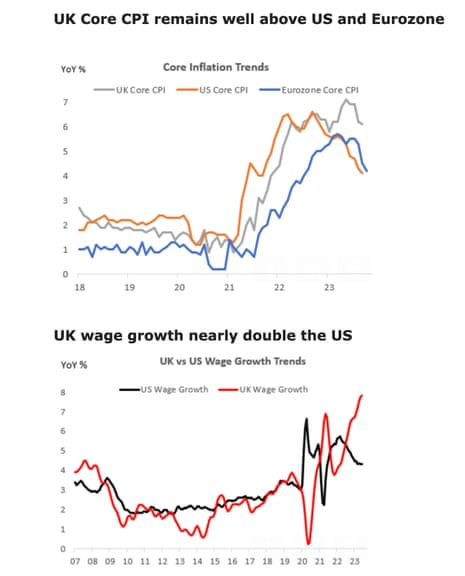 Nick Brooks, head of economic and investment research at ICG, says":
The BoE is likely to keep its benchmark rate steady at 5.25% and emphasise that future policy remains data dependent.

The dilemma the BoE faces is that although economic growth is slowing, the UK's inflation rate is running at the highest among major developed economies and is proving very hard to bring down.

Until there is a significant loosening of labour markets, the BoE will likely need to keep rates at current levels, with the risk that it is forced to tighten further in the coming months.
Canada Life Asset Management's Liquidity Fund Manager, Steve Matthews, predicts UK interest rates will remain on hold today…. and for much of the next year.
Matthews says:
"The Bank of England (BoE) is wary of potential bumps in the road.

The key here is not only getting inflation down to 2%, but doing so in a stable and lasting way. With MPC member Mann saying she was still worried about persistent rises in the cost of living, and with CPI holding steady in the last print, there are no guarantees that the hiking is over.

"However, UK Manufacturing PMI and employment data indicate a generally weakening economy and, as such, we expect the BoE to judge this as a precursor to inflation falling as previous hikes take hold.

Naturally, as we perceive rates to peak, the market looks to when the first cuts may take place. We feel it's too early to say that the work to control inflation is done and see rates remaining at 5.25% for much of 2024."
FT: Lloyds rebuffs Barclay family's latest £1bn attempt to regain Telegraph
The Barclay family's latest attempt to reclaim the Telegraph has reportedly been rebuffed.
The Financial Times reports that Lloyds Banking Group, which is handling the auction of the newsaper group, has rejected the £1bn approach from the Barclays.
The move is an attempt to reassure other bidders, who were concerned that the Barclays £1bn "back door" offer could have a "chilling effect" on the official auction.
The bank, which placed the Telegraph into receivership in June, rejected a £1bn offer initially made by the family and backed by Middle Eastern investors as recently as three weeks ago, according to two people familiar with the situation.

Lloyds told the Barclays to either repay the £1.1bn with a transparently funded offer, or bid in an ongoing auction, those people said. The bank has contacted bidders to reassure them of progress in the auction, which aims to be completed by early next year, they added.

Analysts do not expect the sale price for the Telegraph to exceed £600mn based on market comparisons.
Lst week Axel Springer, the German-based media group, cast doubt over whether it will submit a bid for the Telegraph group.