Introduction: UK real regular pay is growing
Good morning, and welcome to our rolling coverage of business, the financial markets and the world economy.
UK regular pay is rising faster than inflation for the first time in almost two years this summer, bringing some relief in the cost of living squeeze.
Regular real pay (adjusted for inflation) rose by 0.7%, year-on-year, in the June-August quarter, new figures from the Office for National Statistics shows.
Regular pay was up by 7.8% in the quarter, the same as last month, but real pay has turned positive, thanks to the fall in inflation last summer.
Real regular pay in the previous period, May-July, has been revised up to 0.1% growth, from an initial reading of 0% – the first positive reading since October 2021.
Total pay (including bonuses) rose by 8.1% in June to August 2023, lifted by payments to NHS and civil service staff this summer (although that's down from 8.5% in May-July).
Rising wages are clearly a boost to struggling households, after a two-year cost of living squeeze. But it may encourage the Bank of England to keep interest rates high. Yesterday, the BoE's chief economist, Huw Pill, singled out wage rises as an 'outlier' that could indicate persistent inflation pressures.
In its latest healthcheck on the UK jobs market, the ONS also reports that public sector pay growth was the faster in over 20 years, but still lagged the private sector.
Here's the details:
Annual average regular pay growth for the public sector was 6.8% in June to August 2023 and is the highest regular annual growth rate since comparable records began in 2001; for the private sector this was 8.0% and among the largest annual growth rates seen outside of the coronavirus (COVID-19) pandemic period.

The finance and business services sector saw the largest annual regular growth rate at 9.6%, followed by the manufacturing sector at 8.0%; this is one of the highest annual regular growth rates for the manufacturing sector since comparable records began in 2001.
Some of the numbers we'd normally get today, including the jobless rate, has been delayed by a week, though. Data from the ONS' Labour Force Survey (LFS), used to calculate Britain's unemployment rate, has been pushed back to next Tuesday (October 24th), due to falling response rates to the LFS survey.
But there are worrying signals from the economy this morning, with engineering firm Rolls-Royce confirming that it plans to cut up to 2,500 jobs across its business.
The agenda
7am BST: UK earnings and employment data

10am BST: ZEW eurozone economic sentiment index

10.15am BST: Treasury Committee inquiry hearing into sexism and misogyny in the City

1.30pm BST: US retail sales for September

3pm BST: NAHB survey of US housing market
Key events
Britain's competition watchdog is investigating boiler maker Worcester Bosch over concerns that it is misleading shoppers with its "hydrogen-blend" boilers.
The Competition and Markets Authority (CMA) will examine if customers are being told confusing or inaccurate green claims.
The CMA is concerned that the marketing of these 'hydrogen-blend' boilers, could mislead people into thinking they are more environmentally friendly than they are.
Its investigation will examine:
Labels or text stating that Worcester Bosch's boilers can run on a blend of 20% hydrogen and natural gas, which may give the impression this is a special feature despite all boilers in the UK being legally required to operate this way since the mid-1990s.

Information and messaging on the use of hydrogen for home heating in the UK – despite this not currently being available and its introduction being potentially years away and dependent on future government decisions.

Descriptions and information about the environmental benefits of 'hydrogen-blend ready' boilers which may falsely suggest that these boilers will reduce a household's carbon footprint.
Last month, Sky News reported that several companies are making confusing and potentially misleading claims about hydrogen, as part of the sales process for standard gas boilers.
The UK government is currently consulting about whether to blend of up to 20% hydrogen by volume into the gas distribution networks. But it's not clear when, if ever, hydrogen will replace natural gas to power boilers.
George Lusty, senior director for Consumer Protection at the CMA, said:
Businesses need to be clear about the environmental credentials of the products they're selling. This is especially important for heating products like home boilers, which are an expensive and long-term purchase.

We set out our concerns earlier this year about businesses marketing boilers as 'hydrogen-blend'. We'll now be scrutinising green claims from Worcester Bosch to see if they mislead shoppers.

In the meantime, we'll continue to keep a close eye on practices in the sector.
Glencore 'to cut 1,000 jobs and chut Mount Isa copper mines'
Over in Australia, mining giant Glencore is reportedly planning to cut 1,000 jobs.
Glencore is planning to close its copper mining operations in Mount Isa, Queensland, by the end of 2025, according to the Australian Financial Review.
The AFR says:
With global miners struggling to contain costs and boost profitability amid increasing economic uncertainty, Glencore on Tuesday will announce its three underground copper mines in Mt Isa will be closed by the second half of 2025.

It is understood the mines are reaching the end of their natural life and the copper grade had become much lower which forced the decision.

But in a bid to allay local concerns, Glencore will confirm it will keep its copper smelter in Mt Isa and refinery in Townsville open, with enough third-party work to keep them profitable.
Rollback of hybrid working 'driving women out of City', MPs hear
The rollback of hybrid working patterns is forcing women out of the City of London, MPs have been warned this morning.
The Treasury Committee is holding a hearing into sexism in the City, and asks whether things have improved over the last five years.
Fiona Mackenzie, CEO of thinktank The Other Half, tells MPs that the "accidental" introduction of hybrid working in the financial sector due to the Covid-19 pandemic did lead to some "fantastic progress".
She says:
That has had a huge impact on working parents, (and brought) huge benefits for working parents, particularly for women – whether they or their partner are hybrid-working.

I think that has been life-changing.
There are lots of women in the City who are doing roles they would not be able to fulfill before, Mackenzie says, because they can be home-based sometimes, and due to the flexibility over when and where they work.
That is a huge thing if you have children, it makes such a difference to your ability to work.
Mackenzie warns, though, that very few people defend hybrid working – many CEOs don't love it, and are quite keen to switch it off even though their staff love it.
So "lots" of hybrid working is being dialled back, particularly in founder-led firms, US-based firms and the investment industry.
This is forcing many high-performing women out of their jobs, Mackenzie warns:
There are women all over the City who are now working their notice, who have left jobs where they were high-calibre performers, because hybrid working enabled them to stick in those roles.

And there are leaders who are tearing their hair out, because they know they are losing great people because of these decisions to just switch off hybrid working unthinkingly.
FT: KPMG cuts jobs and freezes pay for deal advisory staff
More bad news on jobs, this time in the accountancy world.
KPMG will launch fresh job cuts in the UK and freeze pay for its deal advisory staff, the Financial Times is reporting.
The cuts come as a subdued deals market and difficult economic environment hit demand for KPMG's services.
The redundancies in the deal advisory team were set to be announced during hastily convened calls on Tuesday morning and would affect about 110 people, close to 7 per cent of the nearly 1,700-strong UK deals business, according to people familiar with the matter.

KPMG had previously launched a targeted set of job cuts aimed at 2.3 per cent of its UK consultants — 125 positions. The firm, where partners earned an average of £717,000 last year, employs about 17,000 people in total across its audit, consulting, tax and deals practices.

The redundancy consultation was a last resort after other steps such as reallocating staff to divisions with more work, said a person familiar with the matter.
Last week, KPMG was hit with a record £21m fine by Britain's accounting watchdog, for its botched auditing work on the failed government contractor, Carillion,
Over in Germany, investor morale has brightened unexpectedly.
The ZEW economic research institute's economic sentiment index rose to -1.1 points from -11.4 points in September, rather higher than the -9.3 forecast by economists.
Investors were more optimistic that inflation will ease, despite concerns that the Israel-Hamas war will push up oil prices.
Those surveyed were more optimistic about the economic expectations for the eurozone, although their assessment of the current situation fell.
ZEW President Professor Achim Wambach says the data suggests "we have passed the lowest point.", adding:
There's a noticeable uptick in the economic expectations of financial market experts in October 2023. In contrast, the assessment of the current economic situation in Germany has barely changed.

The heightened economic expectations are accompanied by the anticipation that inflation rates will decrease further and the fact that now more than three-quarters of respondents anticipate stable short-term interest rates in the eurozone.

Negative factors such as the Israel conflict – cited by some respondents as a reason for revising their growth forecasts downward – had only limited impact on the overall more optimistic outlook,
Bank of England policymaker Swati Dhingra says that recent labour market data shows a softening job market.
And that, Dhingra warns, is likely to lead to slower wage growth and reduced inflation pressure.
Speaking at an event organised by the Royal Economic Society, Dhingra – who has opposed recent interest rate increases – says:
"Now when the labour market is really loosening … it's very hard to imagine where further momentum in wage growth is going to come from.

"We should see some relenting of domestic inflationary pressures.
In the housing market, Bellway has warned it will build rather fewer houses in the current financial year.
Bellway says it hopes to complete around 7,500 homes in the year to 31 July 2024, down from 10,945 homes in 2023.
Ths precise number of homes built will depend on the trajectory of mortgage interest rates and the strength of demand in the autumn and spring selling seasons, it says.
Customer demand continues to be affected by mortgage affordability constraints, Bellway explains, with reservations below the comparative rates in the prior year.
Bellway also reported an 18% drop in underlying profits for the last financial year, saying:
The Group's programme of accelerating the construction of social homes partially offset weaker private demand, which was impacted by higher mortgage interest rates, cost-of-living pressures and the end of Help-to-Buy.
The Resolution Foundation warns that Britain's mini pay recovery may not last long, given signs of cooling in the labour market.
Hannah Slaughter, their senior economist, explains:
"Employment and vacancy levels continued to fall over the summer, while the pace of private sector pay growth has slowed.

"Fast falling inflation should help to prop up real pay packets even as the labour market cools down, and monetary policy makers face a tough judgement on the future path of interest rates."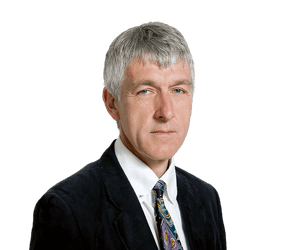 Larry Elliott
Today's UK pay data leaves ministers with a big decision to make on next year's state pension uprating, our economics editor Larry Elliott says.
That's because of the pension triple lock, which states that pensions will rise by earnings, inflation or 2.5% – whichever is higher.
But which earnings figures will the government pick? They may be tempted to use the regular pay statistics, which exclude bonuses, and shows a smaller rise than total pay.
Larry explains:
The period over which the earnings component of the triple lock is calculated is the three months from May to July, when there was an increase of 8.5%. But earnings growth during that time was boosted by one-off payments to NHS staff and civil servants which, according to the ONS, led to "a spike in bonus payments that has never been seen before".

Using regular growth in the three months to July would mean uprating pensions next year by 7.9% rather than 8.5% – and would save the exchequer about £1bn. It is safe to say that that option is under careful consideration.
Jobs at risk as electric truck maker Volta Trucks files for bankruptcy
Hundreds of UK jobs are at risk at Swedish electric truck maker Volta, which is filing for bankrupcy protection.
Volta Trucks' board announced this morning that, "with deep and sincere regret", they have decided to file for bankruptcy proceedings in Sweden.
The main trading entity of the Group, Volta Trucks Limited, will shortly file for administration in England, with insolvency practitioners from Alvarez & Marsal anticipated to take over, they add.
Volta blames problems with its suppliers; its battery supplier, Proterra, recently filed for Chapter 11 Bankruptcy, which affected how many vehicles Volta could make.
It says:
The uncertainty with our battery supplier also negatively affected our ability to raise sufficient capital in an already challenging capital-raising environment for electric vehicle players.
Volta Trucks has been developing its products in Warwick, including 7.5-tonne and 12-tonne all-electric lorries, and employs around 600 people in the UK.
Back in June, Volta Trucks launched its truck as a service hub in Tottenham, north London – where the rollout of the ULEZ clean air zone has lifted demand for electric vehicles.
Here's Rachel Reeves, Labour's shadow chancellor, on today's jobs report:
"Thirteen years of Conservative economic failure has left working people worse off, with low growth, low pay and high taxes.

"Working people saw pay rise faster under the last Labour government.

"But, with the Conservatives we have seen a decade of stagnant wage growth."
Chancellor Jeremy Hunt has welcomed this morning's news on wages, saying:
"It's good news that inflation is falling and real wages are growing, so people have more money in their pockets.

"To keep this progress, we must stick to our plan to halve inflation."
The next inflation data, for September, is due at 7am tomorrow – economists predict a small fall in the annual rate of price rises, from 6.5% from 6.7%.
The pound has slipped a little this morning, as traders digest this morning's jobs data.
Sterling has lost a third of a cent against the US dollar, to around $1.218.
As flagged earlier (see here), the slowdown in regular pay and the drop in vacancies could signal a weakening labour market, and encourage the Bank of England to leave interes rates on hold in November.