Age 16-25
Don't worry if your first time isn't perfect
"It's not helpful to think of sex as having one big 'first time'. You'll probably have lots of first times," says Milly Evans, author of Honest: Everything They Don't Tell You About Sex, Relationships and Bodies Instead, she advises breaking it down into all the individual firsts you might have – "your first time having oral sex, penetrative sex, using hands or using toys". Even if you experience all of these with one person, there will be a whole new set of firsts to explore with a different partner.
Communication is the thing that matters most
This holds true whatever age you are, according to Clover Stroud, author of My Wild and Sleepless Nights "Communicating clearly about desire, or how you like to be touched or treated, isn't easy. I wish I'd known how much sex improves as you get older and become more confident about what you like and how to communicate those needs."
Being ready to have sex is more than just a feeling
"It's about lots of practical and emotional things too," says Evans. "Does the idea of having sex make you excited or anxious? Do you know enough about contraception, STIs and consent? Do you know where to access support if something doesn't go to plan? Would you have to drink alcohol in order to feel confident enough to have sex? Is there a safe place for you to have sex? Safety, comfort and wellbeing are essential." If you can't answer all of these questions positively, you probably aren't ready.
Think about what you want ahead of time
"Reflecting can help you feel more prepared and in control," says Evans. "Take a look at boundaries around things like touch, communication and time. Ask yourself if the relationships or sex depicted on TV, in books or on social media are what you'd like from your own. And remember that sex is something that happens with you, not to you – speak up about what you want, and encourage partners to do the same."
Switch off negativity
"As you're looking at movies or television or porn, or magazines or music videos or social media, ask yourself, 'After I see this, am I going to feel better about my body as it is today, or worse?'" says sex educator Emily Nagoski, in her book Come As You Are. "If the answer is 'worse', stop buying or watching those things." This is especially important where porn is concerned.
As the recent report from the children's commissioner for England, Rachel de Souza, has highlighted, the increasingly abusive, aggressive behaviour depicted on many mainstream porn sites is normalising sexual violence and exploitation among teenagers, affecting their mental health and undermining their ability to develop healthy sexual relationships.
You have the right to change your mind
"Don't feel pressure to do something sexually that you're not comfortable with," advises psychotherapist Silva Neves, author of Sexology: The Basics. "You can always say 'no' or 'pause', or say 'no' after you've said 'yes'."
Age 25-35
It's good to simmer
"The happiest erotic couples make a point of enjoying feeling aroused together for its own sake – even on days when sex isn't on the menu," says US sex therapist Stephen Snyder, author of Love Worth Making: How to Have Ridiculously Great Sex in a Long-Lasting Relationship. "In sex therapy we call this simmering. It's what teenage couples do whenever they get a moment's privacy. Quick, intimate bodily contact, fully clothed – just enough to get you slightly buzzed."
Penetrative sex isn't the gold standard (nor, for that matter, is simultaneous orgasm)
Many of what we have come to perceive as cultural markers of sexual excellence are spurious ideas that are now being refuted by science – and more honest, open debate around the subject. Such ingrained cultural beliefs are worth challenging. Do what works for you rather than what society tells you ought to work for you. For example, says Neves: "Many gay men don't have anal sex at all, but prefer oral sex and intimate touching. Similarly, many women have very good sex without penis-in-vagina sex."
You need to set the right conditions for sex
Context is everything, explains Nagoski. If you're feeling relaxed, loved and fully present (as opposed to, say, worrying about an email you need to send, an argument you've just had, or whether the children might walk in on you) you're likely to have better sex. If you're not, it doesn't matter how sexy your partner is, how much you love them, how fancy your underwear is or how many candles you light – almost nothing will activate that desire. Nor is it about what you do with your partner, which body parts go where, or how often, or for how long. It's about sharing sensation in the context of profound trust and connection, and recognising the difference between what great sex is really like and what most of us expect great sex to be like.
You don't have to have sex at all
"Gen Z are having less sex than millennials, who have less sex than older generations. This is often treated as a bad thing, but it might reflect more self-awareness in a hypersexual society," says Aimée Lutkin, author of The Lonely Hunter: How Our Search for Love Is Broken. "Think about what you want out of sex and be honest about whether it is the thing you are really seeking. Is it intimacy? Community? Distraction? If it is sex, that's great. The more in touch you are with your needs, the more likely it is you'll make the connections you want to."
Commitment and monogamy can be exciting
"In my teens and 20s, I thought good sex was about physical desire," says Stroud, "but in my 30s I realised that feeling psychologically 'seen' by another, and trusting them implicitly, is where good sex starts. Then you learn to take huge risks with them too. At that point, commitment and monogamy get really exciting."
Age 35-45
It's normal for sex to drop off the list of priorities
"When you have a new baby or you're caring for an elderly parent, overwhelmed with work or coping with some other form of stress, sex won't be top of the agenda (though for some it will be a useful stress reliever)," writes Nagoski. "Don't panic about it. It's a phase you'll pass through when you've managed the stress, and you'll find your way back to the other side."
Have a six-second kiss
"Greet one another at the end of the day with a kiss that lasts at least six seconds, or a hug that lasts at least 20 seconds. That guarantees you will both produce the hormone of emotional bonding, oxytocin," says relationships expert John Gottman, co-author of The Seven-Day Love Prescription.
Make sex a priority
"Don't make lovemaking the very last item on a long to-do list," says Gottman. "Make it a real priority. Go on an overnight romantic date at a local B&B, or farther afield, at least four times a year."
Don't try to second-guess what your partner will enjoy
Whether you're trying to sustain sexual satisfaction in a long-term relationship or wondering why a new partner isn't responding to your usual moves the way a previous one did, the key is to be really honest about what works (or doesn't) for you, instead of expecting your partner to guess. "About a quarter of women orgasm reliably with intercourse," writes Nagoski. "The other 75% sometimes, rarely or never do, but might orgasm through manual sex, oral sex, vibrators, breast stimulation, toe sucking or pretty much any way you can imagine. They're all healthy and normal. Similarly, a woman can be perfectly normal and experience arousal nonconcordance, where the behaviour of her genitals (being wet or dry) may not match her mental experience (feeling turned on or not)."
Have sex with yourself
Whatever age you are, "masturbation can be a great way to explore your body and fantasies", says Evans. "Spend time creating your own storylines and find out what turns you on. You can also explore a whole world of visual, written and audio erotic content – but make sure it's ethical (ie it is consensual, treats performers with respect, and pays performers and makers fairly). Audio erotica, in particular, has become more mainstream, especially among those who aren't into visual porn, enjoy bringing their imagination into solo sex or want to try something new." Two of the best-known platforms are Quinn and Dipsea, but it's a fast-growing market.
Mothers are allowed to enjoy sex, too
"It is a complicated balance, being both a mother and a sexual being," says Lucy Roeber, editor of the Erotic Review, which relaunches later this year. "In our society, we sometimes expect women who give birth to pass through a door into an idealised state of maternal preoccupation without a backward glance. Yet they have the same messy lusts and cravings. My advice is: don't strive to be too perfect a mother and don't deny yourself pleasure. It is surprisingly easy for women to accidentally put their sexual being to one side while they work on motherhood. Yet the two can and should work together. After all, in most cases, it was sex that started the process of parenthood in the first place."
Age 45-55
To cuddle or not to cuddle?
Snyder says that "cuddling tends to deplete a couple's erotic energy. If you like to cuddle together while watching TV, then be sure to 'simmer' (see above) during the ad breaks." Gottman, however, advises "a daily cuddling ritual for watching films and TV shows at home where you actually stay physically in touch with one another. On one of these nights offer to give your partner a 15-minute massage."
Don't wait for desire to strike – practise creating it
"Too many couples only have sex when they feel desire," says Snyder. "That's fine when you're 20. But by 50 most people are more interested in a good night's sleep. What to do? Have sex anyway." Nagoski agrees that pleasure matters more than desire. She says: "Create a context that allows your brain to interpret the world as a safe, fun, sexy, pleasurable place. It's called responsive desire and it asks that your partner help you in creating good reasons for you to be turned on. While some people have a spontaneous desire style (they want sex out of the blue); others have a responsive desire style (they want sex only when something pleasurable is already happening). The rest, about half of women, experience some combination of the two."
Embrace body confidence
"I've found that being in my 40s is entirely liberating. We get better as we shed the self-consciousness of youth, the desire to please, the emotional pliability. I love my body. It is the map of the years I've lived," says Roeber. Nagoski questions wider sex-negative culture. "If you've learned to associate sexual arousal with stress, shame, disgust and guilt, you won't have as good a sex life as someone who associates it with pleasure, confidence, joy and satisfaction," she says. "Begin to recognise when your learned disgust response is interfering with your sexual pleasure. Your genitals and your partners', your genital fluids and your partners', your skin and sweat, and the fragrances of your body – these are all healthy elements of human sexual experience."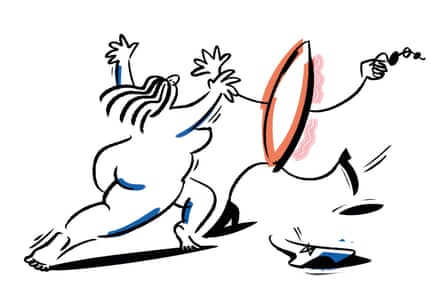 Manage the menopause
Hormonal changes during the menopause and perimenopause can trigger a host of symptoms (low libido, fatigue, low mood, vaginal inflammation or dryness) that do not make a recipe for romance, according to Dr Louise Newson, GP, menopause specialist and founder of the Balance app. "If you notice any of these changes, see a healthcare professional for a proper diagnosis and to discuss treatment options." Don't assume these issues will only start in your late 40s, either. "Though the average age of menopause is 51, one in 100 women will go through menopause before the age of 40. Even if you have an 'average' menopause, the perimenopause often starts in your early 40s."
Have a sex date
"Set a date to meet naked in bed to do absolutely nothing at all," advises Snyder. "Talk, if you like, but this isn't the time for deep conversation. Instead, focus on experiencing what's going on in your body at that moment. Time is an endless string of such moments. Pay attention to a few of them. That's often the best preparation for good lovemaking afterwards."
Learn how to reconnect
"It can be hard to connect to someone intimately if you don't feel connected to them emotionally. Launching into 'You don't make me come any more' or 'You never want sex and I feel rejected' will put your partner on the defence," says Ammanda Major, head of service quality and clinical practice at Relate. "Saying, 'I've noticed we seem to have drifted a bit on this and I'm really hoping we might talk about it' is gentler. You're not making assumptions about what your partner might be feeling, but you are showing that you're interested in what they have to say about it. Once you've got those things in place, you can have a conversation about how to deal with it."
You're never too old to experiment
"We have one body, but it can experience so many different forms of pleasure, especially when we open our minds. The more we accept the lie that our lives are over at 40, the more we are just cutting ourselves off from possibility," says Lutkin. Newson agrees: "Your 50s and 60s can be a time of sexual liberation when your children may have flown the nest or you may be back on the dating scene after the end of a relationship. Many of my patients tell me that HRT and testosterone have given them a new lease of life. Make sure you are using lubricants (see below) and toys that are safe. These can ease discomfort and make sex more enjoyable, but many brands of lubricant contain irritants like glycerine and parabens, and should be avoided."
Age 55-65
Focusing on sex drive is a wrong turn
So often we use the catch-all phrase "sex drive" to describe our enthusiasm for, or lack of interest in, sexual activity. In reality the process is more complicated than whether you're feeling in the mood or not. "Your brain has a sexual 'accelerator' that responds to 'sex-related' stimulation: anything your brain has learned to associate with sexual arousal," says Nagoski. "It also has sexual 'brakes' that respond to anything your brain interprets as a reason not to be turned on. Constantly monitoring for footsteps in the hallway? Have sex when no one else is home. Tired? Have a nap. Icked out by grit on the sheets? Change them. Cold feet? Put on socks. Sometimes it really is this simple."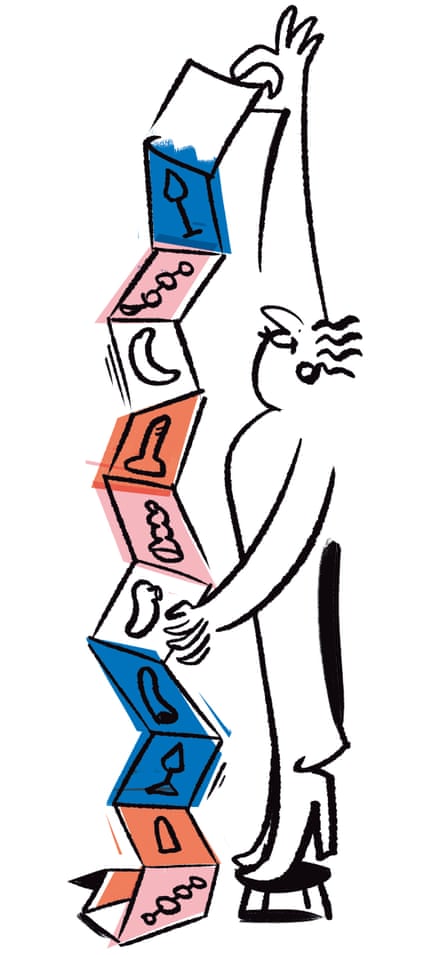 Follow the recipe for romance
While everyone's particular sexual preferences may differ, studies suggest there are some commonalities among couples who claim to have great sex lives. "From the largest study ever done on what makes for great sex, the Normal Bar study, as well as our own studies, there are a baker's dozen suggestions that set apart people who say they have a great sex life from people who complain that their sex life is awful," says Gottman. "Things that work include kissing passionately, giving each other surprise romantic gifts, talking comfortably about their sex life and having weekly romantic dates."
Manage dryness
"One symptom affecting a healthy sex life that should be on every woman's radar is vaginal dryness," says Newson. "You might also experience soreness, itching, irritation, painful sex, vulval changes and UTIs. It can be hugely distressing – I've treated women who have been in so much discomfort they can't put on a pair of trousers or even sit down, let alone have intercourse. But it can be managed by using vaginal oestrogen or HRT and avoiding tight-fitting clothing. You should also avoid perfumed soaps and shower gels or intimate-hygiene washes."
Find out what you like as a couple and make it happen
Monogamy is sometimes framed as the death knell of erotic connection, but, says Nagoski, this is a red herring. "Passion doesn't happen automatically in a long-term, monogamous relationship. But it does happen if the couple takes deliberate control of the context," she says. So find out what is pleasurable for you as a couple and spend time creating the context that leads to it. Often, but not always, we fall into one of two categories – those who need space from a partner in order to create spontaneous desire and those for whom great sex tends to happen when it's preceded by affection and intimacy.
Don't take things for granted
People often get stuck in familiar routines in the bedroom but, whether you're with a long-term partner or starting a new relationship, it's important to check in now and then and ask whether your usual approach is working. "If something doesn't feel quite right, it's important to be able to talk about it honestly and caringly," says Major.
Age 65-plus
Don't rush things
"If you've been in a partnership for many years that has now ended, you may want to get out there and meet people," says Major. "But if something doesn't feel right, it isn't. Whether you're 18 or 58, having sex is something to do when you feel confident that there is a degree of trust. New partners may have different expectations from you and different experiences. That's potentially two very different sets of boundaries."
Make the wellness connection
Older generations sometimes see sex as a taboo subject. If that's the case for you, try reframing sexual wellbeing as one component of your wider physical and mental wellbeing. Whether you're eager to discover positions that are easier on arthritic joints or prefer the closeness of a cuddle, maintaining intimacy can significantly boost overall wellness. Conversely, good health habits can improve our sexual wellbeing, particularly as the effects of ageing start to kick in. "Not drinking too much, eating sensibly and exercising regularly can all have a beneficial impact on our sex lives," says Major.
Seek medical help when needed
Many older couples say erectile dysfunction medications make sex less anxiety-provoking, says Snyder, just as a lubricant can help some women. "Sex and worrying don't go well together. As a sex therapist, I'm always happy when a couple has one less thing to worry about." Major agrees: "Issues like erectile capacity and vaginal dryness need not rule out a satisfying sexual connection. But seeking medical help where needed is important – lumps, bumps, weird bleeding and poor erectile capacity can be symptomatic of health issues. And with the number of STIs in the over-65s having significantly increased as people move out of long-term relationships and start new ones, it's important to get checked out."
Strive for connection
"Being able to share intimacy with a partner, as opposed to just wanting intimacy for yourself, is vital," says Major. "Your level of energy or physical connection might be quite constrained, but it's very possible through gentle touch, words or kindness to maintain that core intimacy. For some couples, the physicality of sex becomes unimportant in later life, but what they have is a deep emotional connection – an ability to talk honestly and openly and caringly with one another."
Welcome your sexuality
"The most important thing you can do to have a great sex life is to welcome your sexuality as it is, right now," says Nagoski, "even if it's not what you wanted or expected it to be."