Israel agrees to allow 'very minimal' quantity of fuel into Gaza
Israel's national security adviser says the country's war cabinet has agreed to allow two tanker trucks of fuel to enter the Gaza Strip each day – a quantity he described as "very minimal".
Speaking at a news conference on Friday, Tzachi Hanegbi said the fuel would be allowed for Gaza's communications system and water and sewage services.
He said the aim is to prevent the spread of disease without disrupting Israel's ability to continue its war against the Hamas militant group.
Hanegbi said the fuel amounted to roughly 2% to 4% of the normal quantities of fuel that entered Gaza before the war erupted on 7 October.
Key events
Bahrain's crown prince proposing 'hostage trade'
Bahrain's crown prince says a "hostage trade" between Hamas and Israel could achieve a break in hostilities he believes might end the conflict in Gaza.
Salman bin Hamad Al Khalifa also said security in the region would not realized without a two-state solution, in which he described the US as "indispensable" in achieving, Reuters reports.
He made the comments on Friday in a keynote address to the 2023 Manama Dialogue security summit hosted by the international institute for strategic studies (IISS) in Bahrain, an annual gathering of Middle Eastern foreign ministers and policy makers.
"It is a time for straight talking," he said, urging Hamas to release Israeli women and children it has held hostage in Gaza since its 7 October attacks.
"The intention is to break so people can take stock, can bury their dead, people can finally start to grieve and maybe people can start to ask themselves about the intelligence failure that led to this crisis in the first place," he said.
The prince stuck to a largely neutral tone through his speech, calling the situation in Gaza "intolerable" and condemning both Hamas for its attacks and Israel for its massive military response.
Mediation efforts led by fellow Gulf Arab state Qatar for the release of about 240 hostages held by Hamas have so far been unsuccessful. Hamas has released only a handful of captives on what it says is humanitarian grounds.
World Central Kitchen, the international disaster relief charity founded by the celebrity chef José Andrés, says it has trucks packed with food and cooking equipment positioned and ready to aid the humanitarian relief effort in Gaza.
The organization is working in partnership with the non-profit America Near East Refugee Aid (Anera) and says it has a large warehouse outside Cairo to keep a supply chain running.
On Wednesday, Anera announced that it had supervised the first WCK trucks gaining entry to Gaza to supply flour and beans.
The United Nations warns that Gaza's civilians face the "immediate possibility" of starvation, and that overcrowding and lack of clean water are speeding the spread of diseases as winter approaches.
Deliveries of already scarce food and other supplies have been halted in recent days because of shortages of fuel for trucks and a communications blackout that has made it impossible to coordinate deliveries, aid agencies said.
Satellite images provided by Maxar Technologies on Friday show Palestinians gathering along Salah al Deen Road as they attempt to flee south.
Fears are now growing for people crowded into the south of the Gaza Strip, as Israel's military appears to be preparing to step up operations beyond northern areas that have been the focus until now.
Civilians in parts of south-east Gaza have been told in leaflets dropped by Israeli aircraft to move into a smaller "safe zone" in the coastal town of Mawasi, which covers just 14 sq km (5.4 sq miles), prompting warnings from the heads of 18 UN agencies and international aid groups.
There are already 1.6 million displaced people in Gaza, more than two-thirds of its population. Most fled the north after similar warnings that nowhere in or around Gaza City would be safe for civilians.
The exodus south has continued amid heavy fighting and even though almost anyone who leaves now must travel on foot. The satellite images below show a crowd hundreds strong apparently waiting to pass through a checkpoint on a road that Israel had declared safe for civilians.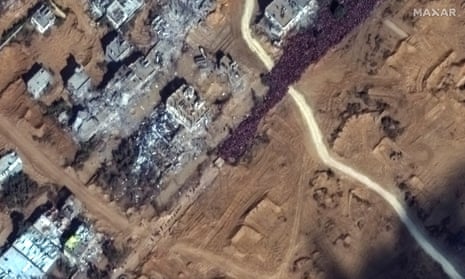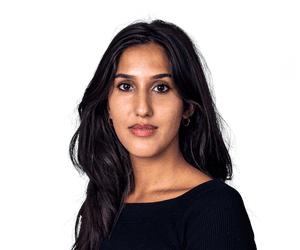 Geneva Abdul
The husband of a teacher from Liverpool who is stuck in Gaza has criticised the Foreign Office for failing to help his wife reach safety.
Islam Alashi, who teaches English as a second language, travelled to Gaza in September to visit family. She has been stuck there amid Israeli bombardment since the conflict with Hamas began on 7 October. Alashi is a Palestinian national with a spousal visa to remain in the UK, while her husband, Feiz Chihaoui, and their two children are British citizens.
When Chihaoui contacted the British embassy in Cairo for assistance in October, he was told none could be provided because Alashi was not a British citizen.
"I was crying yesterday and said look: 'I'm British. My kids, they're British, and I've got the right to everything," said Chihaoui, 45.
On 8 November, Chihaoui provided identification documents at the Foreign Office's request and was told steps were being taken to share his wife's details with the Egyptian authorities. They have not heard from the UK government since.
"All I ask is just to get my wife back," he said. "I'm not asking for any more, and this is 100% my right."
Read the full story here.
Médecins Sans Frontières has said it has not received an update from its staff inside Gaza's al-Shifa hospital since Israeli forces entered the facility on Wednesday.
In a statement on Friday, MSF said that as of Thursday, it still has at least one staff member inside Shifa but contact with them has been "intermittent". It added:
We haven't had an update on the situation inside the hospital from our staff since Israeli forces entered the facility on November 15.

When we were last able to speak with our colleagues, remaining medical staff were still trying to treat and help patients and displaced civilians who sheltered inside al-Shifa, despite having had no electricity, food, or water for days.
The charity reiterated its call for the respect and the protection of health facilities, healthcare workers, patients and civilians, and called for an immediate ceasefire in Gaza.
More protests demanding a ceasefire in Gaza were under way in the US on Friday morning, with police breaking up crowds and arresting demonstrators in various locations.
New York police on Friday arrested pro-Palestine supporters who occupied the headquarters of News Corp, the media company that owns the Fox News channel and the Wall Street Journal and New York Post newspapers, according to clips posted on social media.
Dozens of demonstrators gathered in the News Corp lobby, chanting, "Shame" and "Fox News … you can't hide. Your lies cover up genocide."
Pro-ceasefire demonstrators were also arrested on Friday in New York City after blocking the entrance to the headquarters building for BNY Mellon, a corporate investment company, which they said holds shares in weapons supply for the Israel Defense Forces (IDF).
More protests are expected on Friday and throughout the weekend in New York, Chicago and other major US cities. Such demonstrations come as recent polling shows that US public support for Israel is dropping, while the Hamas authorities in Gaza reported on Friday that more than 12,000 Palestinians, overwhelmingly civilians and mostly women and children, have been killed since Israel declared war on Hamas in October.
The World Health Organization (WHO) has said it is "extremely concerned" about the spread of disease in Gaza, after weeks of Israeli bombardments have forced people to crowd into shelters with little clean water and food.
Richard Peeperkorn, WHO representative for the West Bank and Gaza, said that more than 70,000 cases of acute respiratory infections and over 44,000 cases of diarrhoea had been recorded, figures significantly higher than expected.
The start of the rainy season and the possibility of flooding had also increased fears that the sewage system would be overwhelmed and disease would spread.
The absence of fuel has forced the shutdown of sewage pumping stations and desalination plants, increasing the risk of water contamination and the outbreak of disease.
Here's our video report:
Death toll in Gaza passes 12,000, including 5,000 children, say Hamas officials
At least 12,000 Palestinians, including 5,000 children, have been killed in Israeli strikes on Gaza since 7 October, according to Hamas officials.
Ismail Thawabta, the director general of the Hamas-run government media office in Gaza, said there were 3,750 missing persons, including 1,800 children, who are still under the rubble.
In an update on Friday, Thawabta also told reporters that at least 200 doctors, nurses, and paramedics have been killed since the start of the conflict, Al Jazeera reported.
Here's more from Ashraf al-Qudra, the Palestinian health ministry spokesperson in Gaza, who is inside al-Shifa hospital in Gaza City.
Israeli forces have turned the Shifa complex into a "military base for its operations", he told Al Jazeera today.
He said Israeli army vehicles have not moved from the vicinity of the complex "at all", as large numbers of Israeli soldiers have been sweeping through the basement and the ground floor of the hospital, including the special surgical unit. He told the outlet:
Every now and then there are sounds of sporadic gunfire inside the complex, whether it's from snipers or from the (army) vehicles.
"The reality here is cruel and painful," al-Qudra added, as people lack the "most basic of life's necessities", including food and water.
Twenty four patients have died over the past two days at Gaza's al-Shifa hospital due to power outages caused by the lack of fuel, according to the Hamas-run health ministry.
"Vital medical equipment has stopped functioning because of the power outage," a spokesperson for the Palestinian ministry of health in Gaza, Ashraf al-Qudra, said on Friday, AFP reported.
Israeli special forces continued to search the sprawling hospital complex on Friday, after first entering Gaza's largest hospital in an early Wednesday morning raid that drew fierce condemnation from the head of the World Health Organization, who called it "totally unacceptable".
The situation at Shifa is "catastrophic" for patients, displaced people and health workers who are crammed inside without electricity, water or food, the hospital's director, Mohammed Abu Salmiya, told AFP.
Israel has defended its Shifa operation, with the military saying it had found weapons as well as "intelligence materials, military technologies and equipment, command and control centres, and communications equipment, all belonging to Hamas", as well as a Hamas tunnel shaft.
Hamas and medical administrators have strenuously denied the allegation the hospital was a command centre, and the health ministry in Gaza said the Israeli military did not find any weapons in the hospital. A British doctor working at Shifa said the charge was an "outlandish excuse".
Sirens have sounded in Tel Aviv and other cities in central Israel warning of incoming rockets for the first time since Tuesday.
There have been no immediate reports of injuries or damage, the Times of Israel reported.
Several Iron Dome interceptor missiles have been seen over the area, it said.
UN official urges Israel to stop using water as a 'weapon of war'
A UN human rights official has urged Israel to stop using water as a "weapon of war" and allow clean water and fuel into Gaza to restart the water supply network.
Pedro Arrojo-Agudo, UN special rapporteur on water and sanitation, said in statement on Friday:
Every hour that passes with Israel preventing the provision of safe drinking water in the Gaza strip, in brazen breach of international law, puts Gazans at risk of dying of thirst and diseases related to the lack of safe drinking water.
He reminded Israel that consciously preventing supplies of safe water from entering Gaza "violates both international humanitarian and human rights law", adding:
The impact on public health and hygiene will be unimaginable and could result in more civilian deaths than the already colossal death toll from the bombardment of Gaza.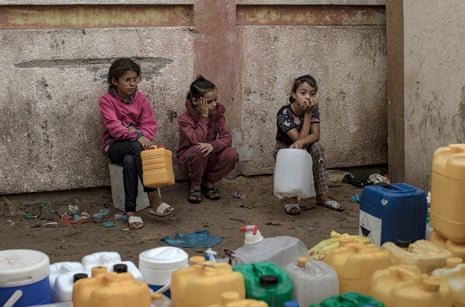 He added that children – particularly those under the age of five – would be the first affected by the water and sanitation crisis, along with women.
These frequently invisible casualties of war are preventable, and Israel must prevent them. Israel must stop using water as a weapon of war.