Andreas Mallis leans into the smoke and winces from the heat, sweat bursting from his forehead and running down his nose. The 57-year-old boat-tour operator blows on the embers of a fire and carefully turns strips of squid on a grill he hauled from his boat on to shore in the midday sun on the hottest day of the hottest summer Greece has seen in 50 years.
A group of tourists that Mallis deposited on a rug under a large juniper tree discuss the wildfires ravaging Greek islands as they wait for their lunch. On Rhodes, Crete, Evia and Corfu, thousands of tourists are being evacuated from their holidays, with forests destroyed and hotels scorched.
On Milos, one of the Cyclades islands, there have been no wildfires, but the tourists and mainlanders who usually enjoy cooler temperatures here over the summer months are starting to feel the effects of the record heat.
"We've got huge fires right now in Canada, too," Shelley Browne, from Vancouver, tells the group. "We have a cabin in British Columbia and they're burning right next to it. Unfortunately, it's just the new reality.
"I've waiting my whole life to swim in sea like this. Athens was hot though – I went up to the Acropolis, there were so many of us, herded like cattle, and two hours later they closed it."
This July was the hottest month ever recorded, preceded by our hottest ever June. The southern Mediterranean, from Madrid to Greece, hovered between 35C and 48C (95-118F) during a fortnight-long heatwave. A World Meteorological Organization statement echoed Browne: "The extreme weather … is unfortunately the harsh reality of climate change and a foretaste of the future."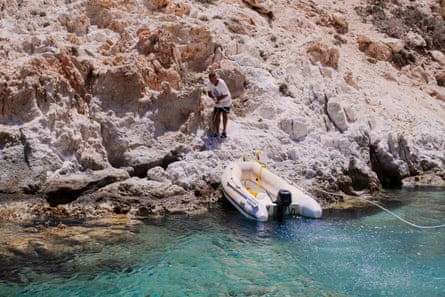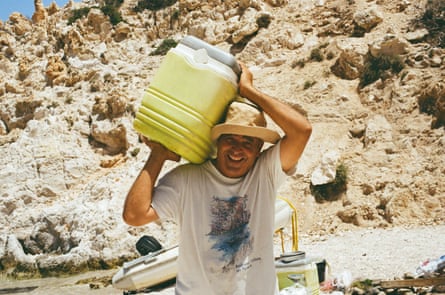 During the summer, mainland Greeks typically flock to islands such as Milos, where the wind off the sea keeps them cool. But at 40C, island breezes become jets of hot air. On 11 July, the Greek government issued emergency measures, such as closing major tourist sites and urging people to stay indoors, and avoid the sun or heavy manual work.
But for Mallis, and at least 900,000 other Greeks who rely on the seasonal tourism industry to survive, however, that is not an option.
June was unusually quiet for Mallis's Perseas Tours and he lost days of work in July because it was too windy to sail. It might be the hottest day of the year but nine customers have paid for a boat tour with a barbecue lunch, and he cannot afford to say no.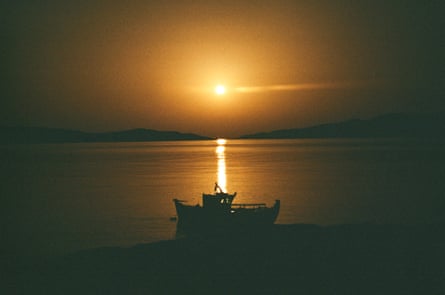 "When I get home, it's past midnight. It's so hot, I don't have the energy to clean the dishes. I just go to the church, eat a little and sleep. But no, I would never consider staying at home. If I did, I'd have to sell the boat."
The heat crisis has brought with it a new inequality. People who have no choice but to work outdoors in unbearable conditions are choosing between their livelihood and physical survival.
At the peak of the heatwave on 20 July, a 46-year-old man delivering food by bicycle died from heatstroke in Evia. Last summer, more than 60,000 people across Europe died from heat-related illnesses.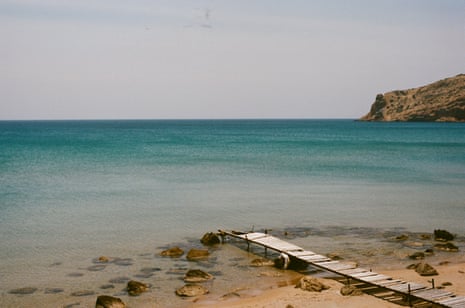 Ruseva Zormitse has been a nurse at the Nosokomio Koulourio hospital on Hydra for 22 years. Just two hours from Athens by boat, without the benefit of the Cycladic breeze on Milos, it is one of the hotter islands and a favourite among bohemian British tourists since the 1960s. In the last week of July, Zormitse admitted three people in a day with heatstroke.
"They come in with symptoms like dizziness, headache, vomiting," she says. "Mostly people who have been out on the boats, under the sun all day.
"The heat is particularly dangerous for people on medication to lower their blood pressure because those drugs are diuretic (increasing urination). Usually they are tourists – Greeks know what to do in the heat." But if they working in tourism, she adds, even the most heat-hardened Greeks are vulnerable.
"Particularly the souvlaki chefs, standing in front of that heat to cook all day. Also the people who work on the beach. What can they do?
"The government has a law to stop you from working outside when it's too hot, but everyone wants money. If you work in the private sector, no one is protected. That's the truth."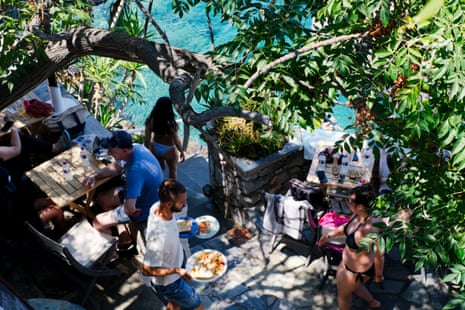 When approached through their bosses, employees at beach bars and sunbeds will admit that the weather is hotter than usual but bearable with enough water and shade. At one high-end resort beach, however, where a smart international crowd looks out from their sunbeds on to the Peloponnese, a 43-year-old beach waiter from Athens is more candid, but only on condition of anonymity.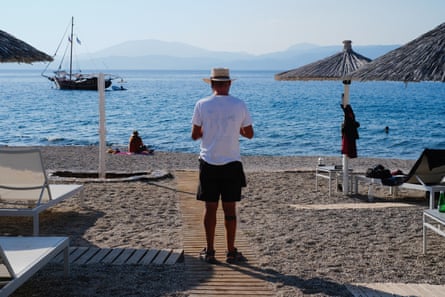 "Last week, it was hell. We're paid €5 an hour, work 11 or 12 hours a day and don't get a day off. I got sick last week, in the sun. I had heatstroke, so did my colleague on the other side of the beach. The owner came and brought us some Gatorades and said, 'unfortunately, you have to work'," he says.
"I'm still having headaches and stomach cramps – heatstroke symptoms – but no one gives a shit. The government won't help us, it's extremely far-right. They've only hired more cops, not the firemen we need. The firemen told us the country would burn and now look – it's burning."
This summer, despite widespread criticism and public outrage over its failure to adopt policies to counter heat-related catastrophes, the pro-business, rightwing New Democracy party under the prime minister, Kyriakos Mitsotakis, was re-elected with a substantial majority.
Under Mitsotakis, Greece, like most European countries, has been accused of being slow to mitigate the challenges of the climate crisis, and financial experts warn that government inaction is fast becoming an economic – not just a health – crisis, particularly for the tourist industry.
"Tourists visiting Greece don't expect the sort of disaster that befell Rhodes, Crete and Corfu," says Dimitris Yannopoulos, economics editor at the Athens News for more than 20 years and former press officer to the former finance minister Yanis Varoufakis.
"Rhodes, especially, was a complete disaster, the sort that Greek tourism can't afford to repeat. If it happens once or twice again, that would be the end of Greek tourism," says Yannopoulos, adding: "The real danger is not the weather but the inefficiency of the Greek state and public administration – for all economic sectors."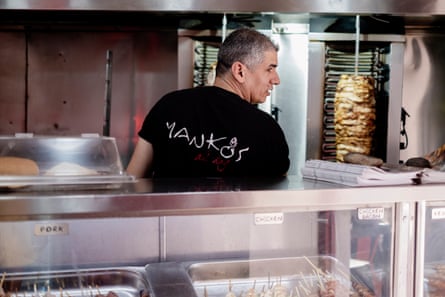 Back on Milos, a popular souvlaki restaurant near the main ferry port is understaffed. Ihab, 42, an Egyptian chef, is working his sixth summer season on Milos. It's 6.30pm and 36C outside. The heat from the flames makes it feel 10 degrees hotter. There is no air-conditioning.
"I'm here for six months and I don't take a single day off," he says. "That's the tourist season in Greece – it doesn't allow you to rest. I work 13 hours a day. I haven't eaten since the morning, just juice, water and coffee.
"There's not enough people to work here. A place like this needs three or four people. There's only two of us," he says, pointing to his Bangladeshi co-worker, whose T-shirt is wet with sweat.
Ihab used to work in the Gulf states, where temperatures regularly exceed 43C. He describes a system there where it is illegal for anyone – not just government employees – to work in open spaces between 12.30 and 3pm.
"It works great, but Greece isn't ready for a system like that. I'm not happy here any more," says Ihab. "Last week, my friend had a stroke while he was working at another souvlaki grill.
"He got really stressed and fell down where he was working. I don't want that to happen to me. I don't want to die because someone wanted a souvlaki."