Key events
72 min: Spain substitution Claudio Zornoza replaces Teresa Abelleira.
70 min Teresa Abelleira whistles a shot over the bar from distance. Spain look resigned to their fate: Switzerland in Auckland on Friday, and possibly the USA in the quarter-final.
67 min: Japan substitution The outstanding Riko Ueki, who made one and scored one, is replaced up front by Mina Tanaka.
66 min Spain keep trying to thread passes through the middle, but there's no eye in the Japanese needle. I'm really surprised they haven't tried to get round the back in wide positions.
62 min: Double substitution for Spain Alba Redondo and Eva Navarro replace Mariona Caldentey and the subdued Alexia Putellas.
Alba Redondo
60 min Spain continue to be all tiki-taka and no cattle. I don't mean to be too critical – they are still contenders to win this thing, and they are missing some vital players – but there is a recurring theme to their defeats at major tournaments. When they lost the Euro 2022 quarter-final to England they had more possession, more shots, more corners, more frustration.
59 min: Japan substitutions Miyabi Moriya and the brilliant Yui Hasegawa replace Risa Shimizu and Fuka Nagano. Futoshi Ikeda's use of the squad in this tournament has been fascinating.
57 min "I love Spain's tight passing and close control," writes Michael Sanders, "but I hate the way they commit midfield fouls as soon as they lose the ball, seemingly as a team policy. So go Japan!"
It irritates me that this is rarely mentioned in the simplistic good vs evil narratives that are usually inflicted upon us. I suppose most teams do it these days; it has become an important skill, however unpleasant it might be.
55 min Hernandez wins a corner for Spain on the right. It's punched away by Yamashita and Japan clear.
53 min Since you asked, Alexia Putellas has been very quiet.
51 min Ueki evades two challenges in the area and is about to shoot, and probably score, when Batlle makes an important lunging challenge. Moments later, Shimizu's cross bounces up awkwardly at Naomoto, whose hooked shot loops up and is easily claimed by Rodriguez. The bounce made it a difficult chance.
48 min: Chance for Spain! Abelleira plays a nice pass towards the onrushing Batlle, just outside the area on the left. Shimizu slips, which allows Batlle's to move into the area unchallenged, but her attempted curler goes well wide of the far post. That's the best chance Spain have had.
47 min "I was surprised at Japan having five new starters, thinking maybe the coach wanted to rest some of the players since the team had already qualified for the next round," writes Tuan Hoang. "But maybe the coaching staff watched Spain's first matches closely, noticed that their defence was suspect, and came up with this outstanding, efficient gameplan."
Whether by accident or design, the first-half performance was almost perfect.
46 min Peep peep!
Half-time substitutions Aoba Fujino replaces the magnificent Hinata Miyazawa, who is presumably being rested ahead of the knockout stages.
Spain have also made a change: Oihane Hernandez is on for Olga Carmona in defence. Ona Batlle will switch to left-back.
Oihane Hernández
There have been a couple of goals in the other Group C match between Costa Rica and Zambia. You can follow that with Sarah Rendell.
Hinata Miyazawa is now the leading goalscorer in the tournament.
Half time: Japan 3-0 Spain
Or, to put it another way, Transition 3-0 Possession. Spain had almost 80 per cent of the ball in the first half, and it counted for the square root of bugger all. Japan defended immaculately and were devastating on the counter-attack. Hinata Miyazawa scored two superb goals, both demonstrations of her dizzying speed and cool finishing, with the tireless Riko Ueki getting the other one via a deflection.
Not sure I've seen a first half quite like that. It was a beyond-parody demonstration that possession doesn't win matches, goals do.
Hinata Miyazawa
45+1 min Carmona takes her frustration out on Ueki and is booked.
45 min "Fútbol!" says Charles Antaki. "Dios mío."
What about the kits though eh.
44 min Spain, not unreasonably, look shellshocked.
42 min Japan have had three shots, on or off target, in the match.
It was another ruthless counter-attack from Japan. After a couple of neat passes to work the space on the halfway line, Ueki ran at a backpedalling Spain defence. She waited for support from the speedy Miyazawa and played an angled through ball. Miyazawa knocked it into space with her left foot and lifted it emphatically over Rodriguez with her right. That's a majestic finish!
GOAL! Japan 3-0 Spain (Miyazawa 40)
I'm not quite sure what's happening here, but I can confirm one thing: Japan are magnificent!
39 min Paralluelo's long-range shot hits Miyazawa and spins behind for a corner. Spain take it short and make an utter Horlicks of it.
38 min "Staying up late on the BC coast waiting for Canada to play and watching the Spain vs Japan game," writes Redmond Grimes. "Spain falling into the old trap. Pass, pass, pass… Japan could be worth a punt."
37 min Batlle does get round the back on the right and drives a flat cross that is headed onto the roof of the net by Hermoso, eight yards out. It wasn't an easy chance as she was moving away from goal when she made contact. But it was a chance.
36 min "Good to see you back," writes Chris Mac. "When either you or Mr. Murray report MBM, in particular the PL, I usually win 75 per cent of the games. Wish me luck with this one (as it doesn't appear to go in my favour)."
This being a weekday, I'm confused. Does that mean you're supporting Spain?
35 min Spain have been very narrow in attack, which suits the compact Japan defence. There's only one way to beat them, get round the back.
34 min As things stand, Spain will meet Switzerland in the last 16 and Japan will play Norway.
32 min Here's that second goal from Riko Ueki.
This is a tactical masterclass from Japan. Minami cleared a forward pass on the edge of her own area, and moments later Japan were 2-0 up. Ueki headed Minami's clearance back towards Nagano, who cushioned a neat pass into the path of Miyazawa. She released Ueki on the left side of the area, one v one against Paredes. Ueki cut inside on her right foot and hit a drive that deflected off Paredes and looped over Rodriguez.
Riko Ueki.
GOAL! Japan 2-0 Spain (Ueki 29)
Japan have stung Spain again on the break!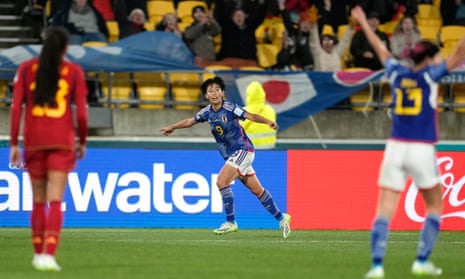 28 min Completed passes so far: Japan 56-262 Spain. Goals: yep.
26 min Paralluelo gets round the back of the Japan defence on the right, only to slice her cross out of play.
25 min Japan's defensive shape is excellent. Spain can't find way a through at the moment.
22 min Nothing much is happening. Spain are having all of the ball but Japan are keeping them at arm's length.
19 min Spain have their first shot on target, though it's a tame 25-yarder from Paralluelo that is easily saved by Yamashita.
18 min If you're into the whole motion-picture thing, here's the opening goal.
17 min There's a long way to go, but so far Japan are doing a number on Spain. I reckon they've had around 15 per cent of the possession – but when they do get the ball, they look really dangerous on the break.
15 min Bonmati moves into the area and plays a square pass that is poked wide on the stretch by Hermoso. She took the ball off the toe of her teammate Caldentey, who probably had the better chance.
14 min That's the first goal Spain have conceded in the tournament. The pass from Jun Endo was lovely, even if it may haev been intended for Riko Ueki rather than Miyazawa.
Jun Endo
It was a neatly worked goal, which punished Spain for their high line. Endo, on the left just inside the Spain half, curled a penetrative pass around the defence towards Ueki. She couldn't reach it, but Miyazawa appeared from nowhere to touch the ball away from Galvez and calmly slide a left-foot shot past Rodriguez.
Hinata Miyazawa
GOAL! Japan 1-0 Spain (Miyazawa 12)
To Spain, the possession; to Japan, the first goal.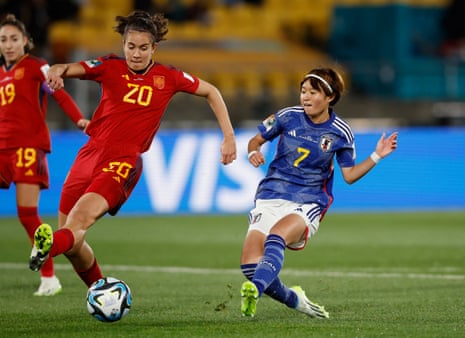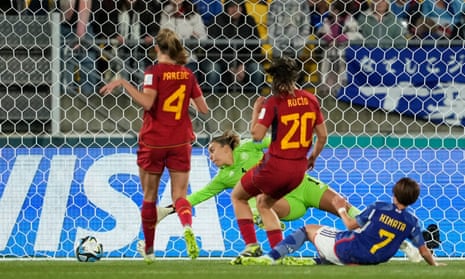 11 min Spain have had all of the ball but so far Japan have looked comfortable in their low block. In their low block? With their low block? It was easier when we just said 'defending deep'.
9 min Endo's free-kick is cut out at the near post by Batlle.
8 min The Japan defence are given a bit of respite when Naomoto wins a free-kick on the left wing. Paredes shoved her over from behind, a needless challenge.
6 min "Can we get a perennial moan out of the way early?" harrumphs Charles Antaki. "I can't see a good reason for Spain abandoning their traditional, and very stylish, red shirts/navy shorts/black socks combo. I know sometimes you need to distinguish kits for those who are colour-blind, but I can't see that here. Yes I know that this is grumpy, and I'm going to stop now and enjoy the football."
5 min Spain have started brilliantly. After another hypnotic spell of possession, Carmona drives a cross from the left that just evades the stretching Bonmati, arriving late in the box.
4 min "All seven in the Japan squad who also started in the 2018 U20 final win against Spain – Takahashi, Minami, Nagano, Hayashi, Endo, Miyazawa, and Ueki – are starting today," writes Jerome Chiu. "Meanwhile, all of the three who also started in the 2022 U20 final defeat against Spain – Ishikawa, Fujino, and Hamano – are on the bench. Hasegawa and Sugita, who both started in the 2014 U17 final win against Spain, are also on the bench."
3 min In a surprising development, Spain have already played about 50 passes.
1 min Peep peep! On a cold, windy night in Wellington, Hinata Miyazawa gets the match under way.
An email! "Do you remember," asks Kurt Perleberg, "when women's football had 80-minute matches?"
Vaguely. That was the case in the first World Cup in 1991, right? The past is an alien planet.
The story so far
The stylish Jun Endo will play at left wing-back today; here's what we had to say about her in our interactive guide.
Jun Endo
Costa Rica v Zambia, the other match in this group, is being played simultaneously. You can follow that with Sarah Rendell.
Five changes for Japan, one for Spain. Hana Takahishi, Fuko Nagano, Jun Endo, Hinata Miyazawa and Riko Ueki replace Shiori Miyake, Yui Hasegawa, Hina Sugita, Aoba Fujino and Mina Tanaka. For Spain, Rocio Galvez (see below) comes in for the injured Ivana Andres.
Japan (3-4-3) Yamashita; Takahashi, Kumagai, Minami; Shimizu, Nagano, Hayashi, Endo; Naomoto, Ueki, Miyazawa.
Substitutes: Tanaka, Hirao, Miyake, Sugita, Tanaka, Hasegawa, Fujino, Seike, Moriya, Hamano, Chiba, Ishikawa.
Spain (4-1-2-3) Rodriguez; Batlle, Paredes, Galvez, Carmona; Abelleira; Bonmati, Putellas; Paralluelo, Hermoso, Caldentey.
Substitutes: Salon, Coll, Andres, Guerrero, Gonzalez, Hernandez, Codina, Navarro, Perez, Redondo, Zornoza, Del Castillo.
Referee Ekaterina Katja Koroleva (USA)
Rocio Galvez
One game at a time. It's the mantra of sportsfolk across the world, and it's a big, fat, partial lie. At a World Cup, imagining how the draw might pan out is an irresistible activity. Japan and Spain, who have already qualified for the last 16, know the result of today's game in Wellington will open up different routes to a possible final.
Trouble is, they don't know which one is preferable. If the USA win their group, the team that finishes second in this group will be of course meet them in the quarter-finals. But for once, that's a valid 'if': the Netherlands, who drew with the US, could leapfrog them on goal difference if they hammer Vietnam in their final game. In other words, it could be beneficial for Japan or Spain to lose today's game. Confused? Splendid. Now all I need are the last three digits on the back of card.
Let's deal in facts, and what is definitely going to happen in the last 16. The winner of Group C will play Norway here on Friday; the runner-up will meet Switzerland in Auckland earlier that day. Japan and Spain are already through, having taken care of Costa Rica and Zambia without conceding a goal. Spain scored eight goals to Japan's seven, which means a draw today is enough for them to top the group. Whether that's a good thing or not, who knows.
Kick off is 7pm in Wellington, 5pm AEST, 8am BST. We'll have the team news shortly.