The Kenyan government has launched an inquiry into allegations of abuse by the British army, which MPs say could have implications for the future role of UK troops in the country.
The investigation will examine the activities of the British Army Training Unit Kenya (Batuk), whose soldiers have been accused of murder, sexual abuse, and damaging land close to its base in Nanyuki, about 125 miles (200km) north of the capital, Nairobi.
Kelvin Kubai, a Kenyan lawyer, called the inquiry a "significant" move. "It's the first time that British army activities are being reviewed in this way," he said, since the country gained independence from the UK in 1963.
Kenya's parliamentary defence committee, which is leading the inquiry, will this month put out a call for the public to submit petitions of any alleged crimes or wrongdoings by the army. Investigations will begin in October. The committee will call on Batuk to respond to the claims, and is expected to submit a report of its findings to parliament by the end of the year.
The report will include recommendations that could have consequences for a defence deal between Kenya and the UK, which allows British troops to train in Kenya.
"This will have serious consequences for the defence cooperation agreement, because if we realise that there's been a lot of activity that spits in the face of (the treaty), it gives us room to re-look at the agreement," said Nelson Koech, the chair of the defence committee, "and even to exit."
The 2012 murder of Agnes Wanjiru is expected to be included in the wide-ranging review. The 21-year-old mother was last seen with British troops at a hotel near the barracks. Her body was found in a septic tank at a nearby lodge with stab wounds. A 2019 inquest in Kenya concluded that British soldiers were responsible for her murder and ordered further investigations. No one has been charged.
Claims that unexploded bombs left by the army on land accessible to the public will also be examined, as well as reports that dangerous chemicals being used during drills are putting lives at risk. Allegations of sexual abuse will also be examined. The army has been dogged by abuse claims for years and recent local media reports say cases persist.
The Kenya-UK defence treaty was renewed in July 2021, but only ratified in April this year due to a wave of objections from communities who live near the army base and by resurgent anger over Wanjiru's case after the publication of a reported confession to her murder by a British soldier. Kenyan and UK authorities have faced criticism for laxity and neglect in the handling of her case, and the British army has been accused of "cover-ups".
When ratifying the defence deal, Nairobi MPs expressed "reservations" about the treaty's failure to list murder as a crime British soldiers can be tried for in Kenya.
Officials from Laikipia County wrote to MPs last year calling for people's concerns to be addressed before the defence deal was ratified.
Kubai, who is representing residents in a lawsuit against Batuk that alleges environmental and property damage, said a big issue for the public is that there's no "clearcut channel through which victims of British army abuse can seek redress". Even police are unsure how to handle investigations where army officers are involved, he added.
In a statement, a British army spokesperson said: "We take all allegations made against UK service personnel seriously, and they are investigated swiftly by the service authorities or the host nation authorities with appropriate support from the armed forces. We expect very high standards of behaviour of our personnel, whether they are on or off duty."
The spokesperson added: "The British army use white phosphorus illuminant rounds on training exercises in the UK and overseas, they are never used as a weapon. They are not considered to be hazardous to health and safety, provided that the existing safety precautions are followed. In Kenya, the British army only fires white phosphorus on Archer's Post training area, which is a Kenyan Ministry of Defence gazetted training area and not communal land."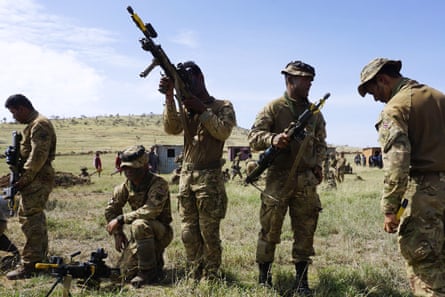 According to the UK government website, Britain channels nearly 1.2bn Kenyan shillings (£6.5m) into its defence partnership with Kenya every year, and provides anti-terrorism training support. It estimates that Batuk's presence has contributed 5.8bn shillings to the local economy since 2016.
"This isn't a situation of equal bargaining power, and that explains a lot," said Francis Situma, a professor of law at the University of Nairobi. "The question has always been – what is Kenya going to lose if it becomes a hard bargainer?"
Some people have questioned the timing and impact of the inquiry. "When governments are not respecting the rights of individuals, only pressure can get them to act," said Ndiritu Muriithi, the former governor of Laikipia County. "If the defence committee had said, 'we are not ratifying unless we see concrete action on the murder case', for instance, that would have made sense. But to say 'we have reservations' … it seems a bit late in the day."
However, the defence committee said the issues cannot be ignored. "If Batuk, like it's claimed, has been committing injustices then we don't want any form of neocolonialism," said Koech. "As a country we will say no."
A UK government spokesperson said Wanjiru's case "is a priority for the UK government, and we fully appreciate the seriousness and importance of justice for Agnes Wanjiru", adding: "The jurisdiction for this investigation lies with the Kenyan police service, and the UK government is working closely with the government of Kenya to accelerate progress."