Flights at Luton airport suspended until 3pm
All flights at Luton airport are suspended until 3pm, the airport said in a statement.
It is Britain's fifth-busiest airport after Heathrow, Gatwick, Stansted and Mancheter, and it handled 13.3 million passengers last year, according to the Civil Aviation Authority.
Sky news correspondent Matthew Thompson tweeted:
Key events
The UK competition watchdog is offering rivals and other interested parties the chance to submit views on the proposed merger of the British operations of Vodafone and the owner of Three, a deal that will create the UK's largest mobile operator.
The Competition and Markets Authority (CMA) has said that it is providing an "early opportunity" for interested third parties to comment on what impact the merger of the two companies will have on the UK telecoms market.
The two companies are the UK's third- and fourth-biggest operators respectively. The newly combined company will, if the merger is completed, have more than 27 million subscribers, leapfrogging EE, owned by BT, and Virgin Media O2, owned by Spain's Telefónica and the US-listed company Liberty Global.
"Millions of consumers and businesses in the UK rely on Vodafone and Three's mobile networks to stay connected," said Sarah Cardell, chief executive at the CMA. "We will be carefully considering how this deal may affect competition in the UK, which could affect the options and prices available to customers. We will also assess how it may affect incentives to invest in the quality of UK mobile networks."
The CMA, which blocked Three's attempted takeover of O2 in 2016 arguing that it would have risked higher prices, will launch a formal investigation "once it has received the information it needs from the merging companies".
The deal is likely to face close scrutiny from the CMA, although last year the UK telecoms regulator, Ofcom, changed its long-held stance, saying it was now more open to consolidation in the sector. It had previously argued that dropping to only three networks in a country could harm consumers.
The government is also likely to "call in" the deal for scrutiny under the National Security and Investment Act 2021, which allow ministers to block transactions linked to important national assets if they are deemed to harm national security.
Vodafone UK has a number of government contracts and Three UK is owned byHong Kong-based CK Hutchison, which may raise concerns about foreign joint ownership of a key national asset, particularly given the city's status as part of China.
SFO opens criminal probe into funeral firm Safe Hands Plans
The Serious Fraud Office (SFO) has opened a criminal investigation into suspected fraud at Safe Hands Plans Limited and its parent company, after their funeral plan scheme collapsed last year.
Safe Hands Plans marketed pre-paid funeral plans, where customers paid instalments for plans priced up to over £4,000, so that funds would be available towards the costs of funerals. Approximately 46,000 plan holders had paid toward funeral plans before the company collapsed.
Today, Nick Ephgrave QPM, director of the SFO, sent notices to stockbrokers and financial institutions requesting information for its investigation. This follows similar requests made to UK banks and other potential witnesses issued last month. Non-compliance with these notices is a criminal offence.
Commenting on the SFO investigation, he said:
Thousands of individuals from all corners of the UK lost peace and security after being sold a product on the basis it would help reduce the burden on their loved ones upon their death.

Today, we have taken decisive next steps in our full criminal investigation into Safe Hands Plans.
The SFO's criminal investigation is pursuing various lines of enquiry and may result in a criminal prosecution, which the SFO would then conduct using its powers as a prosecuting authority.
Here is our latest video on the Luton airport fire:
And here is our full story:
Wall Street futures tick higher as Treasury yields retreat
US stock futures have ticked higher, pointing to a cautiously higher open on Wall Street later, as yields on US government bonds, known as Treasuries, retreated.
Investors are waiting for the minutes from the Federal Reserve's last policy meeting, and producer price data for September.
Stock futures are indicating small gains of between 0.1% and 0.2% for the Nasdaq, Dow Jones and S&P 500.
Mark Haefele, chief investment officer at UBS, said:
Recent developments support our view that yields should move lower over the coming six to 12 months… we foresee further cooling in inflation and slower global growth.
Yields move in inverse relationship to bond prices.
The turmoil in the Middle East continues to weigh on global markets, as Israeli warplanes bombed Gaza ahead of a possible ground assault. European markets are mixed: the FTSE 100 index in London and the Dax in Frankfurt are flat, while slowing growth at luxury goods group LVMH has pulled the CAC in Paris 0.6% lower, and the FTSE MiB in Milan has edged up 0.2%.
You can follow the latest on the war between Israel and Hamas here:
OECD says international tax deal would raise up to $32bn from big firms

Phillip Inman
An international deal that would force the world's biggest multinational companies to pay a fair share of tax moved a step closer this week after the body coordinating the plan said it should raise more money than expected for low and middle income countries.
The Organisation for Economic Cooperation & Development (OECD) said on Wednesday that a fresh analysis of its plan showed as much as $32bn could be raised, up from an estimate in 2020 that the tax would would raise a maximum $12bn.
Google, Facebook and Apple are among the 106 multinationals that would pay more tax to countries where they generate large revenues but have only a minimal physical presence.
Government ministers from many of the 140 countries that have signed up to the multinational deal are expected to discuss the latest research this week at the IMF and World Bank meetings in Marrakech ahead of an agreement next year.
Manal Corwin, director of the OECD centre for tax policy and administration, said there was "very broad consensus on the vast majority of the architecture" of the text put forward by the Paris-based organisation.
Wrangling over the details of the deal prevented the OECD from co-ordinating a signing ceremony last year, and sceptics believe the lobbying by low-tax jurisdictions like Ireland and Luxembourg and the digital business that will be hardest hit by the new rules will delay its implementation further.
The charity, Tax Justice Network, has argued that only the United Nations can co-ordinate an international tax plan that represents the poorest countries which currently receive minimal tax revenues from large corporations.
The latest estimates from the OECD are designed to head off this criticism by showing its plan would deliver higher tax revenues than previously expected and give poor countries are greater share.
It said that estimates in 2020 revealed revenue gains of $5-$12bn in the baseline scenario, while the revised estimates involve gains of $17.4-$31.7bn.
Back to the Birkenstock flotation, Michael Hewson, chief market analyst at CMC Markets UK, said:
Today's listing will generate $1.5bn for the German-based sandal maker which has been in business since 1774, making what can be best described as leisure shoes, namely sandals or clogs.

Since 2010 the company has diversified into sleep systems, as well as natural cosmetics however that remains a small part of the overall revenue stream, which is primarily derived from the sale of high value sandals and clogs. The proceeds of the IPO will see some of the money returned to the private equity owners, with a third of the proceeds going to repay debt.

This seems an unambitious use of the proceeds at a time when the money could be used to improve the business, as well as help to diversify into new product areas.
He noted that in 2021, the private equity company L. Catterton and Financière Agache bought a majority stake in Birkenstock, with a view to expanding into the Chinese market. Both Financière Agache and L Catterton are backed by LVMH owner Bernard Arnault, valuing the business at the time at $4.3bn.
Curiously, the deal came in the aftermath of the Dr. Martens IPO, which took place two months previously in February 2021, although both companies have undergone rather differing fortunes since then. At the time Dr Martens had a valuation of £4.5bn which has slid to £1.3bn, raising the question as to whether Birkenstock is worth such a hefty price tag.

On the actual numbers themselves Birkenstock total revenues have risen from $728m in 2020 to $1.3bn in fiscal year 2022. Over the same period net income has doubled from $101.3m to $202.8m.

In its most recent financial statement Birkenstock reported that revenues were 21% higher in the nine months to 30 June at $1.2bn, putting the business on course for a record year for both revenues, as well as profits.

While that is welcome news it doesn't necessarily justify a valuation that is four times greater than sector peer Dr. Martens, and with LVMH issuing a profits warning earlier today, the luxury sector could be about to enter turbulent times. This may be significant given that a typical Birkenstock sandal starts at £65, while more expensive items can go for as much as £160 and above, which isn't exactly cheap.

That said investors may have other ideas as to whether Birkenstock offers good value given that valuations in the US tend to be higher than they are in London.
Luton airport fire appears accidental, says fire chief
A major car park fire that forced London's Luton Airport to suspend flights on Wednesday appears accidental, authorities said.
The local fire chief Andrew Hopkinson told reporters:
We've got no intelligence to suggest it's anything other than an accidental fire that started in one of the vehicles.
Can Birkenstock kick the IPO market into life?
Hargreaves Lansdown Lansdown analyst Susanna Streeter has also looked at the Birkenstock IPO in New York.
The shares will start trading when Wall Street opens. They were priced at $46, the middle of the initial range, giving the German orthopaedic sandal brand a market value of $8.6bn (£7bn). Streeter said:
Timing is everything for an IPO and Birkenstock wants to capitalise on being in the film and fashion spotlight. As the stylish set have put sales on the front foot, and the Barbie effect has boosted the brand further, it's helped the company achieve this heady valuation. The company has been super-savvy over the past few decades and has turned sandals with hippy connections into 'It' shoes, helped by collaborations with fashion designers and endorsements by celebrities.
Thanks to the Barbie movie, sales of Birkenstock sandals have shot up. Barbie wears the classic Arizona sandal finished in a candy pink.
Streeter added:
However, it's clear there is some caution among investors about the path ahead for the brand, as the price set of $46 a share was at the middle, not top end of the initial range. Although the IPO roadshow has started to get into gear again after almost grinding to a halt, and there is clearly intense interest in new offerings, other footwear companies like Allbirds and Dr Martens have had disappointing trajectories since their IPOs in 2021.

DOC shares have fallen by almost 70% since its launch, which was partly a function of a frothy valuation, but also raises questions about the long-term growth prospects for the famous shoe brand, which has been beset by distribution problems. While Birkenstock may be basking in the sales sunshine right now, it's going to have to run fast to keep up in the stylish stakes. Counterfeit goods could also cause the company to lose its footing in the fast-moving fashion environment.

The company has flagged competition from knock offs as a risk in its prospectus. The worry is that if too many fake products flood the market, not only could that affect sales, it could also affect the prestige tag of the brand, and push it out of fashion. Investors who want to buy may have to buckle up for a potentially volatile ride ahead, given a spurt of uncertainty often follows high profile listings.
Travis Perkins warns on profit on UK housing market woes
Travis Perkins, Britain's biggest supplier of building materials, has downgraded its annual profit forecast by as much as 27%, as it blamed tough conditions in the new-build housing and home renovation markets. Its share price fell 10% on the news.
The company said it experienced a "notable deterioration in market activity and sentiment" in September.
Nick Roberts, the chief executive, said:
Market conditions remain challenging with continued weakness across new build housing and domestic repair, maintenance and improvements.
However, Travis Perkins, which owns Toolstation, remains confident in the long-term outlook, saying Britain needs more homes while older houses and buildings will need to be revamped to make them net zero.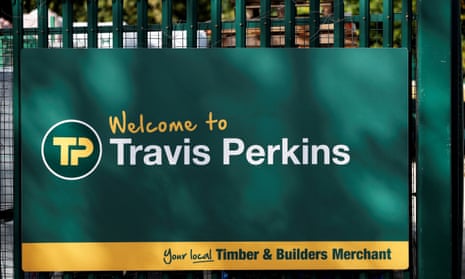 Susannah Streeter, head of money and markets at Hargreaves Lansdown, said:
There are concerns creeping back in about higher energy prices, causing fresh inflationary pressures by pushing up fuel bills and potentially causing havoc with central bank forecasts. UK and European gas prices shot up over supply concerns, edging down only a little and still hovering around six-month highs. The jitters came after Chevron was told to shut down production at the Tamar natural gas field in Northern Israel due to the violence.

There are also worries about potentially deliberate damage to the Baltic connector gas pipeline between Finland and Estonia. Oil prices are settling, but a barrel of the benchmark Brent Crude is trading at just under $88 dollars a barrel, up sharply from the price before the attacks in Israel. Although initial supplies aren't affected, there are still worries about potential knock-on effects if there is contagion across the wider Middle East region.
The UK's second-biggest drugmaker GSK is one of the biggest risers on the FTSE 100 index, with the shares up 1.3%. It announced that it had reached a confidential agreement on a lawsuit in California which alleged that its discontinued heartburn drug Zantac caused cancer.
Analysts at JP Morgan said:
We believe any rally may be short-lived, given today's outcome doesn't allow us to lower our total Zantac liability – we have a 50% of a $5bn liability – and given GSK's decision to again settle, suggest the company is likely to have to pay out on many of the outstanding cases.
Stocks down, oil prices up, gas prices retreat
In financial markets, the FTSE 100 index in London is broadly unchanged at 7,632, up just 4 points.
The other main European bourses are in the red, with Germany's Dax down 0.3%, France's CAC losing 0.8% and Italy's FTSE MiB flat.
Oil prices are pushing higher on concerns that the war between Israel and Hamas and rising tensions in the region could affect the output of major producers. Brent crude hit $89 a barrel on Monday and is trading 0.6% higher at $88.17 a barrel at the moment. US crude is up 0.6% at $86.46 a barrel.
Gas prices have also retreated after yesterday's spike, when UK gas jumped 15% and European gas soared 16% to the highest levels since June, after the gas pipeline "Baltic Connector" between Finland and Estonia started leaking.
Extensive damage to an undersea gas pipeline and communications cable connecting Finland and Estonia "could not have occurred by accident" and appears to be the result of a "deliberate … external act", Finnish authorities have said.
UK natural gas for October fell 6.5%, while Dutch natural gas futures for November is down 5.5% this morning.
Flights at Luton airport suspended until 3pm
All flights at Luton airport are suspended until 3pm, the airport said in a statement.
It is Britain's fifth-busiest airport after Heathrow, Gatwick, Stansted and Mancheter, and it handled 13.3 million passengers last year, according to the Civil Aviation Authority.
Sky news correspondent Matthew Thompson tweeted:
LVMH reports slowing growth
The French luxury goods giant LVMH (Moët Hennessy-Louis Vuitton) has reported slower growth, as it has taken a hit from rising inflation and growing global financial instability.
The company, whose brands include Christian Dior, Louis Vuitton and Stella McCartney fashion, alongside TAG Heuer watches and Bulgari and Tiffany jewellery, reported revenue of €20bn (£17.25bn) between July and September – a 9% rise. That compares with a 17% increase in the previous quarter.
Pauline Brown, the former chair of North America at the luxury group, said a number of factors are at play.
The issue we've had with inflation is not just that it is here, but that it came on quite suddenly, or quite quickly. And we, as a society, we got used to a few decades of, really, really low inflation. So it's still hitting us as a bit of a shock.
But geopolitical developments, namely the war between Israel and Hamas, have become a bigger concern, she said.
If I were sitting on the board at LVMH, or any of the other luxury companies would really be rattling me is that geopolitical destabilisation around the world. And let's just take what happened this last week in Israel. Why is that important here? Number one, because luxury goods and services is a psychological purchase. Nobody needs a glass of champagne. Nobody needs a watch or a diamond necklace. And in order for you to buy for yourself or as a gift, you really have to be in the right mood state. And when we see atrocities happening as we are right now, the appetite to spend on what might be perceived or experienced as frivolous, goes way down

And then on a more pragmatic level, you know, there was still very strong growth in Middle Eastern buyers, whether they were buying it locally, in Dubai and elsewhere in the region, or they were travelling and and the concerns that started in the Middle East are now spreading and changing the social dynamic, even within the Middle Eastern regimes. That's going to lead to a slowdown in in how people spend and where they spend. And that is not the only corner of the world right now.
One of the worst hit divisions at LVMH is wines and spirits, which posted a 14% decline in sales over the quarter, as sales of cognac declined.
Unlike say champagne, cognac is really an aspirational consumers drink. Most collectors who might buy from Napa Valley or from Bordeaux, are less prone to be collecting cognac. That was hit hard in markets like China and North America. Because that aspirational consumer is just not spending with the same enthusiasm that the high net worth is, and the high net worth are continuing to spend even with some of the macro conditions that we're all noting.
Kyle Rodda, senior market analyst at Capital.com, has looked at the Birkenstock IPO.
Will the hipsters buy the stock of Birkenstock? If they don't, the investment community certainly seems to want "in'' on the brand loved by so many boujie 30-something-year-olds. The company is looking poised for a fully subscribed IPO – the fourth on Wall Street in the space of roughly a month.

It puts the company's valuation around the top end of the $44 – $49 target range, or $10bn. Arguably, that's pretty rich. Based on the company's latest revenue release, the stock's price-to-sales ratio is above 6, which is at the higher end of comparable consumer discretionary companies on Wall Street. In a higher interest rate environment, these multiples may be hard to sustain in the short term, especially if consumer spending slows as expected next year as interest rate hikes bite households.

Recent companies to IPO have seen their stocks surge on the day of listing, although the moves have proven short-lived. The Birkenstock IPO will be a good measure of broader market sentiment and sentiment toward consumer-sensitive stocks. It might tell us, too, whether cashed-up millennials like to buy the stocks of products they commonly find on the bottom shelf of their wardrobes.
Flights at Luton airport suspended until mid-afternoon after fire, Birkenstock to float in New York
Good morning, and welcome to our rolling coverage of business, the financial markets and the world economy.
Luton airport closed last night after a large fire, and all flights were suspended. Flights are not expected to resume until mid-afternoon at the earliest.
The fire ripped through a multi-storey car park, causing it to collapse. We'll keep you posted.
Today Birkenstock, the orthopaedic 250-year-old German shoe brand, is to float on the New York stock market. The sandal maker, once seen as frumpy but now the go-to footwear of hippies willing to sacrifice style for arch support, priced its shares at $46 ahead of its first day of trading, giving the company a market valuation of $8.6bn (£7bn). The shares start trading later today.
Rural homeowners living near new electricity pylons and cables that are being rolled out as part of the UK's shift to net zero could be offered home insulation, heat pumps and other energy efficiency measures by National Grid, the Daily Telegraph reported.
Ben Wilson, National Grid's chief strategy officer, said the company wanted people living alongside pylons and cabling to benefit from the infrastructure. He told the paper:
I do think if you're hosting the infrastructure, you should get a benefit in terms of your cost of energy, maybe help with energy insulation or helping to electrify your home in terms of heat.
He suggested National Grid could also establish training academies to boost employment in the areas most affected by new transmission lines.
Inflation in Germany has eased to an annual rate of 4.3%, the latest official figures show. Ruth Brand, president of the Federal Statistical Office, said:
The rate of inflation has dropped to the lowest level since the start of the war in Ukraine. It remains high, however. Consumers are still clearly feeling the higher food prices.
Also coming up
The annual meetings held by the International Monetary Fund and the World Bank in Marrakech, Morocco, are under way. Yesterday, the fund warned that the Bank of England will need to keep interest rates high into 2024 as the UK struggles with a combination of weaker growth and persistent inflation.
In its half-yearly update on the global economy, the IMF said growth had already slowed "fairly sharply" and painted a downbeat picture for the government as it enters what will almost certainly be an election year.
The Agenda
IMF/World Bank annual meetings in Marrakech

1.30pm BST: US producer price index for September

7pm BST: US Federal Reserve minutes of last meeting