Key events
22nd over: New Zealand 133-2 (Conway 54, Mitchell 12) Atkinson continues and tries a bad ball too, with less success. It's on the pads, an easy clip for two for Mitchell, and it's a no-ball to boot. The free hit is … a wide! He went for the bouncer and got it too leg-side. But his second go is a good one, a yorker that Mitchell can only dig out for a single to deep square. Hang on … Mitchell has now hit a six! Out of nowhere – a classical straight drive, soaring into the top of the sightscreen. For Mitchell, this is a fast start – 13 off nine. For Atkinson, it's all part of the experience.
21st over: New Zealand 120-2 (Conway 54, Mitchell 2) England really needed that wicket. Root had been harmless (4-0-25-0), and Rashid was off the field with cramp. So Buttler turned back to Willey and it worked a treat.
WICKET! Nicholls c Buttler b Willey 26 (England 117-2)
David Willey returns and somehow persuades Henry Nicholls to nick a bad ball – short, wide and highly effective.
20th over: New Zealand 114-1 (Conway 52, Nicholls 24) A third over for Atkinson, and a second boundary conceded as Nicholls plays a lovely shot, a back-foot push so well timed that it goes zinging back past the bowler.
19th over: New Zealand 108-1 (Conway 51, Nicholls 19) Root continues, although he's been no more than decent. This time he goes for more than ones and twos: Nicholl plays something between a sweep and a pull for four, and Conway drives for four to bring up a commanding fifty – 51 off 57 balls with eight fours. if he gets a hundred, NZ could win this comfortably.
And that's drinks, with NZ still on top and England still well in with a chance. Good thing they've got 290 in the bank, rather than the 270 they were heading for when Liam Livingstone turned up.
18th over: New Zealand 99-1 (Conway 47, Nicholls 14) Atkinson's second over is faster, harder, stronger than his first, but no more rewarding. One ball goes past the outside edge: "good pace," murmurs Broad, as the speed gun inches up to 88. Another takes the edge, but it's a thick one and there is, of course, nobody at fourth slip. In between, there's a bouncer that looks spicy but is well played by Nicholls, pulled down and into the gap at long leg for four. Atkinson's figures, 2-0-10-0, only tell a little of the story.
17th over: New Zealand 93-1 (Conway 46, Nicholls 9) Root changes ends and replaces Rashid, who is now going off the field, with a slight hobble, Nasser reckons. The batters do some milking with five singles and a two.
"I watched Nasser being interviewed with TheBroadOne™️ at the innings break," says Kim Thonger. "Stuart's face when Mr Hussain opined that ruthlessness is a more important in a selector than loyalty was a picture. A close-up of a dachshund chewing a wasp, more precisely. But also, the eye roll was based wholly and precisely on mid-period Meg Ryan, don't you think?" I'll have to take your word for it. Like a good Guardian writer, I nipped out to buy some fermented yoghurt.
16th over: New Zealand 86-1 (Conway 41, Nicholls 7) It's Gus time! His first ball in ODIs is 84mph, on the spot, defended by Conway. Then up to 87, but the line is awry, down the leg side. The second legitimate ball is better, 86, defended again. Then a lifter, pulled, but only for a single. A first go at Nicholls, fuller, pushed for a single. A leave outside off and a nod of respect from Conway. Finally a cut for a single. No fireworks yet, but only four off the over. And Broad, who presented him with his ODI cap earlier, has already likened him to Jofra Archer and Morne Morkel.
15th over: New Zealand 82-1 (Conway 39, Nicholls 6) Rashid gets some lavish turn again, but Conway keeps it out, helped by being a left-hander, unlike his mate Young. A caption reveals that England, at this stage, were 80-1. We're heading for a tie, aren't we?
14th over: New Zealand 79-1 (Conway 37, Nicholls 5) Root, warming to the task, goes for just three singles. Broad, so much sharper as a commentator than some players fresh out of the dressing-room, is talking about a ploy of Root's. "He tries to get through his overs fast, spinning back to his mark, not giving the batters time to think about their gameplay."
13th over: New Zealand 76-1 (Conway 35, Nicholls 4) Rashid continues, sticking largely with leg-breaks even for these two left-handers, to Stuart Broad's surprise. Root adjusts accordingly, shunting across from slip to leg slip. Buttler may be tempted to have both.
12th over: New Zealand 72-1 (Conway 33, Nicholls 2) Buttler turns to his fifth bowler, and it's still not Gus Atkinson. It's Joe Root! He was becalmed with the bat and will be itching to make an impact with the ball. He drifts a bit too far towards leg stump and goes for six off the over.
11th over: New Zealand 66-1 (Conway 30, Nicholls 1) That was Adil Rashid's 100th wicket in home ODIs, a feat achieved by only two other men, both seamers – Darren Gough and Jimmy Anderson. Jos Buttler rewards him with a slip, Joe Root. The rest of the over is tight apart from one bad ball, a long hop which Conway slaps for four.
"Collective noun," says Kris Paul, wasting no words. "A versatility of all-rounders." Nice.
WICKET! Young b Rashid 29 (NZ 61-1)
Rashid strikes with his first ball! And it's a magic ball, not the googly he often starts with but a proper leg-break, pitching on middle and turning sharply to brush off stump.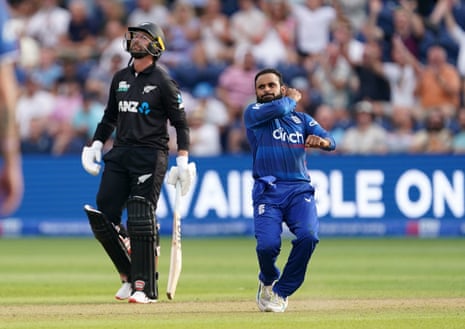 10th over: New Zealand 61-0 (Conway 26, Young 29) Woakes's parsimony fails to rub off on Willey, who gives Young a free gift on his pads, flicked away for four. Conway adds a cover drive for four, slightly uppish but too quick for Root at extra-cover. The Powerplay ends with NZ in the driving seat, although Nasser Hussain points out that it's "probably the best time to bat here when the ball is hard".
Here comes Adil Rashid, who bowled about as badly as he ever had the other night when NZ bounced back to draw the T20 series.
9th over: New Zealand 52-0 (Conway 22, Young 24) A fifth over for Woakes, who begins by holding a little conference with Willey and Stokes. What's the collective noun for all-rounders? A cameo, perhaps. Their deliberations almost bear fruit as Woakes finds some outswing and beats Young's edge. Varying his pace smartly, Woakes manages to concede only a leg-bye … so that's a maiden! The first of the day, Stuart Broad says admiringly.
8th over: New Zealand 51-0 (Conway 22, Young 24) Young, taking his cue from Conway, steps out to Willey and blasts him past cover for four. Conway adds a pull for four, seeing it early enough to get it past midwicket, and that's the fifty up off 47 balls. England have been tidy at best and the openers haven't been remotely troubled. Get Gus on!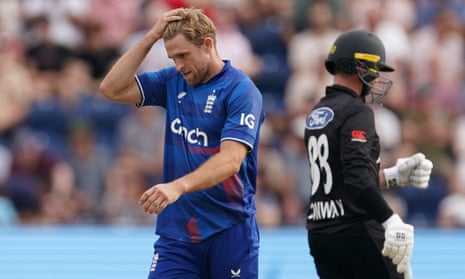 7th over: New Zealand 42-0 (Conway 18, Young 20) Woakes goes round the wicket to the left-handed Conway, who responds by dancing down the track and hitting him through the covers for four. Twice! First a cut, then a clever adjustment – he was looking for the cut again and the ball was too full, so he played a back-foot drive instead. Woakes's figures suddenly have a hair out of place: 4-0-16-0.
6th over: New Zealand 33-0 (Conway 10, Young 19) Jos Buttler gives Topley a break and summons David Willey. His reward for an ice-cool cameo with the bat was to miss out on the new ball for the first time an ODI since his first game in 2015. Cruelly deprived of the chance to swing the ball, he deploys the scrambled seam and does well, conceding just a single.
And here's Brian Withington, pondering England's selection. "I thought that was much better from Dawid Malan today," he says. "He seems to be better suited to the rhythm of the 50 overs format, although I'm sure he will be disappointed with that tame dismissal when well set. It's looking like Jason Roy is increasingly vulnerable now – in my book he's not one of those players (like Mo) for whom absence makes the heart grow fonder. And I think he dodged a bullet by not playing on this difficult Cardiff track. I expect he will flay a ton on a road in his next game …"
5th over: New Zealand 32-0 (Conway 10, Young 18) Now even Woakes is wobbling, giving Young enough width with the first ball of this over to be forced for four past backward point. The difference is that Woakes restores order with four dots and a single. Woakes has 3-0-7-0, poor old Topley 2-0-25-0.
4th over: New Zealand 27-0 (Conway 10, Young 13) Topley is feeling his way back from injury, as so often, and it shows as he bowls a wide, then drops short, then goes too full. Will Young helps himself to a cut and a drive for four, and is seeing the ball well enough to tuck a decent yorker away for three. Then another wide, and a total freebie, on the pads, which Conway can't fail to clip for four. Seventeen off the over, and NZ are up and rocking.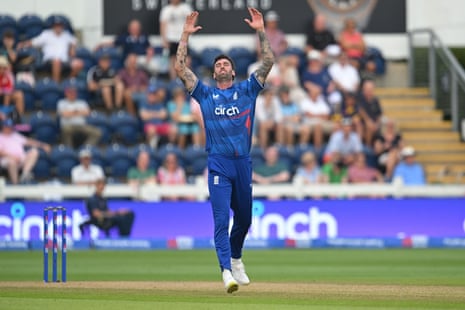 3rd over: New Zealand 10-0 (Conway 6, Young 2) More neat-and-tidy stuff from Woakes. The crowd feel restless and who can blame them. Welcome to ODI cricket, now the slowest of the three international formats.
2nd over: New Zealand 8-0 (Conway 6, Young 1) No Gus Atkinson yet: it's Reece Topley to share the new ball. He's testing too, though Devon Conway manages to squeeze a steer past point for the first four of the innings. Topley retorts by finding the edge, but it's an inside edge, something we saw again and again from England, even from Harry Brook. It's a played-on sort of pitch.
1st over: New Zealand 1-0 (Conway 1, Young 0) England started slowly and so do NZ as Chris Woakes finds a length to match his immaculate hair.
Thanks Tom and evening everyone. The runs weren't always flowing in that innings, but the words kept coming smoothly. Now the players are out there and we should get a first glimpse of Gus Atkinson in this format.
Right, that's me done. Time to hand over to Tim de Lisle who will guide you through New Zealand's chase. Thanks for your emails and for following. Bye.
Interval reading: James Wallace set down with the effervescent Jeremy Coney earlier in the week, and chatted about all manner of stuff, including music, his regard for the 50-over game and 2019 and all that.
And readers who subscribe to The Spin newsletter will have got to read all that, and more, first. So why not sign up?
New Zealand need 292 to win
It's hard to gauge how good a total that is, but given the pitch and some largely astute New Zealand bowling, it feels like a decent one. Four England batters made 50s, with two with points to prove (Livingstone and Malan) making the most emphatic of them. How will New Zealand fare as the night draws in, the dew drops and this infernal heat relents a tad? Go nowhere.
Talking of dew drops, I've just given myself an earworm:
50th over: England 291-6 (Woakes 4, Willey 21). England finish with a flourish. Southee bowls the last over, which begins with a scurried Willey single. An inside-edge along the ground from Woakes adds another before Willey clobbers a confident lofted on-drive to the ropes for four, followed by two more twos. And a good slice of late-innings batting from Willey ends in style when he belts Southee over the long-on boundary for SIX. England have a more than competitive total.
49th over: England 275-6 (Woakes 3, Willey 6). Woakes is initially slow to run a single inviting Henry to pick up and throw at the stumps and miss. Henry continues to bowl tightly though, befuddling Willey with a slower ball that he slashes at and misses. A hook for one by Willey ends a decent spell for Henry, who finishes with 0 for 45 from his 10 overs.
48th over: England 271-6 (Woakes 1, Willey 4). Southee drags New Zealand right back into it with two wickets. Livingstone's valuable belligerent knock is ended when he holes out to Mitchell, bringing Chris Woakes to the middle. He hands Buttler the strike with a single off his first ball but Buttler squanders it by mistiming a slog and getting caught, but it was a crucial and excellent innings from the captain. New man Willey, another with plenty to prove, finds the gap with a confident pull for four to get off the mark.