Key events
Full-time: AZ 1-4 Aston Villa
Villa's quest for a Conference League trophy is on, and they replicated their Premier League home form in destroying the Dutch team.
Olympiakos 2-1 West Ham: Suddenly, West Ham are full of attacking zeal, with Maxwell Cornet having a shot blocked. As the Greek team seek to escape, Ogbonna almost caps his night with a red card, but escapes a second yellow. Somehow.
Olympiakos 2-1 West Ham: Eight minutes to be added on. Plenty of time for the European late show specialists? Fortounis has a dig from distance that flies just wide.
Olympiakos 2-1 West Ham: There's an Olympiakos defender down, and that will add to the injury time in which the Hammers will seek an equaliser that looked unlikely for so long.
Goal! Olympiakos 2-1 West Ham (Paqueta, 87)
A lifeline for the Hammers. Can they find their way back into this?
Josip Ilcic ultras denied? Sturm Graz have equalised, Szymon Wlodarczyk with a penalty to make it 2-2.
We're into the final five minutes of the first half of this feast of football.
Sparta 0-0 Rangers: Danilo and Wright continue to be troublesome for Sparta but a goalless draw looks the more likely. And Danilo rattles the crossbar, chasing down a dinked pass and a fine save is made by the Sparta goalie.
Sparta 0-0 Rangers: Rangers hanging on or going for it? Scott Wright has made a difference, as has Danilo. Sadly, the Sparta defender, Vitik, has taken a sore one and hobbles off. He was howling in agony, a player seen as a star as a future. He comes back on, perhaps foolhardily. It's a fairly grim affair, this one.
Kári Tulinius is back: "The Faroese team KÍ, from the small town of Klaksvík, has just scored its third goal without reply against Olimpija Ljubljana. To say that the radio commentators at Faroese public broadcasting are excited is something of an understatement. That a Faroese team reached the group stage of a European competition is achievement enough, now they're well on their way to a first ever win."
AZ 1-4 Aston Villa: Zaniolo, under similar investigation as Sandro Tonali, banned for 10 months today, comes on for Douglas Luiz. The latest is that he wasn't a priority name in the betting investigation. Young Van Bommel meanwhile goes close as AZ show some spirit. It appears they have plenty of young talent and chose to keep it on the bench.
AZ 1-4 Aston Villa: Stoke legend Bruno Martins Indy is putting himself about in Alkmaar, And on comes a Ruben van Bommel, whose tight curls give away that he is indeed the son of one-time Dutch international and well-travelled exec-class hatchet man Mark van Bommel.
Goal! AZ 1-4 Aston Villa (Sadiq, 66)
A long ball over the top, Matty Cash playing the young forward, just on as a sub, onside and he smashes in. A fine goal, but a consolation nonetheless.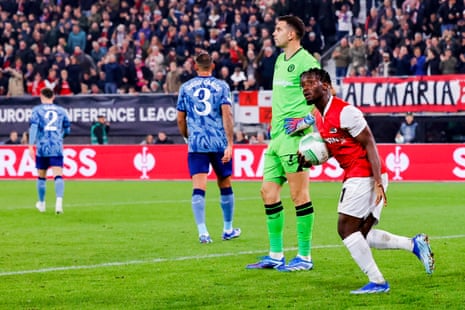 Sparta Prague 0-0 Rangers: Connor Goldson is booked for the Gers and it's a tired booking. Off goes Todd Cantwell, for Scott Wright. Cantwell was making his first start in a while.
Olympiakos 0-2 West Ham: To nobody's surprise, Danny Ings has been hooked by David Moyes. On comes Antonio instead, with Jarrod Bowen too. And Lucas Paqueta.
Goal! AZ 0-4 Aston Villa (McGinn, 57)
Leon Bailey is flying now. How does Unai Emery do it? He speeds down the flank and sets up McGinn to edge the ball home.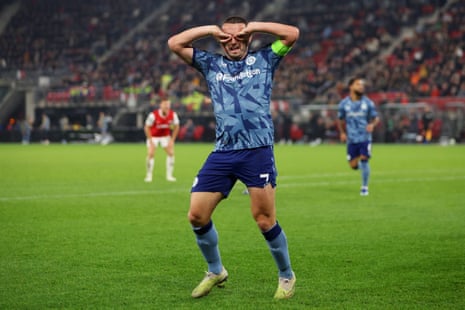 Manchester United geeks may recognise the latest goalscorer as Molde make it 4-1 against Hacken: Magnus Wolff Eikrem, now 33, the former United youth team captain.
Goal! AZ 0-3 Aston Villa (Watkins, 52)
Villa are flying. Tielemans flying too, and he plays the ball out wide to Bailey, who cuts in and shoots, the ball coming back out to Watkins in the form of his life, to tap in.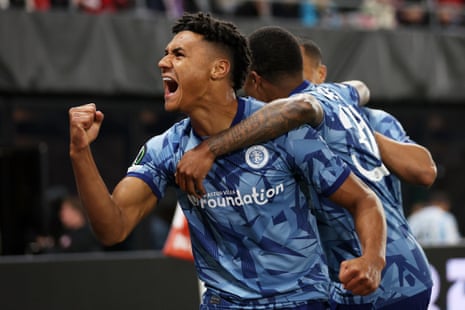 Olympiakos 2-0 West Ham: Fortounis, the goalscorer, has just shown off his best ball skills, and David Moyes has rolled up his sleeves on the sidelines.
Brian Withington gets in touch: "I have previously opined that a half time Danny Ings heat map might require a scarf and mittens. On this occasion I would add that thermals, bobble hat and a warm overcoat might also be in order."
Peter Oh, too: "Am I the only one confused by the message on the Olympiakos tifo? Who exactly is dining in hell? The opponents? Wouldn't they appreciate being offered food in hell? Or is the home team dining in hell? Which would raise the question, wouldn't they rather eat elsewhere? In any case, it sounds like West Ham have served up some cold slop so far.."
Kári Tulinius adds his ever-welcome expertise: "The pick of the halftime scores is surely KÍ 2, Olimpija Ljubljana 0, thanks to local boys, Páll Klettskarð and René Joensen. That a team from Klaksvík, a town of five thousand people, and a nation of fifty thousand people, the Faroe Islands, is doing so well is remarkable."
A rival publication has sent their best man to that game.
Sparta 0-0 Rangers: The Gers have never won in the Czech Republic, Sparta have never lost to a Scottish team. Something has to give, right?
We are back underway…
Get your half-time scores here.
And get your half-time reading here and here.
Half-time: AZ 0-2 Aston Villa
Unai Emery's team rolling on and making short work of their opponent. Good signs for the Villa squad, too, which is small and perfectly formed.
Half-time: Olympiakos 2-0 West Ham
Not great from West Ham; their 17-game Euro unbeaten run is in danger. That's an English record – not even Rangers have beaten it….
Half-time: Sparta 0-0 Rangers
Rangers holding on fairly grimly, but will be happy with being goalless.
Goal! Olympiakos 2-0 West Ham (Ogbonna, 45+1 OG)
Told you the Hammers were well off it. A ball from the left comes in and there's a swing at it from the Hammers captain for the night, and a deflection beyond Areola. Oh dear.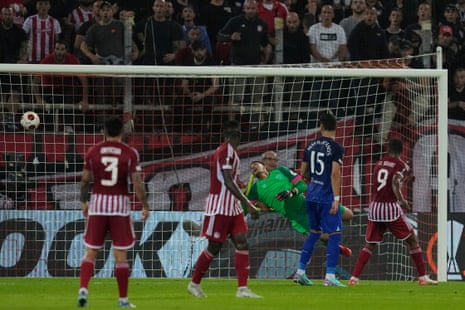 AZ 0-2 Aston Villa: Southampton legend Jordy Clasie has just been booked for AZ, who are being strangled by Emery-ball. Villa playing very well out of defence and Tielemans, who has been underwhelming as yet for Villa looks decent playing a bit further forward.
Olympiakos 1-0 West Ham: Danny Ings has touched the ball just ten times, we are told. We are also told his type of player needs just one touch, but it's not been forthcoming. West Ham are well off it here.
Joy for the Ilcic ultras as it's Sturm Graz 1-1 Atalanta 1, Luis Muriel getting the equaliser.
James Humphries gets in touch: Watching from a pub in Glasgow – for your international readers, that's Glasgow, England (apparently) – and I have to say the parts game hasn't looked "cagey" so far as much as it's looked like Rangers doing backs-against-the-wall defending and Sparta whiffing a couple of absolute sitters. Entertaining stuff, though."
Was it W Axl Rose who said it was great to be in "Glas-gow, England"? To not the warmest reception.
Goal! Olympiakos 1-0 West Ham (Fortounis, 36)
It's a solo run, with James Ward-Prowse caught unawares, and Areola the goalie too. It was something of what we used to know as a "toe bung". Steve McMahon was an expert at them.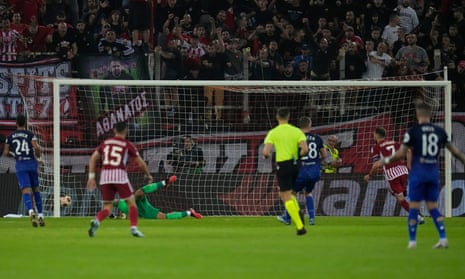 Sparta 0-0 Rangers: The classic cagey affair in Prague too. These games eventually catch light, and Jack Butland, the well-travelled Gers goalie has just been asked to make a fine save.
It's now Ballkani 1-2 Astana, the home team down in Therande.
Olympiakos 0-0 West Ham: Big atmosphere in Piraeus but not much of a game. Danny Ings is leading the line tonight and with a changed lineup there's a lot of pressure on Said Benrahma.
AZ 0-2 Aston Villa: Kamara makes an error and Pavlidis has a golden chance that he blams over the ball. And he's the most in-form player in Dutch football.
Goal! AZ 0-2 Aston Villa (Tielemans, 23)
AZ cough up the ball in their own final third and John McGinn slips in Tielemans whi almost gets the ball caught under his feet and scores. Lovely goal, and one achieved by Unai Emery pressing at its finest.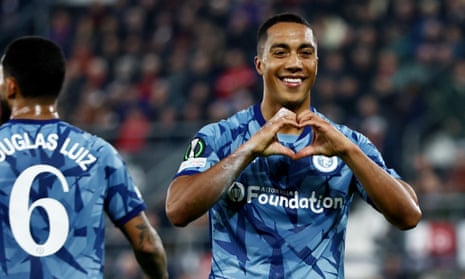 Bad news for Josip Ilcic and his Atalanta pals; their team is 1-0 down to Sturm Graz.
Goal! AZ 0-1 Aston Villa (Bailey, 13)
There's a VAR question against it but Leon Bailey hit the ball straight and true, to follow his goal against West Ham at the weekend,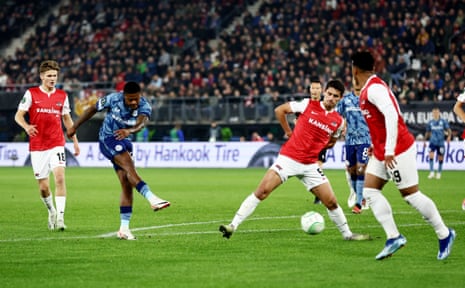 "An English club, you say?" asks Tom Grieve of my errant description below of Rangers. More English than the English, you might say.
Still goalless among our brave Brits but Ballkani 1-1 Astana, a battle of Kosovo v Kazakhstan is off to a flier.
A slow start across the continent, with Aston Villa being booed as they play the ball around in Alkmaar.
And we're off across Europe…
For Rangers, Ben Davies will slot into the troublesome left-back role, with both Borna Barisic and Dujon Sterling missing through injury.
It's a night when the club remembers a true club great, and great football man, Walter Smith.
Unai Emery has made four changes for Aston Villa. Clement Lenglet, Diego Carlos, Youri Tielemans and Leon Bailey started in Holland. Ezri Konsa, Nicolo Zaniolo, Moussa Diaby and Pau Torres were named on the bench.
Football fans can be nice, number 2526262
Per Reuters: Atalanta fans making the journey from Bergamo to see their team play Austrian side Sturm Graz in the Europa League, made a stop in Maribor, Slovenia, not to visit the city's famous castle but to surprise a former player on Thursday.
Ex-players can come in for many different forms of treatment from their former fans, but Josip Ilicic, who spent five years at Atalanta, is still very much in the hearts of the club's supporters.
Ilicic left the club in August, 2022, his contract terminated by mutual agreement, after the player had struggled for some time with mental health issues.
The fans gave him an emotional send off before their home game with Torino on Sept. 1 2022, and over a year later it's clear just how heartfelt that farewell was.
Ilicic joined his former club NK Maribor a month after leaving Atalanta, and the fans from Bergamo arrived at the club's training ground on Thursday morning to surprise the 35-year-old Slovenian.
Two buses arrived, carrying 120 fans who had left Italy at midnight, and there were handshakes, hugs and chants for the beloved player, and plenty of photos taken with a visibly emotional and happy Ilicic.
The fans left him a present of the banner they had used on that farewell night in Bergamo last year, and Ilicic also confirmed he will be present at Atalanta's game with Sturm Graz.
Sparta v Rangers teams
Sparta: Vindahl-Jensen, Vitik, Panak, Sorensen, Preciado, Laci, Kairinen, Rynes, Karabec, Kuchta, Birmancevic. Subs: Gomez, Olatunji, Pavelka, Sadilek, Mejdr, Pesek, Vorel, Vydra, Wiesner, Sevcik, Sejk, Surovcik.
Rangers: Butland, Tavernier, Goldson, Souttar, Davies, Lundstram, Raskin, Cantwell, Lammers, Sima, Dessers. Subs: Jack, Scott Wright, McCrorie, Kieran Wright, King, Devine, Lyall, Fraser, McCausland, McKinnon, Danilo.
AZ v Aston Villa teams
AZ: Ryan, Sugawara, Bazoer, Penetra, Wolfe, Clasie, Dani de Wit, Mijnans, Sadiq, Pavlidis, van Brederode. Subs: Martins Indi, Tiago Dantas, Odgaard, Verhulst, Mihailovic, van Bommel, Owuso-Oduro, Poku, Goudmijn, Kasius, Goes.
Aston Villa: Martinez, Cash, Diego Carlos, Lenglet, Digne, Bailey, Douglas Luiz, Kamara, Tielemans, McGinn, Watkins. Subs: Konsa, Traore, Torres, Chambers, Diaby, Zaniolo, Duran, Olsen, Dendoncker, Marschall.
Olympiakos v West Ham teams
Olympiakos: Paschalakis, Rodinei, Porozo, Retsos, Ortega, Alexandropoulos, Camara, Hezze, Daniel Podence, El Kaabi, Fortounis. Subs: Gustavo Scarpa, El Arabi, Vrousai, Quini, Masouras, Joao Carvalho, Biel, Jovetic, Tzolakis, Solbakken, Papadoudis.
West Ham: Areola, Kehrer, Mavropanos, Ogbonna, Emerson Palmieri, Ward-Prowse, Soucek, Fornals, Kudus, Ings, Benrahma. Subs: Johnson, Cresswell, Zouma, Antonio,
Lucas Paqueta, Cornet, Alvarez, Bowen, Aguerd, Mubama, Anang.
The European football marathon rolls on, and there's action aplenty through the evening. Forgive our parochialism but let's concentrate on the English clubs. West Ham, proud Europa Conference champions, travel to Olympiakos, and in Group C, Philippe Clement's Rangers face Sparta Prague. That's in the Europa League and in the Conference, free-scoring Aston Villa visit AZ Alkmaar.
Later this evening, as Will Unwin steps into my shoes, there's the tie of the week in Brighton v Ajax, and Liverpool v Toulouse.
All that and the latest scores and reaction from around Europe. Join us.