Key events
Musovic to the rescue again, this time with a close-range save from Bonmatí after fine work down the left from Carmona and Caldentey. This is much better from Spain, but Sweden are defending well. 1-1.
Spain have made a bright start to this half, with Garcia having a decent opportunity pushed away by Musovic, and Putellas and Bonmati beginning to look more prominent and coherent.
We're back under way in Sweden. No substitutions from what I can see. It remains 1-1.
ICYMI, here's our story from yesterday when Alexia Putellas and Irene Paredes spoke about the Great Unpleasantness for the first time, with a certain ambivalence – some cause for optimism about meaningful return, but a degree of scepticism and residual anger too, with reason:
And it's 1-1 at half-time: Sweden look bang up for this, Spain less so, though they came into the game more in the last 15 minutes of the half. We've had precious little time in recent weeks to talk about the actual football of the Spanish team but they're missing the absent Jenni Hermoso and the injured Salma Paralluelo here and it shows. We've also not seen the last ballon d'or winner, Putellas, and the probable next one, Bonmatí, playing together in the same creative engine room much of late, and they're not quite clicking yet here.
Spain equalise! That didn't look remotely likely till about five minutes ago, but the world champions have begun to knock it around with more purpose.But the goal itself is a howler from the Sweden keeper, Zecira Musovic, fumbling Del Castillo's 20-yard shot behind her into the net.
All of which negates some of the impact of Charles Antaki's email: "You wonder whether the Spain players might not have considered a protest along the lines of this one, perhaps thumbing their noses at the RFEF officials every time one went in."
Thanks John. Evening everyone. Spain are just not at the races here, unsurprisingly. The gap between the World Cup and the new season starting was already too short; add that to what Spain's players have been through these past four weeks and their lack of preparation time, and it's no great shock to see them looking a pale shadow of the champions they are.
Ok, that concludes my stint. Over to Tom Davies.
And Sweden have the lead, nodded in by Magdalena Eriksson. Spain look, it has to be said, not exactly up for the fight the Swedish are putting to them.
Johanna Rytting Kaneryd just fired wide from a Blackstenius run. It's all Sweden.
There's seven of Spain's final winning side playing in Gothenburg, with Alexia Putellas, Laia Aleixandri and Lucía García also involved.
Sweden, who did so well at the World Cup themselves, look the more motivated team here, the crowd on their side, with revenge in the air for the semi-final they lost in Auckland.
They're underway in Gothenburg.
Very loud applause for the Spanish national anthem in Gothenburg. The teams take their positions for pre-match photos and the Spanish players have a banner in hand. The two sets of players join together. "Our fight is the global fight" is what the banner says.
A show of solidarity from the Sweden players in the buildup, and similar is expected as kick-off approaches.
Spain players applauded in Sweden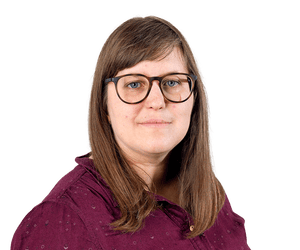 Suzanne Wrack
The Spain players got a huge round of applause from the small number of Sweden fans that have made it into the ground with just under an hour to go until kick off. One can only assume it's a show of solidarity with the players that have been forced to take part in Spain's two Nations League fixtures. Many have been called up against their will, with 39 having ruled themselves out of contention in protest at the federation following the fallout following Luis Rubiales actions after their World Cup final victory.
Isn't it odd how the two biggest stars in MLS, Lionel Messi and Billy Sharp, both play for teams 13th in their Conference. How will the play-offs do without them?
Good news that Roy Hodgson is feeling well again after last week's scare. He had to listen to Crystal Palace's game at Aston Villa on the radio while getting checked over in a local hospital.
I'm feeling good. (The experience watching remotely was) not good. The link was sent to us, (me and) the young physiotherapist who was accompanying me, was keeping me company.

We were sent the link but we couldn't get it to work unfortunately, so we had the even worse experience of listening to it on the radio and that's not something I would recommend. The performance, in my opinion, watching it back, was good. I thought it was, listening to the radio. I got quite good vibes, and when I spoke to Ray Lewington who came to the hospital directly afterwards he said he was very satisfied and pleased with the performance.

I was expecting it to be quite good watching it back, but if anything it was better than I even could have expected.
Reminder: Villa won 3-1.
Ten Hag denies agent claims
Kees Vos heads the Dutch agency SEM, which has Rasmus Højlund as a client, the Dane joining United in the summer for an initial £64m. Vos was also involved in this month's loan deal for Sofyan Amrabat. Ten Hag was asked about Vos's influence.

"It can't be (too much) because we make very good agreements about it from the start – how we cooperate in that manner," he said. "For player decisions, transfers, it's always 50-50; we both have a veto: the club, represented by John Murtough (football director), and me. So there can never be a distraction."
Talking of managers under fire, Mauricio Pochettino has been using the numbers to explain that his Chelsea team isn't as bad as they look ahead of their game with Aston Villa.
We need to be more clinical in front of goal and convert chances into goals. That is the most important thing, In all the data we are in the top four. But in front of goal, we are in the bottom and that is why we don't have the points that we deserve. Football is about winning games.

I am disappointed because I think many teams with less score more. That is why we feel bad, the players deserve more. The only way to find what we want is to keep pushing, keep playing.
Who's this fresh-faced young manager? None other than Ange Postecoglou, having a barney with Craig Foster, Socceroos legend. Also an appearance from Aussie TV legend Les Murray of SBS's World Game. This dates from 2006, and Ange was unceremoniously binned.
Quiz of the week. I got a rather disappointing 8/15.
Fancy a look at Roman Abramovich's art collection? It cost less than Todd Boehly spent on the current Chelsea squad.
For the price of Axel Disasi (£38.5m), you could buy Benefits Supervisor Sleeping by Lucian Freud, and still have change left over to buy a Jeff Koons or two.
David De Gea to retire?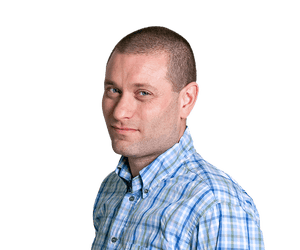 Jamie Jackson
JJ exclusive, and a timely one after Manchester United's goalkeeping problems. Would Dave have saved any of those Bayern goals?
A goalkeeper of real class, unbeatable on his day, rather too fallible on an off-day, looks to be the latest victim of the ongoing curse of Old Trafford.
That's my power hour over. Who better, though, than John Brewin to guide you through the rest of the day? He takes the chair next.
The shortlist for the 2023 FIFA Puskás Award has been revealed today, with Sam Kerr's blockbuster World Cup semi-final strike, Julio Enciso's long-ranger for Brighton and Linda Caicedo's goal to sink Germany among the more eye-catching nominees.
All fully deserved, you'd say, apart from the glaring admission of Pedro Gonçalves' halfway line effort against Arsenal for Sporting.
This is a bit frosty, isn't it …
Ten Hag on Sancho and Man United struggles
Erik ten Hag time now, and there's still no place for Jadon Sancho in his Manchester United squad that travels to Burnley tomorrow night:
On Sancho's future: "It depends on him. For the rest, we are preparing for Burnley and that's our focus. He will not be in the squad."
On reports of dressing room unrest: "I don't know if it's a leak but I know opinion, I know my players. Everyone can make suggestions, we are okay with it. At United, you have to win every game so it doesn't change anything."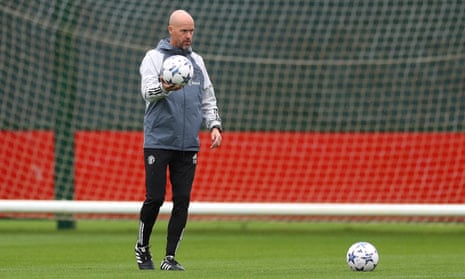 A few shouts for Premier League games in the United States. Including from Joe Pearson in Indianapolis:
Given Shahid Khan's priors with bringing his NFL team (Jacksonville Jaguars) to London for regular season games, I would expect him to be first in line to volunteer to stage Fulham matches in the US. But that's just me.
Manchester City team news and injuries
Guardiola says Bernardo Silva has joined Kevin de Bruyne and John Stones on the treatment table, while tomorrow's clash against Nottingham Forest will likely come too soon for Mateo Kovacic who is "in the last part of (his) recovery".
"Jack Grealish is coming back, he's training well and could be ready. Muscular issues are (because of) a lot of games."
On Forest: "They were able to do an incredible game at Stamford Bridge, they fought a lot against Arsenal and at Manchester United they had two (goals) after a few minutes."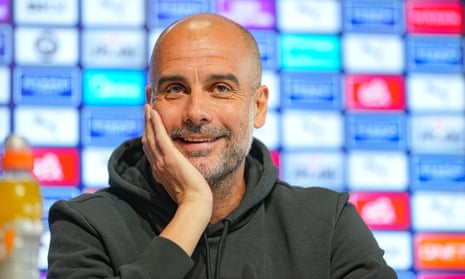 An email – and a cracking question from reader Kurt Perleberg:
Will there ever be a Premier League match held outside the UK?
It feels like this might well pop back onto the agenda soon, especially given the current situation in Saudi Arabia. Qatar maybe. Do any other countries have a chance?
International football isn't always the most appealing prospect at this time of the year, but tonight's Women's Nations League offering is pretty decent as that inaugural tournament gets going. The games in England's group A1 certainly whet the appetite:
England v Scotland, 7.45pm

Belgium v Netherlands, 7.30pm
Other games tonight include Spain, back in action after their World Cup win and the subsquent Rubiales scandal, against Sweden (5.30pm), France v Portugal (8.10pm) and Switzerland v Italy (6.30pm).
All times BST
Remember Jesse Lingard? No? Fair enough, it has been a while. Anyway, he's been a free agent since leaving Nottingham Forest in the summer and West Ham are training him up in advance of a short-term deal of sorts. David Moyes has provided this update today:
Thanks Will. And there's a lot to get through, including Manchester-based press conferences from Pep Guardiola and Erik ten Hag who, I somewhat suspect, will be hitting rather different tones when they address the media.
Right, that's all from me for the moment. I'll hand you over to Dominic Booth, who'll guide you through the afternoon.
Chelsea injuries laid bare
Before Mauricio Pochettino's press conference, Chelsea have published a full injury list and, all told, it makes for extensive reading. Benoît Badiashile and Armando Broja have returned to full training but are still undergoing reconditioning, Marcus Bettinelli, Trevoh Chalobah, Carney Chukwuemeka, Wesley Fofana, Reece James and Christopher Nkunku are still in the rehabilitation phase, and Roméo Lavia is just starting his rehab programme.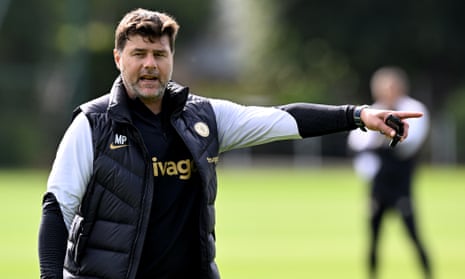 Manchester United have announced a new addition to their backroom staff, Gary O'Driscoll. He has taken on the role of head of sports medicine and will oversee all medical activity across the men's, women's and academy teams. O'Driscoll left Arsenal in the summer after 14 years with the club, but grew up in Manchester and is, according to his new employers, "a lifelong United fan". He succeeds Steve McNally, who stepped down as head of sports medicine in February to become the performance sport director at PGMOL, the body which oversees referees in the professional game.
After West Ham's 3-1 victory against TSC in the Europa League, Moyes has been reflecting on the impact of two new signings in Mohammed Kudus, who scored the Hammers' second goal, and James Ward-Prowse. "I'm pleased Mo has made a big impact for us already," he said. "He's still getting used to us and we're getting used to him, but he made a big contribution last night for us."
"James has settled in brilliantly well. We felt he had a good chance of settling in quickly due to his Premier League experience, but bringing him in was always a chance to see if he could bring goals and assist to us. He's a Mark Noble-type player for us in many ways, in terms of what he brings to the team."
Did you miss Brighton's European debut against AEK Athens last night? Ed Aarons was at the Amex to witness a historic, but ultimately disappointing, game for Roberto De Zerbi's side.
What's Nagelsmann been saying, then, after his appointment as Germany manager? "We have a European Championship in our own country. That's something special, something that happens every few decades. I subordinate everything to the fact of having a great tournament in a great country. I have a great desire to take on this challenge."
Bernd Neuendorf, the DFB president, has explained the rationale behind giving the job to the former Hoffenheim, RB Leipzig and Bayern coach. "Next year's European Championship is of enormous importance for football in Germany as a whole," he said. "We are convinced that Julian Nagelsmann, as national coach, will ensure that the national team inspires its fans and that the Euro is also a sporting success. He is an outstanding coach who approaches his new task with the highest level of motivation. We will all now focus on the tournament next summer and support him as best we can."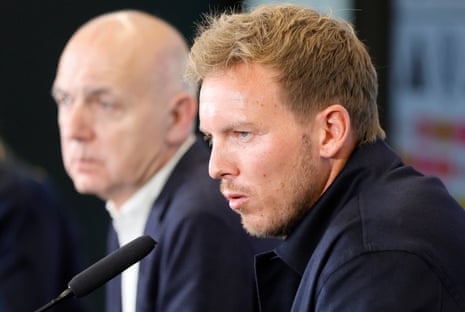 After the decision by the majority of the Spain squad to end their boycott of the national team following the departure of Andreu Camps, the secretary general of the Spanish Football Federation (RFEF), and other senior officials, Alexia Putellas and Irene Paredes have spoken about the upheaval of the last few weeks. There was talk of the boycott scuppering Spain's Women's Nations League game against Sweden this evening, but that outcome appears to have been avoided by negotiations mediated by the government.
"I think that the meeting we had the other day (with the federation) can represent a before and an after," said Putellas. "I am confident that the deals we have reached by doing meetings until the early hours of the morning will improve our sport and women's sports in general, and our society."
Returning, again, to the Women's Nations League, the Lionesses have settled a dispute with the FA over bonuses and commercial structures ahead of their clash with Scotland. It is understood the FA significantly increased their offer in order to come to a deal. Here's the full story.
Here's the latest on Nagelsmann's appointment. Imagine the drip he's going to bring to international management. Gareth Southgate doesn't stand a chance.
Nagelsmann confirmed as Germany manager
We've got some breaking news from the men's international game. The German Football Association (DFB) have announced that Julian Nagelsmann will take over as Germany manager, succeeding another former Bayern Munich coach in Hansi Flick. Nagelsmann is tasked with turning around the team's flagging fortunes, with Flick departing after a 4-1 defeat to Japan. Die Mannschaft have since beaten France under the interim management of Rudi Völler, but they have much work to do in the build-up to hosting Euro 2024.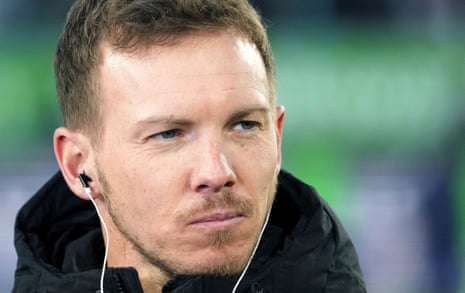 Returning to the theme of the Women's Nations League, the competition format is, admittedly, a little bit convoluted. Here's Sophie Downey with a handy explainer as to how it all works.
David Moyes has also provided a health check on his squad, with West Ham heading to Anfield to face Liverpool on Sunday. Jarrod Bowen has a virus and Aaron Cresswell has tweaked his hamstring, so both will need a late assessment to decide whether or not they should be involved.
"They can challenge for the title," Moyes said, when asked for his thoughts on Jürgen Klopp's side. "People say we've made a good start to the season but Liverpool definitely have as well. They've won all their games and they're introducing new players into their squad. From a distance, they look like they're getting back into their best form."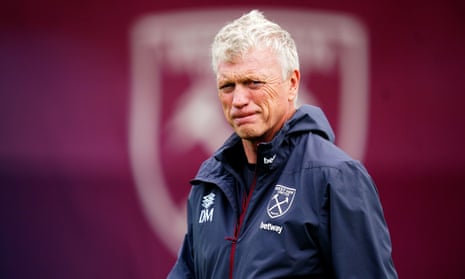 Speaking to the press pack from the Death Star at Benton, Eddie Howe has provided an injury update ahead of Newcastle's trip to Sheffield United. "We're still missing the two Joes in midfield," he said. "Joe Willock will be back after the international break but we're hoping Joelinton will be back sooner.
"Apart from that we're pretty good. With Callum (Wilson), we always have to manage his load and training. We have to give him the best chance of staying fit through the season."
As we wait for the other managers, it's as good a time as any to read this weekend's 10 things. Go on, treat yourself.
As is customary, Arteta also provided some north London derby hype. "This game doesn't need motivation, it's the biggest game of the season," he said. "They have a new manager who has done really well and has changed the vibe around the club. He's also brought in a new style and we have to adapt.
"I really like (Postecoglou). I know players who worked with him and they speak highly of him. You can tell straight away that he's fitting in really well. That's the beauty of this league, we have so many good managers."
Asked what it will be like to face Spurs without Harry Kane, Arteta was magnanimous about the way Ange Postecoglou's side have come to terms with his departure. "They have many other qualities and many other players who can make a difference in the game," he said. "It's a big change but they have adapted well without him.
"He was a special player and everything went through him. He glued everything together in many areas of the pitch. Now, it's different. They have some movement with certain players who are different. We are just focused on the team we face and trying to play the best way to cause problems."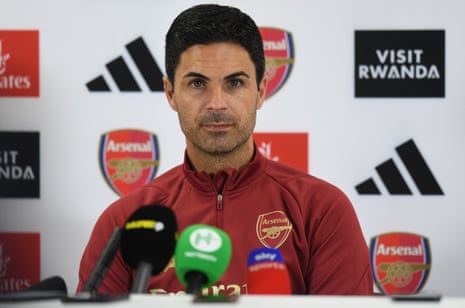 Speaking to the assembled media before Tottenham's visit to the Emirates on Sunday, Arteta has also addressed the decision to drop Aaron Ramsdale for David Raya. "I care about every player that isn't playing, but it's my job to make a decision in the best possible way for the team," he said.
"(Ramsdale has) been supportive and great around the place, that's what I expect from my players. So far he has been really good. Am I comfortable (making the decision)? I'm not sure. In your stomach it's hard. When players don't play it's difficult. You want them to feel wanted, but it's tough."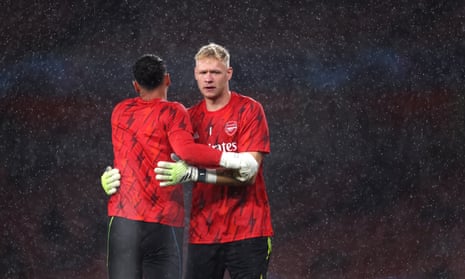 Edu, Arsenal's sporting director, has also been waxing lyrical about the Norwegian. "To agree and complete a new contract with Martin is such great news for us all," he said. "He is our captain, an experienced international and a player who gives us so much quality and joy every time he plays for us.
"Martin is still only 24 years old, so there's still much more to come from him, and we're delighted that we will be together in the forthcoming years. Our aim is to keep our best players, and with Martin now also included, we're pleased to have completed new long-term contracts with a number of our most important young players in recent months."
Unsurprisingly, Mikel Arteta has been singing Ødegaard's praises. "Martin signing a new long-term contract is such good news for everyone connected with Arsenal," he said. "He is our captain and a hugely respected person at our club, who is a great role model and professional, bringing quality and maturity in everything he does. On the pitch, as everyone has seen, Martin is a young player of top quality who consistently contributes at such a high level.
"As a manager, working with Martin the person and the player is an absolute joy, and it's great that after experiencing a number of clubs already in his career, he is now settled and really feels at home at Arsenal. We all look forward to continuing our journey with Martin in the years to come."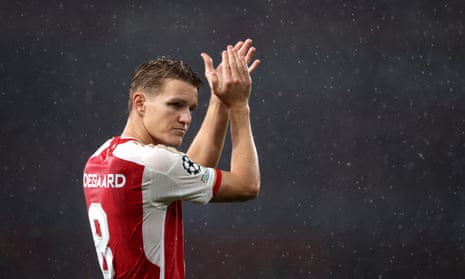 Ødegaard signs new Arsenal deal
Let's start with the news that Martin Ødegaard, Arsenal's silky playmaker, has signed a new contract. Nick Ames has been getting his chat on with the midfielder, who has linked his sense of belonging at the Emirates to the fact that he always used to play as Arsenal on Fifa.
If the buzz of this week's European fixtures is starting to fade, don't worry, this is football we're talking about: another buzz is just around the corner.
The weekend's Premier League action includes a north London derby and a south coast derby, with Arsenal hosting Tottenham and Brighton welcoming Bournemouth, and several other fixtures with the potential for high drama. The managers are on press conference duties today, so we'll have that covered. There are also Women's Nations League fixtures to come, with Sweden taking on Spain and England doing battle with Scotland. All eyes will be on Spain after weeks of turmoil following the Luis Rubiales scandal.