Key events
On the London Stock Exchange the FTSE 100 has dipped a bit further: it is now down by 0.5% for the day because commodities companies have dropped on lower prices.
Germany's Dax index is down by nearly 1%, while France's Cac 40 is down by 0.3%.
The UK risks seeing its manufacturing sector fall behind rival economies if the government does not offer certainty over policies on shifting to green energy, according to the head of FTSE 100 packaging maker DS Smith.
Miles Roberts, the company's chief executive, said British government decarbonisation policy has lacked the clarity of European rivals, meaning DS Smith has moved ahead with a €90m (£78m) investment in a paper mill in Rouen, northern France, while waiting for more clarity from government before investing in upgrades in the UK.
The EU's Green Deal and the US Inflation Reduction Act have offered enormous subsidies to help industries to reduce their own carbon emissions as well as to manufacture the technology needed for the transition away from fossil fuels.
"We're saying to the UK, we're here. What's your plan?" said Roberts. "It would be very helpful to understand what's happening in the UK that's mirroring the EU. We've taken back control, so where is that control? How are we making Britain an attractive place to invest?"
You can read the full story here:
Chevron to buy oil rival Hess in $53bn deal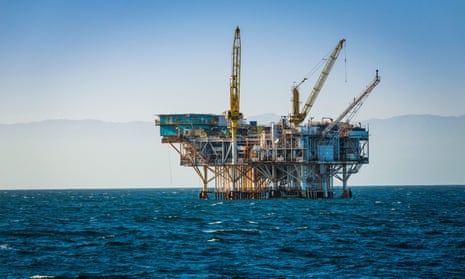 US supermajor Chevron has said it will buy smaller oil company Hess in a $53bn deal, as it looks to keep upping oil production well into the 2030s.
Chevron said it will give Hess shareholders 1.0250 shares of Chevron for each Hess share, equivalent to $171 per share. The total deal size will reach $60bn when including debt.
The deal will give Chevron access to the huge boom underway in the South American country of Guyana, where companies are rushing to exploit huge reserves found off its coast – even as environmental campaigners have argued that the products will harm the atmosphere.
Reuters reported:
The deal puts two of the top oil giants, Chevron and ExxonMobil, head-to-head in two of the world's fastest growing oil basins – shale and Guyana.

Guyana has become a major oil producer in recent years after huge discoveries by Exxon Mobil, its partner Hess and China's CNOOC, which together produce 400,000 barrels per day from two offshore vessels and have said they could develop up to 10 offshore projects.
Chevron boss Mike Wirth has made it clear that he wants to keep pumping as much oil as possible (including in a big interview with the Financial Times today in which he seemingly forgot to mention the big acquisition about to drop on the same day). The company is committing much less capital to lower-carbon energy than some of its European rivals such as Shell and BP – which themselves are heavily criticised by environmental groups for not doing enough to look beyond petroleum (to coin a phrase).
The signal from Chevron was clear in its announcement of the Hess deal on Monday:
The Stabroek block in Guyana is an extraordinary asset with industry leading cash margins and low carbon intensity that is expected to deliver production growth into the next decade.
It is not just the 30-year where UK bond yields are rising: the benchmark 10-year yield is also up strongly today.
The 10-year gilt yield hit a high of 4.743% on Monday, the highest since August, and up from 4.213 as recently as 20 September.
It is not just a UK phenomenon: the US 10-year Treasury yield rose above 5%, the highest since July 2007.
German 10-year yields rose to a high of 2.966%. Yields were marginally higher at the start of the month, but October has brought the highest levels since the eurozone crisis of 2011.
New 25-year high for UK government long-term borrowing costs
The UK government's cost of borrowing for the long term has hit a new 25-year high as investors around the world bet on higher interest rates.
The 30-year UK gilt yield, a measure on the returns gained by investors lending governments money, rose on Monday to 5.209%, its highest since the summer of 1998. Yields move inversely to prices, so the move corresponds to prices of the debt falling.
Rising bond yields are tricky for governments because they make it more expensive to borrow.
Over most of the last 25 years more expensive debt servicing has not been a worry for governments, as central banks cut interest rates to near zero following the financial crisis of 2008-9.
During Liz Truss's disastrous premiership UK bond yields surged as investors worried about unfunded tax cuts. However, the moves higher in recent months reflect the expectation that interest rates will remain higher for longer to fight inflation.
That also means that the Conservative party would not be able to tame bond markets by dispensing with a prime minister for a second time. Higher bond yields will likely limit the room for manoeuvre for a pre-election giveaway from the chancellor Jeremy Hunt, because any tax cuts or increased spending might be seen as inflationary by markets.
This explainer from the Guardian's economics correspondent, Richard Partington, tells you all you need to know:

Anna Isaac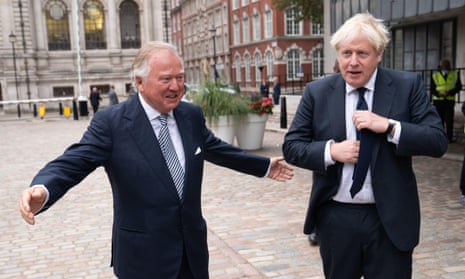 The influential Tory donors behind the JCB digger empire could be hit with a bill for more than £500m to settle a longrunning investigation by HM Revenue and Customs, the Guardian can reveal.
The investigation into Anthony Bamford, a Tory peer, and his brother Mark, the director of a subsidiary of the Conservative party, is understood to span a complex network of offshore tax havens and companies.
The inquiry is understood to be targeting efforts by the Bamford dynasty to aggressively minimise the payment of UK taxes and covers two decades.
Lawyers acting for Lord Bamford and Mark Bamford declined to comment on the record.
You can read the full story here: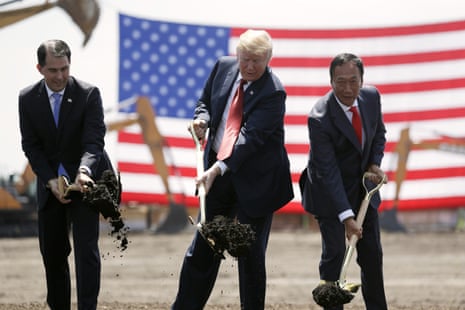 China has targeted Apple supplier Foxconn with a tax investigation. Foxconn's share price dropped by 2.9% on Monday.
Foxconn is deeply involved in trade between the US and China, but also with the Taiwan, which China claims to own. So the timing of the intervention seems notable, writes the Guardian's Kalyeena Makortoff:
It comes months after Foxconn's founder, Terry Gou, announced he would run as an independent leadership candidate in Taiwan's 2024 presidential election. Gou – a well-known and outspoken businessman – resigned from Foxconn's board in September, days after announcing his election bid.

Gou's presidential candidacy comes amid ongoing tension over Taiwan's independence, with China having vowed to subsume Taiwan into the Chinese state, under what it calls "reunification" plans. That is despite widespread resistance by Taiwan's population and its main political parties.

Gou used the launch of his presidential bid in August to declare that he would "bring 50 years of peace to the Taiwan Strait and build the deepest foundation for the mutual trust across the strait".
You can read the full report here:
Chinese stocks fall to pre-pandemic levels
China's stock market index has dropped to its lowest level since before the coronavirus pandemic in 2019, a sign of the struggles of the world's second biggest economy.
The CSI 300 index in Shanghai fell by more than 1% to a low of 3,450 points on Monday, the lowest since February 2019.
That was far below the peak of 5,930 points in February 2021, when China's economy was outperforming others because of strict coronavirus controls. However, those controls eventually dragged the country back.
Slowing economic growth in China has seen investors mark down the earning prospects of its biggest companies listed in Shanghai and Hong Kong. It has also exposed the vulnerabilities of some of the biggest companies in China's embattled property sector, which have since defaulted on debt obligations.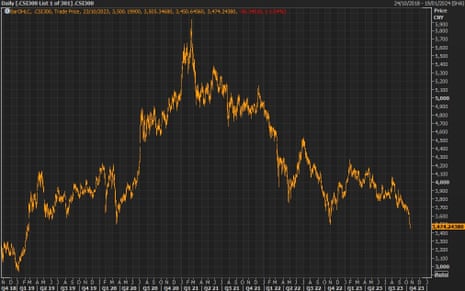 Investors have also been rattled by China's geopolitical manoeuvring against the US, its great rival. The Financial Times, which first reported the stock market drop, cited an Asia-based senior capital markets banker at one Wall Street investment bank, who said investors need clarity before they shift money back to China en masse:
Global investors need two floors before they get back into China — they need a floor for the geopolitics and a floor for the Chinese economy. Only then they can start pricing things up.
Shares in London-listed drug company Indivior have risen by 7% on Monday after it said it will pay a $385m settlement of lawsuits claiming it had illegally supressed competition for its addiction treatment Suboxone.
Indivior, a member of the FTSE 250 index of mid-sized companies, said it had agreed the payment with drug wholesalers allegedly affected by its actions. Indivior was alleged to have switched from a tablet to an oral film for the product to extend its monopoly over the valuable product used to treat opioid addiction.
Indivior chief executive Mark Crossley said:
We are pleased to achieve this settlement to conclude this legacy multi-district antitrust matter.

The resolution of this litigation, which was filed over a decade ago, provides greater certainty for all Indivior stakeholders and allows us to continue focusing on our important work for patients suffering from opioid use disorder and mental health illnesses around the world.
The FTSE 100 has dippedx in the first minutes of trading. It fell by 0.2%.
Commodity-linked stocks dragged back the index. As well as oil prices, gold, silver and copper prices also fell back on Monday morning.
The biggest downward mover was gold miner Fresnillo, which dropped 1.9%. Miners Glencore and Anglo American both dropped 1.2%.
Oil prices drop amid Gaza diplomacy; Apple supplier Foxconn faces tax probe
Good morning, and welcome to our live coverage of business, economics and financial markets around the world.
Oil prices dropped back on Monday after diplomatic efforts over the weekend to try to prevent the conflict between Israel and Hamas from spreading, including aid convoys being allowed into Gaza.
The price of a barrel of Brent crude oil, the North Sea benchmark, for December delivery fell as low as $91.08 on Monday morning, down by more than a dollar, or about 1%, following the weekend closure of markets. West Texas Intermediate, the North American grade also used as a global benchmark, fell by 1.2% as low as $86.83.
Neither Israel nor Palestine are significant fossil fuel producers, but analysts are concerned that supplies from other countries could be affected if fighting spreads further through the region. Israel has been bombing Gaza in response to Hamas's attack on civilians on 7 October, but it has so far not launched a promised ground invasion into the territory.
Vandana Hari, founder of oil market analysis provider Vanda Insights, told Reuters:
There is some relief in the oil market that Israel is holding off on a planned ground incursion of northern Gaza to negotiate a release of hostages, which opens up a window for diplomacy.

A ground siege is seen as a potential trigger for widening the Israel-Hamas conflict into the Middle East region, the factor behind crude's risk premium over the past fortnight.
Elsewhere, one of the key manufacturers of Apple's iPhone, Foxconn, has said it will cooperate with authorities following the revelation that it faces a tax investigation in China.
Chinese state-controlled media reported the existence of the probe on Sunday, and Foxconn – officially called Hon Hai Technology Group – confirmed its existence. It said:
Legal compliance everywhere we operate around the world is a fundamental principle of Hon Hai Technology Group (Foxconn). We will actively cooperate with the relevant units on the related work and operations.
Any move to rein in Foxconn could have geopolitical ramifications, given its importance to Apple – the world's biggest public company – and therefore for the US economy. Unnamed sources told Reuters they believed only Foxconn's probe was made public for political reasons. Reuters reported:
They highlighted the audit comes less than three months ahead of Taiwan's presidential election and amid Foxconn's diversification drive to move some production out of China.
The agenda