Key events
Full story: B&M strikes deal to buy 51 Wilko stores for up to £13m
The discount chain B&M has struck a deal to buy 51 Wilko stores for up to £13m as the stricken retailer's administrators rush to seal last-minute deals with the fate of thousands of jobs hanging in the balance, my colleague Mark Sweney reports.
B&M, one of the UK's most successful discount retailers with a market value of £5bn and 1,100 outlets nationwide and in France, said it would acquire "up to 51" Wilko sites for a "maximum aggregate consideration" of £13m.
B&M is one of a number of suitors hoping to snap up parts of Wilko's 400-store chain that fit their own expansion plans.
Administrators at PwC are also in talks with other potential suitors including Poundland, Home Bargains and The Range about saving some of Wilko's stores. More here:
FCA launches review of treatment of Politically Exposed Persons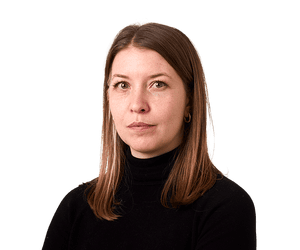 Kalyeena Makortoff
The FCA has warned it will take "prompt action" if a fresh review finds that UK banks are treating politicians and their families unfairly, by denying accounts or running excessive checks on their transactions.
The regulator made the comments as it formally launched its review into rules surrounding the treatment of politically-exposed persons (PEPs).
While the review was originally set in motion by the passing of the Financial Services and Markets Bill in June, attention ballooned in July when former Ukip leader Nigel Farage had a spat with NatWest over a decision to close his accounts at its exclusive private bank, Coutts.
Banks are currently required to closely monitor the accounts and transactions of PEPs, who include MPs, peers, leaders of UK political parties and senior ranking military officers, as well as their family members and close associates.
But the FCA's newly-launched review will consider how firms are applying the definition of PEPs, whether they are conducting proportionate risk assessments and applying due diligence and monitoring accounts "in line with risk". It will also look at how banks are deciding to reject or close accounts for PEPs, how they are communicating those decisions, and whether they are keeping their PEP controls under review to "ensure they remain appropriate."
The FCA is expected to share its findings by June 2024, after which the FCA will decide whether whether it needs to update its guidance
In the interim, the regulator could deploy a deeper probe into an individual banks' practices, apply additional supervision, or – if it finds serious serious harm – could apply its enforcement powers which go as far as fines.
The terms of the review were published hours after one of the FCA's executive directors, Sarah Pritchard, wrote in the Telegraph warning that banks which wrongly deny accounts to politicians and their families face the prospect of being fined.
Analyst reaction to Wilko store sale
Orwa Mohamad, analyst at Third Bridge, reckons B&M may have cherrypicked the most profitable of Wilko's stores by buying 50 today (see earlier post), saying:
"B&M's ambition to get to 950 has been given a significant boost by the potential cherry picking of Wilko's best stores, i.e. the ones that are most profitable."

"B&M's general focus on out-of-town locations means it can incorporate many of Wilko's high street stores and locations with limited cannibalisation impact."

"From an assortment perspective, there's a high degree of crossover between Wilko & B&M in households, garden, toys, accessories. Quite often, Wilko & B&M sell the same product, meaning consumers have a strong incentive to continue frequenting those stores regardless of the banner."
Global financial watchdog warns of 'further challenges and shocks' ahead
The world's most powerful financial watchdog has warned of "further challenges and shocks" in the months ahead.
Klaas Knot, chair of the Financial Stability Board, has told leaders of the G20 countries that high interest rates are undermining economic recoveries.
In a letter to the G20 ahead of their summit in New Delhi this week, Knot points out that relatively strong and persistent inflation has seen financial conditions tighten and interest rates rise strongly in many jurisdictions over the past year.
Higher borrowing costs, and a slowing growth outlook, could impair the capacity of borrowers to service the historically high stock of outstanding global debt, creating challenges for both bank and non-bank lenders, he fears.
Knot says:
The global economic recovery is losing momentum, and the effects of the rise in interest rates in major economies are increasingly being felt.
And he reminds them of the problems in the banking sector earlier this year, which led to the collapse or rescue of several US regional lenders, and the takeover of Credit Suisse by UBS.
The individual cases of banking sector stress earlier this year were a stark reminder of the speed with which vulnerabilities can be exposed in the current environment. The FSB is committed to learning lessons from this event.

At the same time, it is encouraging – and a testament to the G20 reforms since the GFC (Great Financial Crisis) – that the strains faced by individual banks did not cascade into a full-blown crisis.
Knot concluded by warning:
There will certainly be further challenges and shocks facing the global financial system in the months and years to come.
This chart, from this morning's UK PMI report, shows how UK business activity fell for the first time since January: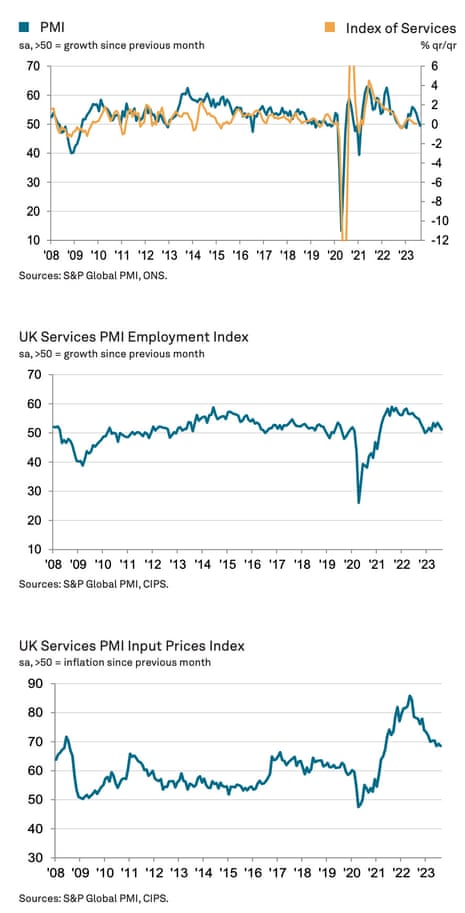 Here's EY Item Club on the news that UK private sector activity declined last month:
August's services Purchasing Managers' Index (PMI) pointed to a contraction in UK private sector activity. The EY ITEM Club still thinks GDP is likely to grow modestly in Q3 as the drags from some idiosyncratic factors fade. But today's evidence of a decline in new orders suggests that the long-term outlook is gloomy.

Cost and price pressures eased again. Recent upside surprises in the official pay data mean another 25bps rate rise at this month's Monetary Policy Committee (MPC) meeting remains likely, if not certain. But today's more dovish survey results reinforce the EY ITEM Club's view that the current rate rising cycle is close to a halt.
Birmingham City Council issues Section 114 notice as it enters financial distress
Another UK council has declared itself to be in financial distress.
Birmingham Council has issued a Section 114 notice this morning, which is the last resort for financially struggling councils and an admission that it cannot balance its books.
A Section 114 notice requires the authority to stop all but the essential spending needed to provide vital services, pay staff and meet its legal duties, while it works out a way of stabilising its finances.
The Birmingham Mail has more details:
The news is a massive blow to the council, its staff and the city's residents. It comes after a desperate attempt by officers to resolve the catastrophic financial straits the Labour-run council finds itself in.

A massive equal pay liability – thought to now top £1 billion – along with the costs of putting right a disastrous IT implementation programme, and the rising costs of meeting demand for adult social care, the housing crisis and children's services, have all taken their toll.
Last December, Thurrock council formally declared effective bankruptcy when it issued a Section 114 notice, while Woking Council issued its own Section 114 in June, having run up a £1.2bn deficit.
B&M buys up to 51 Wilko stores for £13 million
Newsflash: discount retail group B&M European Value Retail has confirmed that it has agreed to buy up to 51 Wilko stores, at cost of up to £13m.
The move comes after Wilko fell into administration last month, with insolvency experts from PwC spending recent weeks seeking to hammer out a rescue deal for the historic retailer.
In a statement to the City, B&M says:
The consideration is fully funded from existing cash reserves and the acquisition is not expected to be conditional on any regulatory clearances.

An update on the timing of these new store openings will be provided in the H1 interim results announcement on 9 November 2023.
This follows reports this morning (see here) that hopes of a broader rescue deal for Wilko involving Doug Putman, the owner of HMV, were faltering, as some key suppliers want outstanding debts repaid upfront.
The slowdown in the UK economy last month may make it harder for jobseekers to find roles as the winter approaches.
Dr John Glen, chief economist at the Chartered Institute of Procurement & Supply (CIPS), explains:
Capacity opened up at the greatest level for three years as backlogs declined, so staff hiring was more muted, reducing job seeker opportunities as prospects for the UK economy become colder
Glen also warns that the increase in interest rates to a 15-year high is hurting the economy.
"August painted a concerning picture of the services sector as the cooling economic effects of higher interest rates started to impact on spending and confidence, reducing the number of new orders at the fastest rate since last December.

This combined with punishing costs of living and doing business, mainly due to higher energy bills, fuel prices and salary inflation, meant supply chain managers voiced their disquiet at the direction of travel for the service sector which fell into contraction this month.

Though the sector's shrinkage was marginal, the hesitation to commit is likely to be the landscape for the next few months as the UK economy becomes a riskier environment for domestic and overseas business alike and competition amongst service providers intensifies.
UK businesses hit by fastest slowdown since January
The UK private sector has shrunk for the first time since January, with firms hit by weakening activity as higher interest rates hit demand.
The latest survey of UK purchasing managers, just released, shows that the UK services sector shrank slightly in August, due to weaker business and consumer spending.
New orders fell, as higher borrowing costs hit client demand.
This pulled the S&P Global / CIPS UK Services PMI down to 49.5 in August, down from 51.5 in July and the lowest since January. Any reading below 50 indicates a contraction.
This follows a sharp fall in the manufacturing PMI last Friday, which raised fears that the UK could be falling into recession.
Overall, there was a "marginal" reduction in private sector output during August, with the composite PMI dropping to 48.6 from 50.8 in July.
Tim Moore, economics director at S&P Global Market Intelligence, explains:
"Service providers saw customer spending reverse course during August as higher borrowing costs, subdued business confidence, and stretched household finances all acted to curtail sales opportunities.

After a modest recovery over the past six months, service sector businesses are now clearly feeling the impact of rising interest rates on client demand. Worries about the broader business climate also dampened spending in August, with firms suggesting that faltering UK economic growth and sticky inflation were weighing on the outlook.

Adding to signs of reduced pressure on business capacity, the latest survey indicated that backlogs of work decreased at the fastest pace for over three years. Service providers appear to have gently put the brake on staff hiring, with job creation easing to its lowest since March.
The chairman of supermarket Asda says UK consumers are thinking very hard about spending on so-called big ticket items.
Stuart Rose told LBC radio this morning that:
"There is no doubt about it, public confidence is down, people are thoughtful about spending money because they have to be, people are very thoughtful about big ticket spending."
Sky: B&M swoops on 50 Wilko stores as Putman rescue deal falters
Sky News are reporting that B&M European Value Retail is poised to swoop on scores of Wilko stores as hopes falter of a broader rescue deal involving the HMV owner.
They say:
Sky News has learnt that B&M could announce the acquisition of around 50 Wilko shops as soon as Tuesday morning, with the chain's administrators said by industry sources to be on the brink of announcing the first closures from its estate.

One retail executive said that Doug Putman, who had been edging towards a rescue deal in recent days, was now engaged in talks about reshaping the transaction to incorporate approximately 200 stores.

Mr Putman is said to have encountered difficulties during talks with Wilko suppliers despite having provisionally secured financing from Gordon Brothers for a deal to acquire about 300 stores.
Reminder, we reported last night that some of Wilko's key suppliers want outstanding debts repaid upfront to guarantee continuing to provide products to the chain, which is hampering efforts to agree a deal.
New car market enters second year of growth as August registrations rise 24.4%.
It's official: UK new car registrations rose by 24.4% year-on-year in August, as the new car market enters second year of growth.
The Society of Motor Manufacturers and Traders (SMMT) has reported that 85,657 new vehicles were registered last month, almost 16,800 more than a year earlier. It's the 13th monthly rise in sales in a row, as expected (see opening post).
But, that still leaves the market around 7.5% below its pre-pandemic levels.
Battery electric cars took their highest monthly market share for the year, accounting for 20.1% of new cars reaching the road – with 17,243 BEVs registered in August.
The SMMT explains:
Demand for electrified vehicles continued to grow, accounting for almost four in 10 (37.8%) new cars reaching the road.

Battery electric vehicle uptake swelled by 72.3% to secure a 20.1% market share, an August record and the highest recorded since last December.

Plug-in hybrid uptake also rose significantly, by 70.0%, to account for 7.7% of new registrations. Hybrid volumes remained relatively stable with a 6.8% increase, comprising 10.0% of the market.
Sales of diesel cars were down 18% to 3,647, while perol registrations rose almost 10% to 34,756.
Eurozone output shrinks at fastest rate in nearly three years
Just in: output in the eurozone economy declined at the fastest rate in nearly three years in August, as services activity across the region declined.
The latest survey of eurozone purchasing managers, just released by S&P Global shows that activity fell at the fastest rate since November 2020.
The declined was broad-based, with service sector activity shrinking for the first time in 2023. New orders also dropped the most since late-2020, prompting companies to completing outstanding work at the fastest rate in over three years.
Worryingly, input price inflation accelerated for the first time since September 2022, as firms paid more for their raw materials and other costs.
But the average increase in prices charged for goods and services was the slowest in two-and-a-half years.