Introduction: UK house price gauge falls to lowest since 2009 as interest rates rise
Good morning, and welcome to our rolling coverage of business, the financial markets and the world economy.
Britain's housing sector continues to weaken, as rising interest rates hit demand for property, the country's surveyors are warning today.
The Royal Institution of Chartered Surveyors (Rics) has reported the most widespread falls in British house prices since 2009 in the last month.
Tighter lending environment continues to weigh heavily upon homebuyer activity, Rics says.
But there may be relief around the corner, with several major lenders cutting their mortgage rates this week.
The latest survey of Rics members, for July, found that:
House inquiries and sales continue to decline

House prices fall for a further month

Near-term market expectations remain negative

Rental demand continues to rise along with expected rental prices
Rics's house price balance, which measures the difference between the percentage of surveyors reporting price rises and falls, dropped to -53 in July from a downwardly revised -48 for June.
That's a larger fall than expected, and the lowest reading since April 2009,
A net balance of -44% of surveyors reported a decline in agreed sales during July.
That's down from -36% in June and is the weakest reading for the sales measure since the early stages of the pandemic.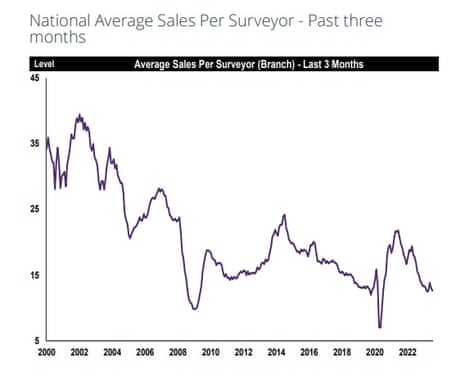 That backs up the message from lenders Nationwide and Halifax in recent months, who have both reported falling prices since their peak last August.
Rics chief economist, Simon Rubinsohn, warns that demand is weakening:
"The recent uptick in mortgage activity looks likely to be reversed over the coming months if the feedback to the latest Rics Residential Survey is anything to go by.

The continued weak reading for the new buyer enquiries metric is indicative of the challenges facing prospective purchasers against a backdrop of economic uncertainty, rising interest rates and a tougher credit environment.
But the tide may be turning, with Halifax, HSBC, TSB and Nationwide all announced cuts to their mortgage rates, in what the Daily Mail is dubbing a "mortgage price war".
Halifax, the nation's largest lender, will slash the cost of its loans by up to 0.71 percentage points tomorrow, prompting brokers to predict mortgage rates would now be lowered elsewhere.
Jamie Lennox of Dimora Mortgages said:
'Halifax is making the single largest rate reduction I have seen from a high street lender,' said

'I expect others to reduce their rates this week, which could start a price war.'
Lewis Shaw, founder of Mansfield-based Shaw Financial Services, says Halifax's move is a positive development:
It's a welcome relief to see rate reductions, and this could be the start of a price war as transaction volumes drop and mortgage lenders need to get the sharp elbows out to hit their targets."
But, rates are still much higher than before the recent surge. The average two-year fixed mortgage was 6.83% yesterday, according to Moneyfacts, up from 5.35% in April.
Also coming up today
The financial markets are eager to scrutinise the latest US inflation report, due at 1.30pm UK time.
Economists predict that US CPI rose to 3.3% in the year to July, up from a two-year low of 3% in June. That could create concerns that the drop in American inflation has bottomed out.
Asia-Pacific markets have dropped, amid anxiety after the White House unveiled a ban on US investment in Chinese technology.
The executive order signed by Joe Biden authorises the US treasury secretary to prohibit or restrict certain US investments in Chinese entities in three sectors: semiconductors and microelectronics, quantum information technologies, and certain artificial intelligence systems.
The agenda
9am BST: Italian inflation report for July

9.30am BST: Weekly UK economic and business activity report from the ONS

11am BST: Ireland's inflation report for July

1.30pm BST: US inflation report for July

1.30pm BST: US weekly jobless data
Key events
Wilko's chief executive said the retailer had received rescue offers before it was forced to enter into administration.
Mark Jackson said:
"While we can confirm we had a significant level of interest, including indicative offers that we believe would meet all our financial criteria to recapitalise the business, without the surety of being able to complete the deal within the necessary timeframe, and given the cash position, we've been left with no choice but to take this unfortunate action."
Administrators at PwC are expected to run a further sales process for Wilko, the Financial Times reports, even though previous rescue talks with prospective suitors have failed.
But ultimately, PwC could liquidate the chain if no solution is found, the FT warns, saying:
…the company has faced increasing competition from nimbler rivals in recent years, leaving it grappling with lacklustre sales amid mounting cash and inflationary pressures.

It fell to a £36mn pre-tax loss in the year to January 2022 from a £3.2mn profit the year before, according to its most recent accounts filed at Companies House.
The GMB union have blamed Wilko's management for its fall into administration.
Nadine Houghton, GMB national officer, says (via Bloomberg):
"Much needed cash was taken out of the business by the Wilkinson family even when it was struggling,"
Wilko collapses into administration after rescue talks fail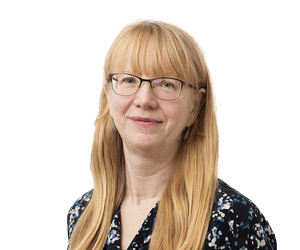 Sarah Butler
NEWSFLASH: The troubled budget retailer Wilko has called in administrators, putting more than 12,000 jobs at risk after it failed to agree a rescue deal.
The family-owned household and garden products retailer, which has about 400 stores, is expected to have to close dozens of outlets, leaving big gaps on high streets after weeks of talks with potentially interested parties.
Mark Jackson, the chief executive, said:
"We left no stone unturned when it came to preserving this incredible business but must concede that with regret, we've no choice but to take the difficult decision to enter into administration.

"We've all fought hard to keep this incredible business intact but must concede that time has run out and now, we must do what's best to preserve as many jobs as possible, for as long as is possible, by working with our appointed administrators."
More here:
Tom Davey, Director and Co-Founder at litigation finance broker Factor Risk Management, fears Wilko won't be the only retailer to hit problems:
"The predicted perfect storm of rising prices coupled with higher mortgage rates has finally hit UK consumers' spending power, with nasty knock-on effects for the retail industry.

"After a torrid period during the pandemic, and with continued supply issues and rising interest rates, many retailers will find the conditions impossible to survive in their current guise and we expect to see an increasing number of high profile companies restructuring and facing fire sales as a result of this.

"For companies such as Wilko, cheap capital has disappeared and this has led to a noticeable rise in both corporate and personal insolvencies over the past year. These figures are only likely to worsen.

"The cost of managing inflation will be paid for by individuals and struggling corporates who have survived on cheap credit, and it speaks to the economic climate that has prevailed for the last 15 years that a return to historically more normal interest rates is having, and will continue to have, such a damaging effect on individuals and the high street in particular."
More UK mortgage-holders have fallen into arrears on their loans in the last quarter, as rising interest rates and the cost of living squeeze hits households.
Trade body UK finance reports that 7% more homeowners are now behind on their payments, compared with the first quarter of this year.
The number of buy-to-let mortgages in arrears has jumped 28% quarter-on-quarter, suggesting that more landlords are struggling to cope with higher interest rates.
Here's the details:
There were 81,900 homeowner mortgages in arrears of 2.5 per cent or more of the outstanding balance in the second quarter of 2023, 7 per cent greater than in the previous quarter.

Within the total, there were 30,940 homeowner mortgages in the lightest arrears band (representing between 2.5 and 5 per cent of the outstanding balance). This was 12 per cent greater than in the previous quarter.

There were 8,980 buy-to-let mortgages in arrears of 2.5 per cent or more of the outstanding balance in the second quarter of 2023, 28 per cent greater than in the previous quarter.

Within the total, there were 4,810 buy-to-let mortgages in the lightest arrears band (representing between 2.5 and 5 per cent of the outstanding balance). This was 41 per cent greater than in the previous quarter.
Wilko would be the biggest high street casualty in years if it collapses today, points out Retail Week.
It says:
The retailer had filled the gap left by the collapse of Woolworths in 2008, but has since faced increasing competition from value retailers including B&M and Home Bargains.
Competition from online retailers will also have hit Wilko's sales …
Despite hopes of a mortgage price war, there's not actually much change in the average rates today.
Data provider Moneyfacts reports that:
The average two-year fixed residential mortgage rate today is 6.83%. This is unchanged from the previous working day.

The average five-year fixed residential mortgage rate today is 6.33%. This is down from an average rate of 6.34% on the previous working day.
Halifax's price cuts kick in tomorrow, so we may see the impact of that in the coming days.
Thousands of staff at low-cost retailer Wilko are set to be told this morning that the chain has collapsed, Bloomberg reports.
It says:
The UK company, which is privately owned and has about 400 stores, is due to enter insolvency proceedings as soon as Thursday morning unless an unexpected last-minute buyer emerges, according to people familiar with the situation.

Wilko previously appointed advisers at PricewaterhouseCoopers LLP to find new funding but potential buyers withdrew their interest in recent days. It has roughly 12,000 staff.
Sky News: hopes fade for Wilko rescue deal as administration looms
Hopes of a rescue deal for troubled UK budget retailer Wilko are fading today, Sky News reports.
It says Wilko could be heading into insolvency within hours.
Here's the story:
Sky News has learnt that Wilko's board is expected to appoint PricewaterhouseCoopers (PwC) as administrator later today after talks with a number of potential rescuers stalled.

The move would exacerbate the risk to 12,000 jobs, which would make the family-owned chain one of the biggest retail casualties for years.

One source described administration on Thursday as "inevitable" barring the sudden emergence of a new rescue plan.
Wilko has until Monday to find new funding, after filing a legal measure protecting it from creditors for 10 days on Thursday.
Yesterday, Wilko stopped offering home deliveries for orders on its website as it holds last-ditch talks on a potential rescue deal.
In the financial markets, China's stock market has shrugged off its earlier losses after Joe Biden signed a ban on US investment in some Chinese tech.
The CSI 300 index is now up 0.2%, while Hong Kong's Hang Seng is 0.15% higher.
The White House wants to stop the Chinese military from accessing US technology and capital, so is blocking US investment in semiconductors and microelectronics, quantum information technologies, and certain artificial intelligence systems.
Paul Donovan, chief economist at UBS Global Wealth Management, calls it "economic nationalism", saying:
The US detailed restrictions on investment in China's technology sector. Reports suggest the UK may follow. This is not surprising, but is another manifestation of deglobalization (political interference in global trade / capital flows).

As structural change sweeps the economy, scapegoat economics is likely to increase – blaming foreigners is always convenient. That encourages prejudice politics and economic nationalism. Whatever the merits of individual sanctions, the result is less efficiency.
China's economic data this week has shown a slowdown in trade last month, and a drop into deflation, raising hopes that Beijing may stimulate its economy further.
This has lifted the copper price today.