Introduction: UK house prices drop 4.6% in year to August
Good morning, and welcome to our rolling coverage of business, the financial markets and the world economy.
UK house prices have fallen at their fastest rate since the aftermath of the financial crisis, new data confirms this morning, as high interest rates cool the property sector.
Halifax, the UK's largest lender, has reported that the average property price fell by 4.6% on an annual basis in August, down from the record highs seen last summer. That's the largest year-on-year decrease in house prices since 2009.
The price of a typical UK home dropped to £279,569, down by around £14,000 over the last year, back to the level seen in early 2022. It leaves average prices around £40,000 above pre-pandemic levels.
That's a bigger fall than expected, with economists having predicted a 3.45% annual fall.
On a monthly basis, the average house price fell by -1.9% in August, the largest monthly fall since November 2022.
Halifax reports that Southern England and Wales are seeing most downward pressure on property prices, with Scotland showing greater resilience.
Rival lender Nationwide reported last week that UK house prices fell 5.3% in August, the fastest annual drop in 14 years.
But there are signs that UK borrowing costs could be close to their peak. Yesterday, Bank of England governor Andrew Bailey said interest rates are probably "near the top of the cycle", and predicted there willl be a further "marked" drop in inflation this year.
But for now, higher rates are cooling the markets.
Kim Kinnaird, director at Halifax Mortgages, says:
"It's fair to say that house prices have proven more resilient than expected so far this year, despite higher interest rates weighing on buyer demand. However, there is always a lag-effect where rate increases are concerned, and we may now be seeing a greater impact from higher mortgage costs flowing through to house prices.

Increased volatility month-to-month is also to be expected when activity levels are lower, though overall the pace of decline remains in line with our outlook for the year as a whole.
Kinnaird adds that some prospective buyers deferred their transactions in the hope of some stability in the markets, and greater clarity on the future direction of rates in the coming months.
The market will continue to rebalance until it finds an equilibrium where buyers are comfortable with mortgage costs in a higher range than seen over the previous 15 years.
The agenda
7am BST: Halifax house price index for August

7am BST: German industrial production data for July

10am BST: Eurozone Q2 GDP (second estimate)

1.30pm BST: US initial jobless claims
Key events
Q&A: Why are house prices falling?
PA Media have published a handy Q&A about the state of the UK housing market:
What do the latest housing market figures show?
According to Halifax, year-on-year house price falls are now widespread across the UK. Across the UK as a whole, the average property value is around £14,000 less than it was a year earlier, according to the bank.

Halifax's findings follow similar findings from Nationwide Building Society last week. Nationwide also said that, according to its index, house prices are on the sharpest annual decline it has seen in 14 years.
What is behind the price falls?
While there have recently been signs that some mortgage rates are settling down, rates are still significantly higher than they would have been a couple of years ago, making the cost of buying a home more expensive.

This means it has become more of a "buyers' market", with some sellers needing to adjust their expectations about the price they are likely to achieve.

Uncertainty about the wider economy may also be playing a part, with some buyers preferring to wait and see what happens.
What are the factors supporting house prices?
Supply shortages will help to keep house prices up in popular areas, while wage growth has also been strong, bolstering buyers' incomes.
Is the picture the same across the UK?
According to Halifax, while house prices are broadly falling across the UK, they are holding up better in some places than others.

In Scotland, prices are down by 0.6% compared with a year ago, while in south-east England they have plunged by 5.0%. With house prices in southern England often being higher than elsewhere in the UK, these homeowners often have to find particularly big deposits and pay large cash amounts each month towards their mortgage. They may have been particularly affected by the sharp rise in mortgage rates.
Is my house now worth less than what I paid for it?
That will depend on when you bought it and what is happening in your local housing market.
It is also worth bearing in mind that, although house prices have been falling recently, Halifax says that the average UK house price remains around £40,000 – or 17% – above pre-pandemic levels.
Anyone with concerns about negative equity – when the amount they owe for their house is more than the property is worth – should speak to their lender.
Lenders are offering a range of support for those struggling with their mortgage payments, such as temporary switches to interest-only payments and extensions on mortgage terms.
Could the housing market see more property chains breaking?
According to website and news agency Newspage, some experts believe gazundering could be a growing threat.

Gazundering happens when someone reduces their offer, having previously agreed a higher price.

Lewis Shaw, founder of Mansfield-based Shaw Financial Services told Newspage: "At the eleventh hour, buyers are trying to pull a fast one and that's crippling chains."

David White, of Chelmsford-based mortgage broker Simply Lending, told Newspage that mortgage rate volatility is also hitting chains hard, adding: "Two primary causes of chains breaking are the down-valuing of properties and fluctuating mortgage rates."
What about renters?
House prices may be falling but rents are still generally going up, according to recent reports.

The higher mortgage rates being paid by landlords will filter through to rental prices. There have also been signs that the supply of rental homes is being squeezed, which could perhaps be a sign of some landlords selling up due to the squeeze on any profits they are making.
What is next for the housing market?
Much of the hike in mortgage costs is still filtering through to households, as many people are on fixed-rate deals and are yet to re-mortgage on higher rates. Halifax suggests this lag could be a reason why house prices have been more resilient so far this year than expected.

Going forward, we may now be seeing a greater impact from higher mortgage costs flowing through to house prices, the bank suggests.

Further downward pressure on house prices is expected, going into next year, as people continue to adjust to higher mortgage rates.
UK house prices: the key charts
China's yuan hits 16-year low after trade weakens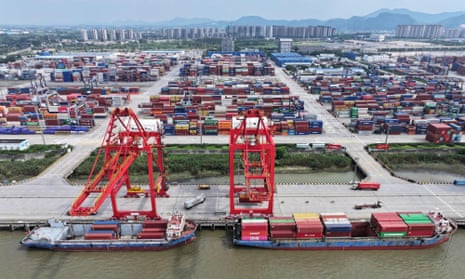 China's currency has fallen to its lowest point against the dollar in 16 years, after Beijing reported its fourth drop in exports in a row.
The yuan weakened to 7.3273 to the dollar, its lowest close since December 2007, during the financial crisis.
The drop came after China reported another monthly decline in imports and exports for last month.
Exports in U.S. dollar terms fell by 8.8% in August from a year ago, while imports declined by 7.3%. These falls indicate that weaker overseas demand and subdued domestic consumer spending are hitting China's economy.
Kyle Rodda, senior financial market analyst at capital.com, says:
On the data front, China's trade figures were slightly better than feared, with both imports and exports in US Dollar terms falling by less than expected.

The US dollar-denominated trade balance fell by more than forecast, however, posing further pressures to a weakening Yuan.
Falling UK house prices is reportedly leading some buyers to cut their offers just before exchanging contracts, a practice known as 'gazundering'.
Lewis Shaw, founder of Mansfield-based Shaw Financial Services, reports that gazundering is "proving increasingly common at the moment", adding:
"At the eleventh hour, buyers are trying to pull a fast one and that's crippling chains. On the whole, chains are taking too long, all parties are getting hacked off, and some are calling it a day."
Kundan Bhaduri, director of London-based property developer and portfolio landlord, The Kushman Group, also reports that some property chains are fraying:
"Gazundering is on the up, as are failed surveys due to down-valuations. Archaic conveyancing taking forever doesn't help with the complexity involved in long chains, either. The fragile links in property purchase transactions are increasingly snapping under the weight of all these factors."
The German economy will contract by 0.4% this year, the Ifo Institute has predicted today, matching its previous forecasts published in June.
Ifo's head of forecasts Timo Wollmershaeuser says:
"Contrary to previous expectations, the recovery is likely to fail to materialise in the second half of the year."
Eurozone growth revised down
Newsflash: growth across the eurozone has been revised lower.
Statistics body Eurostat says eurozone GDP rose by just 0.1% in April-June, down from a previous estimate of 0.3% growth.
That's slower than the US, which grew by 0.5% in April-June, and the UK which expanded by 0.2%.
Eurostst reports that Lithuania (+2.9%) recorded the highest increase of GDP compared to the previous quarter, followed by Slovenia (+1.4%) and Greece (+1.3%).
The highest decreases were observed in Poland (-2.2%), Sweden (-0.8%) and Austria (-0.7%).
Germany stagnated in the quarter, while France's GDP rose by 0.5%.
UK firms expect slower price rises
UK businesses expect to raise their prices at a slower rate over the next 12 months, new data from the Bank of England shows.
The BoE's latest Decision Maker Panel, just released, shows that businesses expect output price inflation to fall over the next year.
Year-ahead output price inflation was expected to be 4.9% in the three months to August, down 0.5 percentage points compared to the three months to July.
The survey of Chief Financial Officers also found that CPI inflation is forecast to be 4.8% in a year's time, down from the 5.4% expected a month ago.
Firms expect to raise pay by 5%, the same as last month, which is rather lower than realised wage growth, which was at 6.9% in both the single month data and the three months to August, the BoE adds.
Full story: Biggest drop in UK house prices in 14 years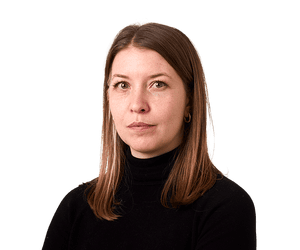 Kalyeena Makortoff
UK house prices suffered their sharpest annual drop in 14 years, as the seasonal summer slump and high mortgage costs dragged on sales.
Data released by Halifax, Britain's biggest mortgage lender, said on Thursday that prices fell by 4.6% in August, marking the biggest year-on-year decrease since 2009.
It means that the price tag of the typical UK home has dropped by about £14,000 over the past 12 months to about £279,569. That is the lowest level since early 2022, but still leaves average prices £40,000 higher than before the pandemic, when lockdowns fuelled demand for larger homes in a '"race for space".
The latest annual decline, however, suggests homeowners continue to be deterred by high interest rates, which have been hiked by policymakers in an attempt to combat inflation but fuelled higher mortgage costs. More here.
T. Rowe Price: Prices will keep falling
Tomasz Wieladek, chief European economist at T. Rowe Price, has predicted that UK house prices will continue to fall sharply in the coming months.
Wieladek believes the worst is yet to come for the housing market:
UK house prices will continue to fall at a sharp rate, with the point of greatest pressure for the market still ahead of us. A peak-to-trough decline of 15% is the most likely outcome in my view, while a 20% drop is possible in a more adverse scenario.

House prices will continue to fall at a rapid rate well into next year for a number of reasons. Clearly, the cost of a mortgage has increased sharply with the Bank of England's policy rate. Although mortgage rates have come down a little from the peaks, the mortgage payment increase for anyone refinancing today compared to two years ago will be huge. Among all the other pressures from higher inflation, this will put significant pressure on households.
Rising unemployment is likely to lead to more people defaulting on their loans, Wieladek fears:
Because the unemployment rate will keep rising, mortgage defaults will likely rise, which is when the housing market will be under the most pressure in this cycle.

This moment is still ahead, not behind, us. With wage and price inflation still very high, the Bank of England will not come to the rescue any time soon, as it needs greater slack in the labour market to squeeze wage inflation out of the economy. Instead, rates are more likely to keep rising given the latest inflation data.
The latest mortage rates data has just arrived, from Moneyfacts, showing a small drop in the cost of five-year loans today.
They say:
The average 2-year fixed residential mortgage rate today is 6.67%. This is unchanged from the previous working day.

The average 5-year fixed residential mortgage rate today is 6.16%. This is down from an average rate of 6.17% on the previous working day.