Despite the recent backlash, the expansion of London's ultra-low emission zone (Ulez) is happening. On Tuesday the zone will double in size to reach outer London, a change that means owners of older, more polluting vehicles who now live inside it, or who enter for work or pleasure, have to pay a daily charge.
Designed to tackle air pollution, it is the biggest change on the capital's roads in years, affecting millions of drivers. For the first time, Heathrow airport is included, meaning even people who drive there once a year from other parts of the country could be affected.
Despite it being a long-trailed move, not everyone is ready. Data published last week by the online marketplace Carwow found one in five of its customers were confused about how the scheme worked. It also found that 44% of those who owned a car that did not meet Ulez emissions standards were worried it was now worth less. The expansion is at a time when many people can't afford to change their car or van.
Here we explain how the Ulez works and what your options are if the car you drive is noncompliant.
What is the Ulez?
London's ultra-low emission zone was introduced by the London mayor, Sadiq Khan, in 2019 to tackle toxic air in the city. The policy was drawn up under the previous mayor, Boris Johnson. It initially comprised only central London but in October 2021 Khan extended it to include the roads inside the north and south circular. On Tuesday it will be enlarged again to cover all 32 London boroughs.
The rollout is going ahead after Khan saw off a legal challenge and wider political pressure when the policy became a big byelection issue in the Uxbridge and South Ruislip constituency, which will be captured by the larger zone.
Khan has described the Ulez as "transformational" and claims extending it will mean "5 million more people will be able to breathe cleaner air and live healthier lives". Critics of the scheme argue it puts an unnecessary financial burden on those who can least afford it, in the midst of a cost of living crisis.
Those using vehicles that do not comply can still drive in the zone but must pay a £12.50-a-day charge to Transport for London (TfL), which manages the scheme. The Ulez day runs from midnight to midnight every day except Christmas Day, meaning those heading into the zone for a late night out face paying a total of £25.
Diesel cars and vans that do not meet Euro 6 standards (those typically bought new before 2015) do not comply. Nor do petrol cars and vans that are not Euro 4 or better (those typically bought new before 2006). Those riding motorbikes that do not meet Euro 3 standards must also pay to enter the zone.
Drivers can check their car's status by going to TfL's vehicle checker and inputting the registration. Don't assume your car does or does not comply. Some registered earlier than those dates above do, while others bought later don't. Plenty of petrol cars registered before 2006 had Euro 4 engines and are good to be driven in the zone, charge-free.
If your vehicle is not compliant, you have a choice of either paying the daily charge to use your existing car, replacing it with one that complies, or finding another way to travel.
About 10% of vehicles currently being driven around the newly expanded zone are not thought to be compliant. People who live outside the zone but who regularly drive in are the hardest hit as they must pay but can't take advantage of the scrappage scheme. Note, if your vehicle complies, you don't need to do anything and can carry on as before.
Here are the options:
Use the scrappage scheme
If you live in London and your old car isn't Ulez compliant, are you aware that you probably qualify for a £2,000 cash payment under the terms of the TfL scrappage scheme?
Until recently, Londoners had to have a disability or be in receipt of one of a long list of benefits to be eligible for its scrappage payment designed to persuade people to take their old polluting car to a scrapyard, and off the road for good.
However, a few weeks ago, in response to criticism that it was not helping enough people make the switch, TfL announced it would open up the scheme to all households in London. And it has improved the terms for businesses, and other groups such as charities.
To get it, drivers have to live inside one of the capital's 32 boroughs, and the car that you are scrapping can't be Ulez compliant. In almost all cases the vehicle has to be registered to the London address, and the driver must have owned the car they want to scrap on 30 January 2022. This is to stop people buying old bangers and then applying. The vehicle must also have valid insurance, tax and an MOT.
Once the owner has been accepted, produced all the evidence, and a certificate from the scrapyard to show that the vehicle was destroyed, they will receive a £2,000 cash payment for a car, or £1,000 for a motorcycle – enough to buy a Ulez-compliant vehicle. The payment is made by cheque.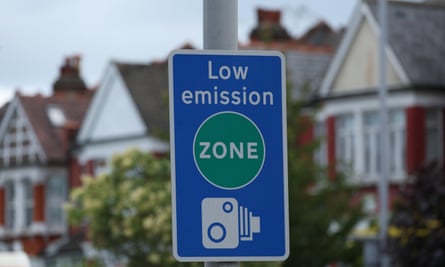 Users can also opt for a part-cash payment and one or two adult annual bus and tram passes instead. Car scrappers can receive £1,600 in cash and one annual bus pass, or £1,200 cash and two passes, which TfL says is worth £3,000.
The payment to scrap wheelchair-accessible vehicles has been increased from £5,000 to £10,000, or users can take £6,000 to retrofit a new engine to achieve Ulez standards.
Small businesses (up to 50 employees) and charities using noncompliant vehicles can apply for increased grant payments of between £6,000 and £11,500 to either replace a van or minibus or upgrade the engine to make it compliant.
TfL data shows £71.5m of funds remain unclaimed from an original scrappage pot of £110m. Khan has since added £50m, meaning the scheme has plenty of time to run. It ceases when the money is used up. TfL said last week that the team overseeing the scrappage scheme was processing applications "in a matter of days".
Sell your car privately or trade it in
If your existing car is not compliant but worth more than £2,000, you would be better off selling it privately or trading it in.
People who bought diesel cars that were first registered in 2014 may have a noncompliant vehicle but it could easily be worth £8,000 or significantly more. No one else in London is going to want to pay you that for it. Put it up for sale in the capital and you can expect derisory offers, unless it has some rarity or is an in-demand model.
The further you can get it away from cities where the Ulez scheme has been introduced, the more the vehicle will be worth. If a relative or trusted friend lives elsewhere, will they sell it on your behalf?
The easiest option is to find a compliant car being sold by a dealer and trade in your outgoing model. You will probably get a better price selling it privately but this option saves a lot of hassle.
Buy a compliant car for £2,000 (or more)
Buying a car for £2,000 is always a lottery but by following a few rules it is possible to buy a reliable runaround for the £2,000 you will get by scrapping your old car.
Guardian Money recommends sticking to a Japanese brand, one with a petrol engine, that has proved reliable. A Toyota Corolla, Avensis or Auris, Mazda 2 or 3, Honda Accord or Jazz, or a Suzuki Swift that was made in 2006 onwards will be compliant and, if you buy the right one, as reliable and cheap to run as a 10+ year-old car can be.
At this age and price, expect to be looking at a car with 100,000 miles on the clock – although you will find some with fewer. Don't let this put you off, as plenty of these vehicles will do high mileages.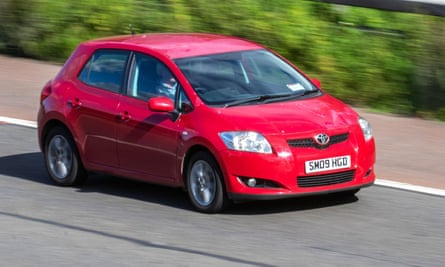 When trawling the ads look for a car that has been serviced – ideally, one where the owner has a file of bills or receipts for past services, and maintenance has been regular. Given a choice between a higher-mileage vehicle with a service history or a low-mileage one without, opt for the former.
A long or, ideally, new MOT will give some comfort, and check the tyres have plenty of life left in them. Look for cars with a timing chain, or factor in the cost of changing it if it has a timing belt. The further you take your search from London, the better value you will find. If you know nothing about cars, take along someone who does.
We found a good 2008 Suzuki Swift with 109,000 miles on the clock for sale an hour or so east of London for £1,700. There was an excellent-looking 2008 Mazda 3 1.6 Takara hatchback being sold just north of London for less than £2,000. It had only 76,000 miles on the clock. There are several 2006 Honda Jazzes with about 100,000 miles for sale within 30 minutes of London for about £1,500, some with a full service history.
If you need more than the standard five seats, the rare petrol Honda FR-V is worth a look. You will find more value in the seven-seater Toyota Verso, and more choice. Before you hand over your money, check that the car is Ulez compliant – don't take the seller's word for it.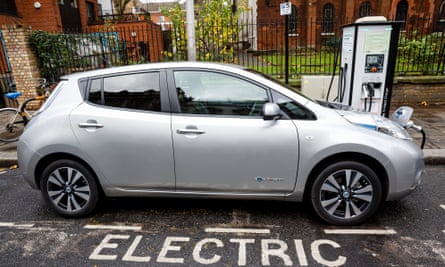 If you want to go electric, you can pick up an early Nissan Leaf for as little as £3,750. The car will have more than 70,000 miles on the clock, and a rather limited real-life range of about 75 miles on one charge, but if that's all you need, this offers super-cheap motoring. About £12,000 will buy you a larger MG ZS, which will do a more user-friendly 145 miles between charges.
If you have more cash available, Guardian Money recently came up with its best used car for those spending £8,000, £14,000 or up to £25,000 on an electric model.
Pay the charge
When the Ulez was expanded in 2021, a surprising number of people decided to carry on with their car, paying £12.50 a day to use it. Use the vehicle two days a week, and you will be handing more than £1,300 a year to TfL. That may sound like a lot of money but if it would cost you £14,000 or more to get a like-for-like replacement that is Ulez compliant, it could just about make financial sense to stick with what you have. This is particularly true for those with large families, for whom it would cost a significant sum to buy a big replacement car. For them, the charges may well be less than the depreciation that their replacement car would face.
For the rest of the population, this option probably doesn't make sense. Slip to using the car three days a week and you are spending close to £2,000 a year in Ulez charges, at which point you will probably be better off with a newer model.
Users driving a noncompliant vehicle within the zone have to pay by midnight on the third day after the journey. Fail to pay, and you risk getting a penalty charge notice of £90, which rises to £180 if not paid within 14 days. There is a TfL app, webpay page and a phone line. There's an autopay option that automatically charges regular users.
Use car clubs or hire cars
According to CoMoUK, the national charity for promoting shared transport, there are five accredited car clubs operating in London – offering more than 4,000 vehicles that can be rented for an hour at a time. The best known is Zipcar, although Enterprise is hot on its heels. These allow you to rent a vehicle for as little as £5-£6 an hour, or for days at a time. If you have one near your home – and you are organised enough to prebook a car when you need it – these can be a much cheaper option than owning a vehicle. Before you get behind the wheel, it is worth reading how the scheme works, and the small print. The charges can add up if you exceed the allotted mileage limits, and you don't want to end up being charged for the previous user's damage.
To try Zipcar, it costs £10 to join, and you can rent cars for £9 an hour. If you decide you like it, it is worth becoming a pay-monthly member, which in turn gives you access to cheaper hourly rental prices. We would also advise you to take out the excess insurance in case you have an accident.
Hiyacar is an excellent option. It has its own cars to rent by the hour but also allows users access to vehicles belonging to other private individuals. For example, in Walthamstow you can rent Daniel's Peugeot 108 for £5 an hour or £27 a day, plus insurance and a booking fee. There are also upmarket cars to be hired. Hiyacar has electric cars, people carriers and even convertibles.
To see what vehicles are available in your area, try CoMoUK's car club map.