Key events
77th min: Wales steal the ball at the line-out. Davies hoists a high box kick. There's a penalty call for Portugal. Pinto was taken out in the air by Adams. Might end in a card.
NO TRY! Wales 21-8 Portugal
Oh my word. No try. Francis was obstructing a tackler and that created the lane for Rees-Zammit to run through. It did feel odd that the space opened up so easily. Penalty for Portugal.
TRY! Wales 26-8 Portugal (Davies, 75)
A try from nothing. Rees-Zammit breaks through and then off-loads out the back door to Davies to his right. Portugal had the ball until Morgan came away with it. That's a crafty try from Wales and a hammer blow for Portugal. wales have their bonus point.
73rd min: Portugal connect a nice looking backline move but it's too lateral and makes about three minutes. Pinto, all the way on the left wing, runs out of field and cuts inside off his left foot. He runs into traffic and spills it. But Portugal get a penalty as Grady takes a man out without the ball.
72nd min: Forget all that. The man upstairs has found a Welsh knock-on so Portugal have the scrum feed.
71st min: Wales with the knock-on advantage after Marques' attempt to box kick ends with him spilling it. Beard getting his big body in the way. Costelow tries a cross-kick but gets too much on it. They'll come back for the scrum just outside of Portugal's 22.
70th min: Better scrum from Wales. That solid base gives Davies the option to snipe down the short side. He shovels it on for Dyer who can't cut infield before Storti bumps him into touch. We'll use this gap for a water break.
68th min: Wales' scrum disintegrates. Still, they manage to keep the ball. Faletau straightens and welcomes the contact. Davies, the replacement 9, hoists a high ball. Rees-Zammit puts pressure with a good chase and Portugal knock-on. Portello couldn't hold on. Davies has a chance to launch a counter but he also knocks-on. Wales with the feed.
67th min: Oh, that could have been so good. Portugal show great hands in close quarters. Cerqueira gets the ball on a wraparound line and is through. He's tackled and has Marta off his shoulder but can't connect. If he had that would have been another try. Wales with the scrum feed in their own 22.
66th min: Wales look bereft of ideas. Sure, they'll win this match, but they have been so far below par. They lose another line-out as the replacement hooker Elias can't find a jumper. Portugal set an attack down the line. Marta almost gets through after running an angled line.
TRY! Wales 21-8 Portugal (Martins, 64)
Wonderful! What a try! So slick. Line-out goes to the middle but it's reversed back towards the touchline where Martins has splintered off the set-piece and gathers before falling over the line. A fantastic try made on the training ground. Marques misses again. But that won't take the shine off a tasty tasty try.
63rd min: Portugal actually have the line-out as it bounced off Dyer's leg before going out. It's clean off the top and goes down the line. They have a penalty advantage. The forwards carry round the fringe. No advantage so they have the penalty. No chance of going for poles. Marques boots it into touch.
61st min: Tshiunza almost pinches the line-out. But Portugal manage to get it back on their side. Storti, the substitute utility back, wriggles past a few tacklers and makes ground. He carries again a few seconds later. Portugal build and have numbers down the right. Storti has popped up again. How'd he get across the field so fast? Strong defence though from Wales shepherds him laterally and they bundle him out. Dyer with the tackle.
59th min: That's a good win on the ground for Portugal. Cerqueira with the steal. Rees-Zammit tries to keep the penalty in field with a dramatic dive but can't do so. Portugal with the line-out in Welsh territory.
TRY! Wales 21-3 Portugal (Morgan, 57)
Morgan again! They go to the short side off the scrum. J Williams has a dart. Beard gets close. They're a metre out when Morgan picks up and snipes round the corner to dot down. Halfpenny has an easy shot at goal.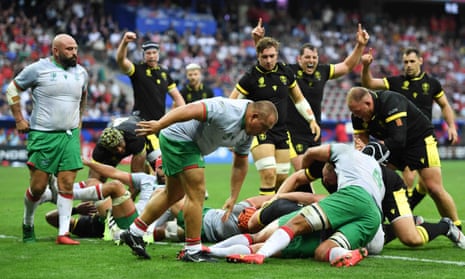 54th min: Wales choose to scrum about eight minutes out just to the left of the poles. They need a re-set. T Williams short for Anscombe who goes alone. Another penalty against Portugal. This one's against the tighthead for going down in the scrum. No they have a collective warning. The next infringement in the red zone for anything will result in a card. Alves gets the hook as a result and is replaced by Costa.
53rd min: Penalty for Wales. Line-out. Tshuinza off the back but it's messy again. A good carry from Morgan takes it into the 22. Penalty advantage. J Williams almost gets through. Nothin' doin'. Penalty for an off-side. "No more" says the ref. One more and we'll get a card for Portugal.
52nd min: Wales change their whole front row and take Jenkins off for Beard. Gatland is clearly keen to get some dominance up front.
50th min: Marques misses his second shot at goal. He's been outstanding with everything else but goal kicking.
49th min: Morgan eventually ends all that nonsense. Tshuinza gets hold of it but can't connect on an off-load. There's a penalty for Portugal.
48th min: Wales infringe at the scrum. Portugal have a free kick. Marques taps and kicks. Wales kick. Portugal kick. Halfpenny gathers and kicks. Sousa Guedes gathers and kicks. Rees-Zammit gathers and kicks low. Sousa Guedes fields and kicks across the field. I promise it's more exciting than it sounds.
47th min: Lake goes to the back of the line-out but over-throws. That's three line-outs in a row he's missed. Tadjer cathches, dummies and charges. He runs over Anscombe and trie to off-load but spills it forward. Dyer has it and runs a jinking run. He can't hold on though so we'll have a Welsh scrum on the 10m line towards the left.
46th min: Wales win the scrum against the head. Faletau picks up at the back. Feeds Anscombe who dinks a kick over the top. Who is that to? No one. Well, no one in black so Portello marks and then clears.
45th min: Portugal steal the line-out. Belo gets high and knocks it back. The clearing kick doesn't go far. Wales have another chance to feed the line-out but they lose that one as well. Simoes gets in ahead of Jenkins. It ends with a Portugal scrum. Poor from Wales.
44th min: Fernandes is penalised at the scrum. An early engagement I think. Anscombe nudges it to the corner.
43rd min: Strong scrum from Portugal sets up a backline move. But the ball is bobbled. Sousa Guedes over ran the ball though that backline was pretty flat. Wales with the feed now.
41st min: Marques, my pick for player of the half, nails a clearance kick. That's gone miles. Wales set a maul from the line-out. Dyer at first receiver cuts back infield and makes some good ground. He knocks-on though.
And we're back. Wales need an improved show. Portugal just need to get some more points on the board.
"Love the World Cup Dan but there are some issues." Alrighty, Adam Thomas. What's eating you?
"Too many one sided games. Too little for the minnows to play for. Loses momentum in the later rounds when the games space out.
"The solution? A cup, plate, bowl format. Top 2 in the group in the cup. Next 2 plate. Bottom teams bowl. Plate/bowl knock outs midweek in 2nd tier cities/stadium with cup on the weekend.
"Format is familiar to even a passing rugby fan from the 7s circuit. Everyone has something to play for. Excitement maintained throughout.
"I'd pay to see Namibia v Portugal in a bowl final…or Scotland v England in a plate semi (ha! Ha!)
"Enjoy the match! Thanks for the great coverage."
It's not a bad idea. We've seen the sucess of this sort of thing in other competitions, including the sevens circuit. I'm all for it!
Half-time: Wales 14-3 Portugal
Portugal did all the running. They stole the highlights and they played the better rugby. They're still trailing by a large deficit. That's rugby for you. If you don't put points on the board all your fancy stuff counts for nothing.
Wales were disjointed and lacked a clear plan. One good move from Rees-Zammit and a crunching run from captain Lake from short range means they have two tries. Gatland will be spitting venom at half-time.
TRY! Wales 14-3 Portugal (Lake, 40)
Well this time they do score. A tap and go from the penalty, Lake bashes over from close range and gets it down. It was route one stuff but it worked. Halfpenny clots the extras. I might have mistakingly given Anscombe the two points earlier.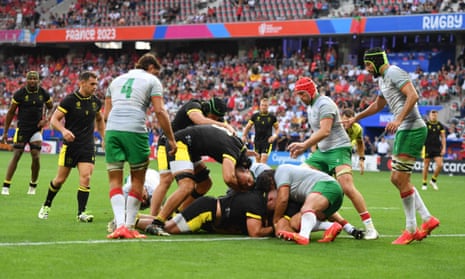 Scratch that. J Williams knocks on over the line. Wales still have the penalty advantage but how on earth has the Welsh centre spilled that? Excellent defence but surely he had to score.
TRY! Wales 12-3 Portugal (J Williams, 40)
They're going to check it but I think it's good. Sustained pressure and J Williams from close range powers over.
40th min: A penalty to Wales in the scrum. Faletau isn't hanging about and taps and goes. Tshuinza over the gainline again. He's been their best player. T Williams finds Smith on the charge. His strong carry sets them up and there's an overlap. Penalty advantage. Wales criss-cross so they come back. Smith then Lake almost at the line. They have to score….
38th min: Anscombe launches a bomb for Halfpenny to chase. The full-back can't gather. Portugal kick. Then Wales kick. Then Portugal kick. Anscombe breaks the cycle and feeds J Williams who is back from the sin-bin. Lewis then Smith make ground around the fringe. Morgan is clattered. Anscombe short to J Williams again. Tshiunza on a great angle gets over the gainline. Another strong carry keeps the move heading in the right direction. Lewis throws a dummy. J Williams for Grady on the wraparound. A speculative pass out to Dyer is wayward. Better from Wales but still not good enough.
Penalty! Wales 7-3 Portugal (Marques, 37)
This time he gets it over. From right in front he registers Portugal's first three points of the competition.
37th min: The maul from the line-out doesn't move so Marques shifts it on. Appleton canters. He's hit by Grady but the shot is high over the shoulder. Not dangerous but it is a penalty. Portello (I think) attempts a drop goal with the advantage but doesn't nail it. So they'll come back for a shot off the tee.
35th min: Wales kick it high. No one gathers. Portugal recycle down the left and they find another 50:22. This time from the No. 13 Lima. They have to do better with this opportunity. Another line-out. Can they break Wales open while they're still a man down?
34th min: Jenkins is safe from the middle of the line-out. The maul goes nowhere and T Williams snipes down the blindside. Short runners are met with resistance so T Williams hoists a high box. It's well placed but Portello reads it well. T Williams then fields a kick over his shoulder and kicks himself. Anscombe now fields and kicks. Marques picks it up and searches for touch. Instead he finds Dyer who doesn't kick but runs. He's hammered in the tackle and it slows down.
31st min: Wales don't contest but Portugal don't maul off the top. They wrap around and attack down the right. It gets loose. So they pick and go but their runner is isolated and Halfpenny gets over the ball and steals it.
30th min: A scrappy line-out for Portugal ends with a big kick. Halfpenny is then asked to field a high kick and does so brilliantly. Grady in the left tram runs over a tackler but he's eventually bundled out of touch. Portugal play it quickly. Sousa Guedes kicks. Halfpenny reads it well. He feeds Dyer who cuts back in field. Breathless passage this. Faletau shows lovely hands and then wriggles through a gap. He has it stolen off him though and Marques rakes a 50:22. Outstanding from the scrummie in white.
28th min: Jenkins gets it down at the back of the line-out. T Williams bashes a brilliant box kick that travels almost 50 metres. He lands it right on the line. What a brilliant exit.
27th min: Portugal win the line-out at the front. They try to maul but get mauled out by Wales. Tshuinza getting the credit for leading that maul defence.
Yellow card! Wales (J Williams, 27)
No complaints. After making the tackle he interfered with the play, preventing the off load. If he didn't Portugal had clear space down the left wing. That would have ended with a try. Cynical but necessary.
26th min: The scrum crumbles but Portugal still come away with it. Marques hacks an ugly kick. It's scrappy. Rees-Zammit can't haul down a high kick so Portugal attack. There's a penalty and could be a card coming for Wales…
24th min: And again. Quick tap and J Williams is running up the guts. Anscombe is whacked by Lima. Jenkins with a charge but he loses it in the tackle. Knock-on. Wales look like a side that rarely plays together. No continuity at all.